New York City
Yang shared dire prediction for Trump's campaign after Trump caught COVID-19
The New York City mayoral candidate spoke on his podcast back in Oct. 2020.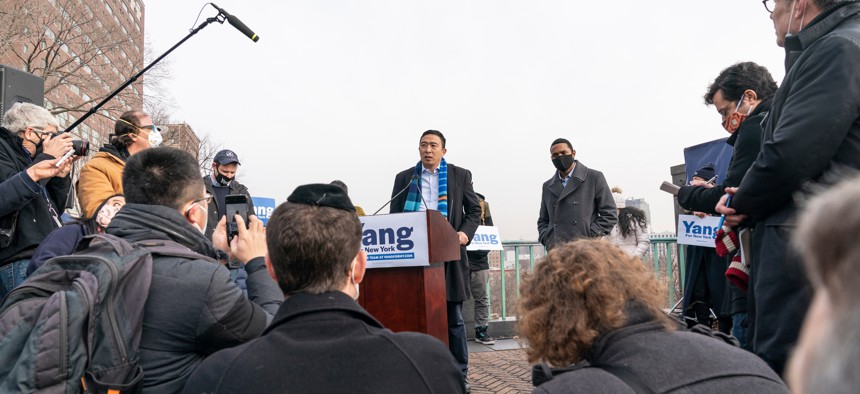 The day after then-President Donald Trump announced he had contracted COVID-19, Andrew Yang said, "If you're rooting for Trump to win, this is just terrible news." That was just part of his harsh analysis of Trump's diagnosis in the Oct. 5 episode of his weekly podcast "Yang speaks."
"One cannot look at this any other way but say that this is terrible, terrible news for the Trump campaign, on so many levels," Yang said. Number one, everybody will be talking about the coronavirus. "Number two, the operations of the campaign essentially grind to a halt, where the candidate is no longer doing events."
Now Yang himself is running for mayor of New York City, and has contracted COVID-19, causing him to stop making public appearances and skip a number of virtual forums over the past week as he fights off the virus. But, despite finding himself in a similar situation to Trump when he was running for reelection, the Yang campaign denies that the mayoral campaign has ground to a halt. The campaign declined to respond to City & State's specific questions, but a spokesperson said the campaign staff "is working harder than ever,"adding that Yang has been receiving policy briefings and participating in staff calls and strategy meetings. 
While Yang missed two virtual mayoral forums held Tuesday night, he still spoke at two virtual campaign fundraisers – one with the comedian Amy Schumer and one with venture capitalist Chamath Palihapitiya. Yang co-campaign manager Chris Coffey defended his fundraiser appearances on Twitter, saying it took 10 minutes, rather than the two hours a forum might have taken. The campaign said he's planning to appear at a Queens County Democratic Party forum Wednesday night for comptroller candidates, since Yang did not attend the organization's mayoral forum last week.
Yang is a vocal opponent of Trump's politics, but he spoke diplomatically about the then-president's health on the podcast, which he recorded in his home in New Paltz, in the Hudson Valley. "Having human beings contract the coronavirus is a terrible thing," he said. "Too many people have lost loved ones and friends and family. It's terrible news no matter who it is or who it affects."
But over 12 minutes of discussion, Yang was eager to assess what the diagnosis meant for Trump's political campaign. "If you are on this team, you're looking around like, 'wait a minute, I was in a meeting with that person not that long ago,' Yang said. "So it's going to throw the entire staff in disarray or remote work or some degree of stress and anxiety. So there's like a massive, massive wrench in the works of what is, essentially, a billion dollar business."
Yang campaign spokesperson Jake Sporn said that isn't the case for the mayoral campaign. "As soon as the campaign found out about Andrew's positive test result, we followed public health guidance to the letter and conducted a robust contact tracing effort and immediately notified everyone who had been in contact with him starting 48 hours before his first symptoms appeared," he wrote in a statement emailed to City & State. Sporn added that "Three people from our team have since begun the requisite 10-day isolation."
This was the second time in Yang's month-old mayoral campaign that the candidate has had to quarantine. Yang halted in-person events on Jan. 19 after a campaign staffer tested positive for the coronavirus. But the Daily News reported that "questions about how he handled the first quarantine still linger" after receiving "tortured responses" from the Yang campaign regarding whether Yang isolated from members of his own family. The campaign said it gave clear answers to the Daily News, but Yang and his podcast co-host Zach Graumann predicted this very situation after Trump came down with COVID in October. "What actually may be a death knell for the president is, there's a lot of holes in this timeline that are frustrating to me that reporters are scrambling to get to the bottom of now," said Graumann, who is now a senior advisor on Yang's mayoral campaign. "I agree with you the timeline is going to come out," Yang responded. " I think journalists are going to keep digging on this."
A spokesperson for Yang's campaign said they have been clear on the timeline of Yang's diagnosis. Yang took a routine rapid COVID-19 test on Saturday Jan. 30 and received a negative result. On Monday night, Feb. 1, Yang began to experience symptoms of COVID-19, and took a rapid test on Tuesday morning, Feb. 2 that came back positive. He has quarantined ever since. 
Yang had at least one campaign event on Jan. 31, hosting an hourlong "Hangin' with Yang" indoor, unmasked conversation sitting on a couch with a campaign staffer. "We are here in a COVID-safe room, because this morning I was able to go get a test, and I am COVID-safe. So just for those who are very COVID-aware. I wanted you to know that that is the case here," the staffer said at the top of the video. "So we're unmasked, and we're safe."
The campaign declined to discuss any specific staffers, but again noted that the campaign had consulted with a physician and that the campaign diligently notified anybody who had come into contact with Yang in the 48 hours preceding the onset of his symptoms. 
You can see the full episode of "Yang Speaks" here: 
Powered By
NEXT STORY: Who will get the chance to take on Trump?