New York State
Women are leading the charge to investigate Cuomo
More women have joined the Legislature in recent years, and some say increased representation is contributing to the reckoning Cuomo now faces.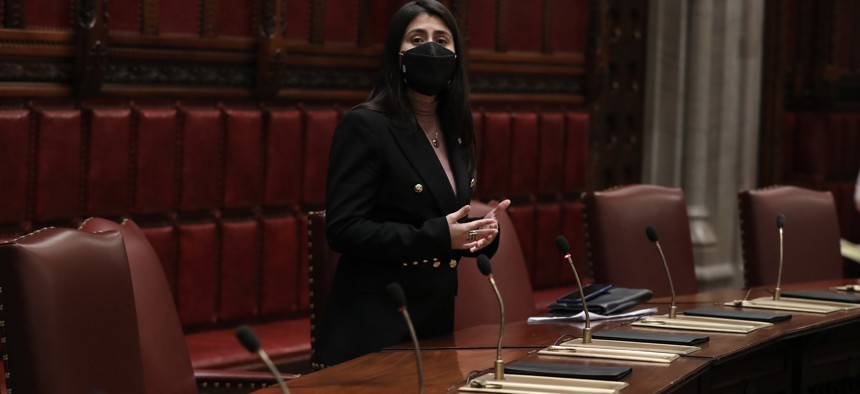 If it seems like the loudest calls for action and accountability in the wake of allegations of sexual harassment against Gov. Andrew Cuomo have been coming from women, it might be because Albany's growing contingent of female lawmakers have a deeper understanding of harassment. "We get it. We understand the wrong that has happened here," said Assembly Member Nathalia Fernandez, a legislator from the Bronx who was elected to the Assembly in 2018. "We're trying to let everybody else understand – or at least asking them, and trying to get them to understand."
A series of accusations of sexual harassment and, in some cases, unwanted touching – first from former Cuomo aides Lindsey Boylan and Charlotte Bennett, and then from another young woman – have rocked Albany, leading Cuomo's office to grant Attorney General Letitia James the authority to oversee an independent investigation into the allegations. 
And while calls for Cuomo to be investigated or even to step down from office have crossed both gender and party lines, Albany's female lawmakers are at the forefront of the charge to hold Cuomo accountable. As Micah Sifry, co-founder of the "technology for the public good" nonprofit Civic Hall pointed out on his Substack, a greater share of New York's female legislators have called for an investigation into the allegations than the share of Albany's male legislators. As of Wednesday morning, a crowdsourced spreadsheet reported that 29 women in the Assembly called for an independent investigation, compared with 8 men in the body, while 12 of the Senate's 18 female members have called for an independent investigation, compared to 19 of the body's 45 male members. (This count may miss legislators who have spoken up more recently.) 
On Monday, over two dozen women in the Assembly released a statement calling for an investigation with subpoena power – which James' investigation now has. That list included longtime legislators such as Assembly Member Linda Rosenthal, alongside freshman lawmakers such as Jessica González-Rojas. Six of the Legislature's socialist members – including state Sen. Julia Salazar and Assembly Member Marcela Mitaynes went further, saying that impeachment proceedings should begin.
Some of the Legislature's female members said that increased representation of women in Albany is contributing to a shift in the capital's culture, which may aid the quest for accountability for allegations of sexual harassment. While female representation in the Legislature is still disproportionately male, it has steadily increased in recent years. According to Rutgers University's Center for American Women and Politics, women make up just over 34% of the New York Legislature in 2021, compared to just over 21% a decade ago. 
State Sen. Jessica Ramos, who was elected to the Senate in 2018, but who has had an inside look at Albany since she started working in New York City politics more than a decade ago, said that increased representation has empowered women to speak out. "It's been quite an experience to see not only how the influx of women into the state Legislature has certainly impacted what we choose to comment on, what we choose to fight, what we choose to legislate about, hold hearings about." she said. "I would argue also that some of the female legislators who were there before we arrived, before the new class arrived, seems to me feel much more empowered now too." 
Fernandez echoed that notion. "There's more women here, so we're less alone," she said. "There's more understanding of these circumstances and the situations."
Both Ramos and Fernandez have called for Cuomo to resign in the wake of these allegations, coming down on the harsher side of those calling for accountability, along with other progressive Democrats and some Republicans. Most members of the Democratic political establishment however, haven't gone that far, calling instead for an investigation into Cuomo's alleged actions, or staying silent. 
As one example of this phenomenon, Ramos pointed to the first joint legislative hearing on sexual harassment in over 25 years, which was held in 2019. That year, the Legislature took sweeping action to reform the state's sexual harassment laws, including lowering the longstanding "severe and pervasive" standard for harassment.
Rita Pasarell, a co-founder of the Sexual Harassment Working Group – an organization of former legislative staffers who campaign for sexual harassment policy reform – said it's not just that the culture is shifting because there are more women in office, but that those kinds of reforms make it more likely that women can succeed and stick around in Albany. "More women are in office because we've had a measure of increased sexual harassment protections over the years," she said. "I think it has become safer and easier for victims to talk about that because the laws have improved."
Cuomo spoke to reporters for the first time in over a week on Wednesday afternoon, addressing the allegations made against him, after previously releasing written statements in which he denied Boylan's accusation that he forcibly kissed her, but acknowledged that he sometimes makes comments on people's personal lives and said he was sorry if those were misinterpreted as unwanted flirtation. "I now understand that I acted in a way that made people feel uncomfortable," Cuomo said Wednesday. "It was unintentional and I truly and deeply apologize for it. I feel awful about it and frankly embarrassed by it and that's not easy to say but that's the truth." Cuomo added that he never "touched anyone inappropriately."
Phara Souffrant Forrest, a new member of the Assembly from Brooklyn, noted that it's not just the allegations of sexual harassment against Cuomo that have put him in the hot seat, but the ongoing controversy over his administration's handling of COVID-19 in nursing homes. Souffrant Forrest, whose father is currently in a nursing home, said that women's voices have been important in drawing attention to that issue too. "It's women of color and working-class women in the Legislature whose concerns about this have been most acute," she said. Like Ramos and Fernandez, Souffrant Forrest has called for Cuomo's resignation.
A large share of those calling for Cuomo's resignation are progressive Democrats, such as Ramos, Souffrant Forrest and Fernandez, and those who have butted heads with Cuomo – including Assembly Member Ron Kim and state Sen. Gustavo Rivera. Many of the lawmakers who were first to call for an investigation into Cuomo's alleged actions also fall into these categories, though those calling for accountability have now moved beyond just Republicans and progressive Democrats. More moderate Democrats have also called for an independent investigation, including state Sen. Diane Savino and Assembly Member Amy Paulin – both of whom have served in the Legislature for more than a decade.
While Cuomo gave no signal on Wednesday that he's ready to step down, Fernandez said that this moment is the product of a long-coming cultural shift in Albany. "We've all said it, and we know it: Government was started by men, and originally white men," she said. "So we're changing what used to be comfortable and normal, and demanding it to be better."
Powered By
NEXT STORY: The end of Cuomo's emergency powers