Campaigns & Elections
Asian Americans progressives come out against Yang
And more coverage of key 2021 races.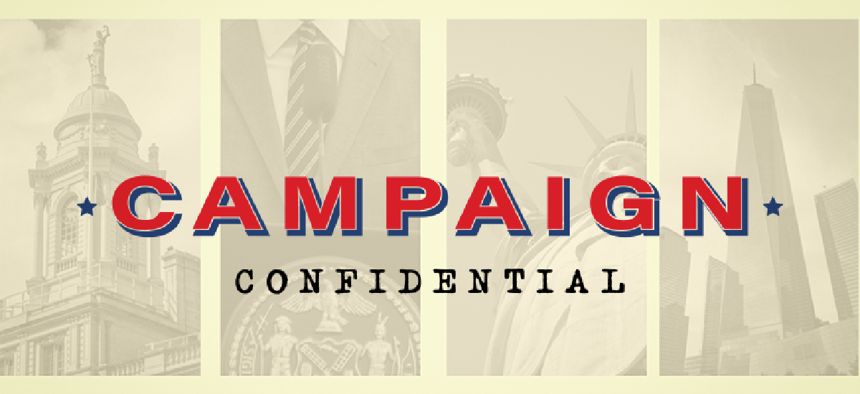 The primary is coming, and news is happening. So Campaign Confidential is going twice a week. Look for us in your inbox on Wednesday and Friday, starting next week. And if a a friend, colleague or rival forwarded you this email, make sure you get Campaign Confidential in your inbox twice next week by subscribing here.
More than 400 Asian New Yorkers sign letter opposing Yang
More than 400 progressive Asian and Pacific Islander American community members, organizers and activists in New York signed a letter and launched a website opposing Andrew Yang's bid for mayor of New York City. In a letter shared exclusively with City & State, the co-signers argue that New York City's Asian American community, hit hard economically during the pandemic and grappling with an uptick in anti-Asian violence, need a mayor who can "truly grapple with racial and economic injustices and the needs of (Asian and Pacific Islander American) New Yorkers' in the aftermath of the pandemic." They criticized Yang for playing into "racist, harmful stereotypes," for taking "pro-policing stances" and for using progressive campaign promises "to hide regressive policies," among a number of other concerns.
The scathing letter comes as Yang has distinguished himself as the clear front-runnerin recent polls and recently received the endorsement of the New York CityAsian-American Democratic Club. Although he has also gotten endorsements from progressive Queens Assembly Member Ron Kim andNew York City Council Member Margaret Chin, he has not won over the most powerful Asian American lawmakers in New York: Rep. Grace Meng and state Sen. John Liu. The senator told City & State that the concerns outlined in the letter are "legitimate" and have been "mounting over the past few months." Liu said he plans to make an endorsement in the mayoral race but declined to say who it might be. Kim urged Yang to listen to the progressive groups' concerns and vowed to work with him on addressing inequities faced by the Asian American Pacific Islander community. Read more about the letter here.
By the Numbers
13
The number of candidates on the Democratic primary ballot for mayor. (Up from 12, after Joycelyn Taylor said she argued her way back on the ballot yesterday.) That's still a rather small number, seeing that 57 people filed with the New York City Campaign Finance Board at one point or another to run for mayor. Some never launched (Max Rose). Some dropped out (Carlos Menchaca). Some dropped down (Zach Iscol). Some got kicked off the ballot (Barbara Kavovit). And others aren't Democrats (Curtis Sliwa). So in the end, fears of a ballot longer than a CVS receipt were unfounded – though Western Queens' Council District 26 with 15 candidates is getting close. Still, the city has survived worse. There were 17 candidates in the 2019 public advocate special election.
Sepúlveda, charged, charges on
State Sen. Luis Sepúlveda is carrying around some heavy baggage as he campaigns for Bronx borough president – he was arrested in January and charged with three misdemeanor counts, including criminal obstruction of breathing, after the cops were called on a fight between the state senator and his wife. His lawyer said he's not guilty of the charges and that his wife is trying to get money out of him. So Sepúlveda is moving forward like nothing is wrong. "Everyone just assumed he dropped out," said one Bronx operative. "But he's so vain. He would never do that." Sure enough, his campaign website is nearly empty, but he made the ballot, and even if private fundraising slowed to a trickle, he received $223,356 in public matching funds. Sepúlveda is due again in Bronx Criminal Court on May 14, and the case seems unlikely to be resolved before the June primary.
Declaring independence
Does mayoral candidate Shaun Donovan's dad giving $2 million to super PAC New Start NYC that plans to support his son count as illegal coordination? Opposing campaigns sure think so. And the Campaign Finance Board might think so too – so it's withholding more than a million bucks in public matching funds until it can find out more. Father and son have denied all coordination, but what's to weigh? Title 52 § 6-04(a)iv of the rules of the city of New York says the CFB may consider whether an independent expenditure group is financed by the same people that finance the candidate's committee when determining independence. And Michael Donovan has given to both. But per Section 14-107 1(iv) of state Election Law, coordination is about who's spending the super PAC's money, not who's donating. Verdict? We'll leave this one to the lawyers.
Malliotakis challenger shows the money
Rana Abdelhamid, who's planning to challenge Rep. Carolyn Maloney in 2022, sucked the air out of the room last week claiming to raise $100,000 in just 10 hours. But in New York City's only Republican-held congressional seat, Brittany Ramos DeBarros, another political newcomer, has raised nearly $129,000 from over 1,000 donors in just two months. The progressive Afro-Latina combat veteran wants to unseat Rep. Nicole Malliotakis, but first she's trying to win the support of the Working Families Party and the Democratic Socialists of America. Ramos DeBarros said she was not concerned about running as a leftist in a district that no moderate Democrat – let alone a progressive Democrat – has won a second term in since 1981. Instead, she thinks the district is "hungry for a fresh face, for someone who is really rooted in the movement, who has the political courage to be unapologetically progressive and support the progressive policies." Read more about which other Democrats may be eyeing that seat.
Endorsement Watch
The Professional Staff Congress at CUNY endorsed Scott Stringer ranked No. 1 and Dianne Morales ranked No. 2 for mayor … the United Federation of Teachers and UAW Region 9A endorsed Stringer for mayor … The Jewish Vote – Jews for Racial and Economic Justice's political arm – is endorsing Morales as its first choice for mayor and co-endorsing Stringer and Maya Wiley as its second choice … NASW-NYC PACE is backing Morales for mayor … former Bronx borough president and mayoral candidate Fernando Ferrer endorsed Eric Adams for mayor … the Vulcan Society, the Grand Council of Guardians and National Latino Peace Officers Association NY Chapter each backed Adams for mayor … the John F. Kennedy Regular Democratic Club and the New York City Asian-American Democratic Club each endorsed Andrew Yang for mayor … Council Member Carlos Menchaca, who dropped out of the mayoral race last month, and Assembly Member Kenny Burgos also endorsed Yang … Rep. Gregory Meeks and state Sen. Leroy Comrie endorsed Ray McGuire for mayor … state Sen. Diane Savino endorsed Kathryn Garcia as her No. 2 choice for mayor (she endorsed Adams as her top choice last month) … Rep. Nydia Velázquez, New York City Public Advocate Jumaane Williams and state Sen. Gustavo Rivera each endorsed Brad Lander for comptroller … Manhattan Democratic Party leader Keith Wright and former Gov. David Paterson backed Brad Hoylman for Manhattan borough president … Transport Workers Union Local 100 endorsed Robert Cornegy for Brooklyn borough president … the Working Families Party co-endorsed Chi Ossé and Tahirah Moore in Council District 36 in Brooklyn … Rep. Yvette Clarke and Council Member Alicka Ampry-Samuel endorsed Athena Moore for Council District 9 in Manhattan … Rep. Grace Meng and six council members endorsed Jenny Low for Council District 1 in Manhattan … the Police Benevolent Association announced another slate of council endorsements, including Tony Avella ranked first and Adriana Aviles ranked second in District 19 in Queens and Sal Albanese, along with other NYPD unions in Council District 50 on Staten Island … The New York City and Vicinity District Council of Carpenters endorsed another slate of council candidates, including Nikki Lucas in District 42 in Brooklyn, Shirley Paul in District 46 in Brooklyn and Ranti Ogunleye in District 49 on Staten Island … and The Jewish Vote co-endorsed Sara Lind and Gale Brewer in Council District 6 in Manhattan.
Poll Sight
When it rains, it pours. This past week saw the first publicly released Manhattan district attorney poll (a Tahanie Aboushi campaign internal poll), an AARP/Siena poll of older Democrats' mayoral preferences and polls of likely Democratic voters from Data for Progress and NY1/Ipsos. The latter two both polled on the undercovered comptroller race too. The results: Half the voters don't know who they like yet. Those that know like Corey Johnson, likely based on his name recognition and reputation as City Council speaker, since he entered the race late and has done little campaigning so far. But every other candidate has a lot of work to do to convince voters if they want to catch CoJo.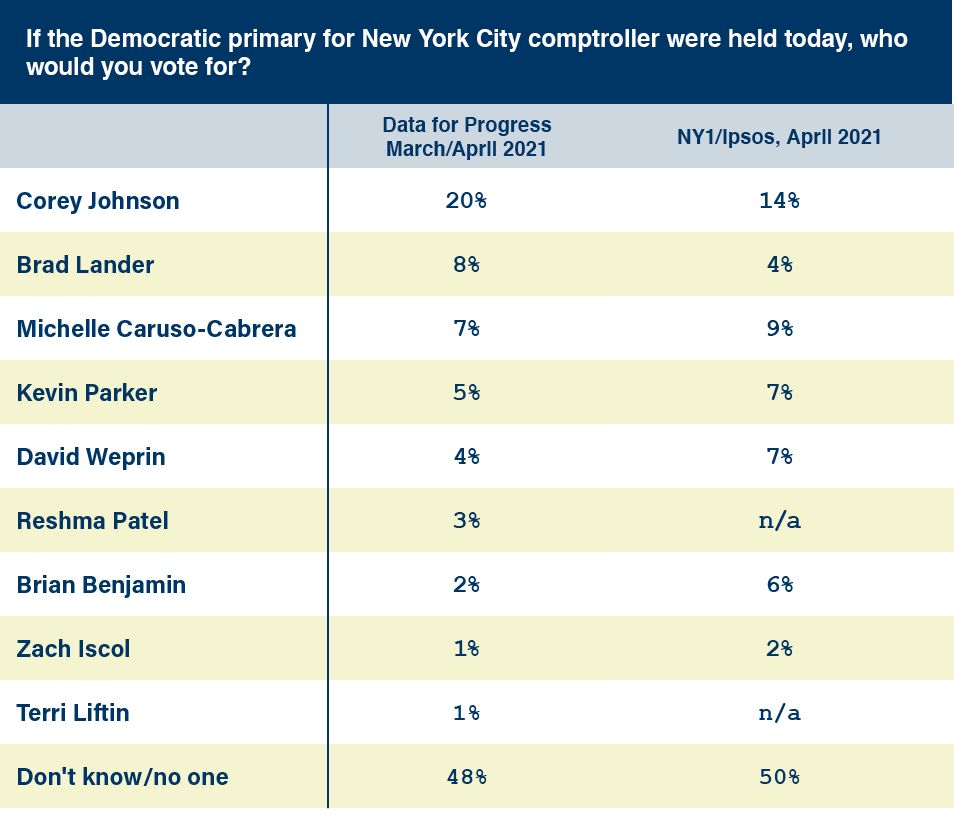 Staffing Up
Olivia Wohlgemuth has joined Dianne Morales' mayoral campaign as a neighborhood organizer… Thomas Gilroy has joined Chi Ossé's campaign in District 36 in Brooklyn as field director … John-Philip Faienza and Kisha Murdaugh have both joined Victoria Cambranes' Council District 33 campaign in Brooklyn as field directors.
Got tips? Email JColtin@CityandStateNY.com or SKashiwagi@CityandStateNY.com or send a DM to @JCColtin or @SydneyKashiwagi
District Data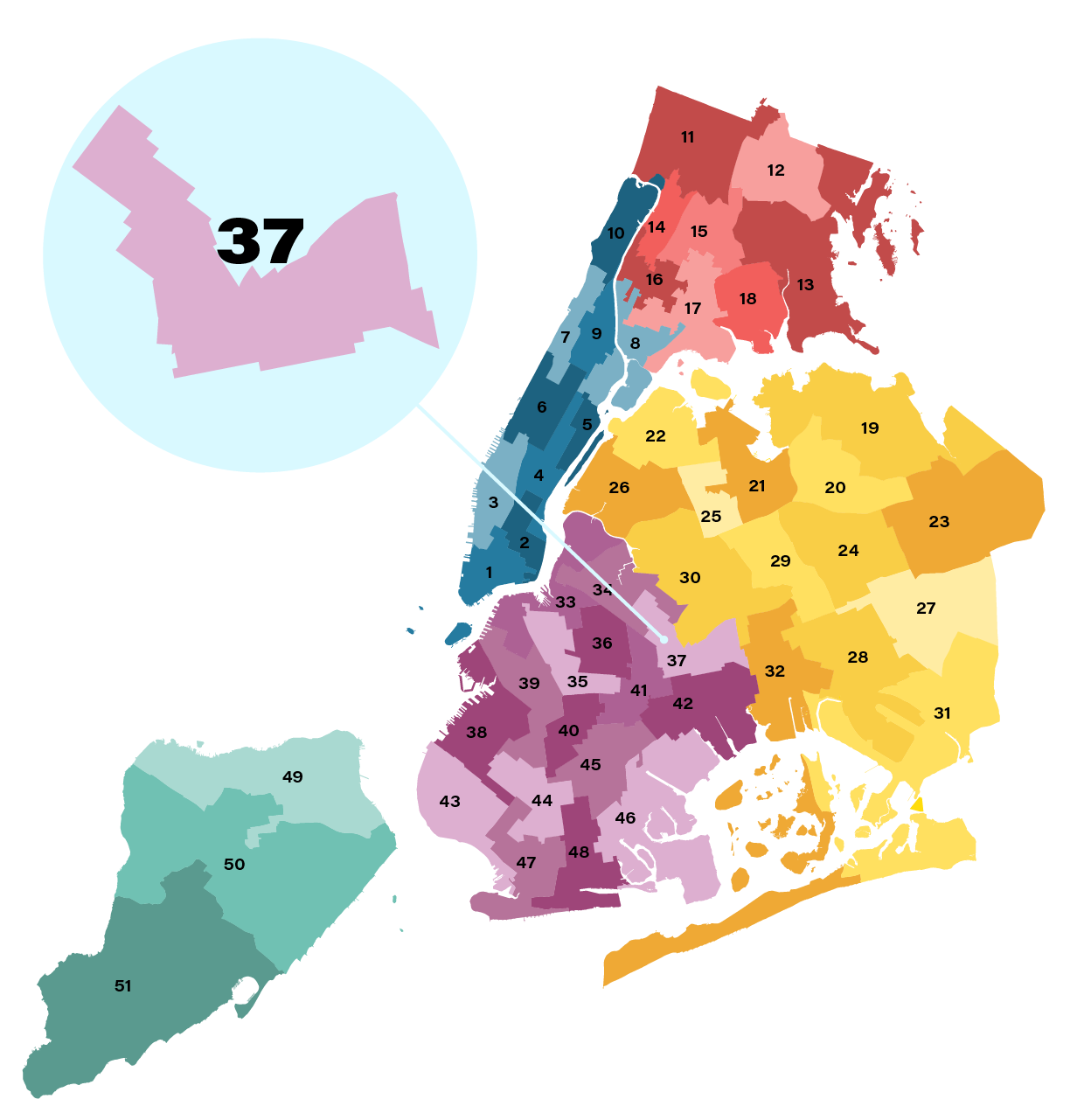 City Council District 37 in northeastern Brooklyn, covering neighborhoods including Bushwick, East New York and Cypress Hills
Current council member: Darma Diaz, since December 2020, who's running for reelection
2010 census demographics: 56.4% Hispanic, 29.6% Black, 6.3% Asian, 4.1% white
Housing: 77.8% renter-occupied, 22.2% owner-occupied
2013 primary election results: Rafael Espinal: 45.9%, Kimberly Council: 31.9%, Heriberto Mateo: 12%, Helal Sheikh: 10.3%
2020 off-year election results: Darma Diaz: 99.4%, various write-in candidates: 0.6%
Who's running: Heriberto Mateo, Sandy Nurse, Christopher Durosinmi, Darma Diaz, Rick Echevarría, Misba Abdin and Franklin Gonzalez. This primary has been more than a year in the making. COVID-19 canceled the March 2020 special election originally scheduled to fill the seat vacated by Rafael Espinal, then Diaz allies challenged her opponents' petitions in the June primary and got them all removed from the ballot. Darma Diaz, a former director at a nonprofit running homeless shelters, was unopposed in the primary and the general. This year, Diaz has some advantages of incumbency, including support from the Brooklyn Democratic Party, and has fundraised well. But she's in serious danger of losing to Sandy Nurse, a carpenter and activist who earned support from almost every major union in the city, a host of progressive organizations and local elected officials like Rep. Nydia Velázquez. Misba Abdin, co-founder of a Bangladeshi American nonprofit, has also raised the maximum amount of public funds, and Rick Echevarría is running an active campaign. The primary winner will likely face Republican Franklin Gonzalez in the general.
Twitter Posting 
Some of you think you're living in House of Cards, but really you're in VEEP and you need to humble yourself and calm down