Campaigns & Elections
Rage against the Queens Machine
A coalition forms against the establishment in Flushing. Will others follow?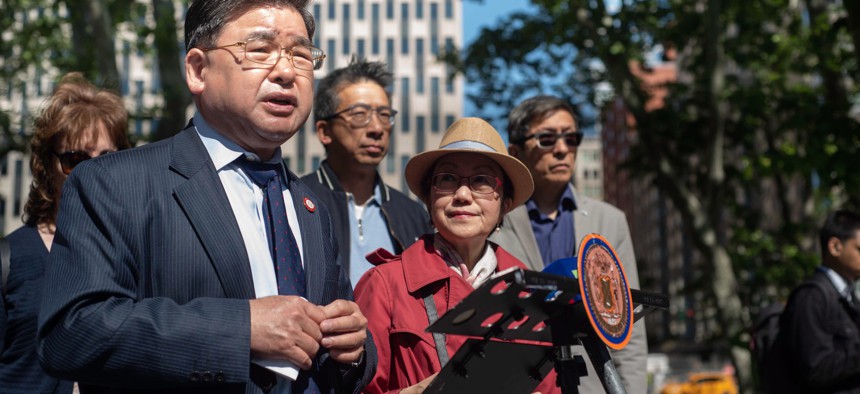 A group of seven Democratic candidates running for the New York City Council District 20 seat in Flushing, Queens, have come together to form a coalition against Queens Democratic Party-backed candidate Sandra Ung.
The coalition includes Democrats across the ideological spectrum. There's John Choe, a former chief of staff to state Sen. John Liu, who heads the Greater Flushing Chamber of Commerce and was backed by the Working Families Party; Anthony Miranda, a retired NYPD sergeant who chairs the National Latino Officers Association; and Neng Wang, the former head of the Chinese American Planning Council who has been endorsed by the New York City Police Benevolent Association.
Members of the coalition said they want to give people a choice of who to support rather than have the party decide the outcome through its endorsement.
"We feel that it's better to have a change in the political leadership here, which means that we would support each other, even if we have some disagreement over specific policies. We would rather have one of us be the council member than someone who represents the status quo," said Choe, who was endorsed by the Queens Democratic Party in 2009 when he ran for this seat. "The county Democratic Party tends to really be unaccountable and less (transparent) when it comes to how they come up with these nominations and selections of their favorite candidates."
Another candidate in the Democratic Coalition for Council District 20, former Assembly Member Ellen Young, also had the Queens Dems' endorsement in her 2006 and 2008 races. Of course, support from the county party may help some candidates, but it's far from a guaranteed victory. Young's loss to Grace Meng in 2008, and more recent victories by candidates like Assembly Member Khaleel Anderson over party-backed candidates are just two examples. Still, the candidates now banding together against Ung would have liked the chance to earn support from Rep. Gregory Meeks' organization. Choe and Miranda told City & State they were not invited by the party to be considered for its endorsement and believe the party already had a slate of candidates predetermined. The party could not be reached for comment on Choe and Miranda's concerns about its endorsement process.
Their coalition is the byproduct of the city's new ranked-choice voting system, Choe said, which allows voters to rank up to five candidates in order of preference. He believes there are other races across the city where candidates can band together to encourage voters to support one another over the party's pick.
"Their coalition enables a reframing of the election as one that's not just about particular policies, but also about changing the political dynamics of which policies win," said Bright Limm, a co-chair of the Queens chapter of the Working Families Party (which endorsed Choe) and Queens chapter of the Democratic Socialists of America. "I would say that this coalition, and ranked-choice voting more broadly, shows how in many, many neighborhoods and districts what you might call 'the establishment' actually reflects a minority of the views of voters."
Longtime Democratic political consultant Neal Kwatra said that coalition building will be beneficial for certain candidates but could lead to "tactical campaigning."
"In many races up and down the ballot there will likely be a value add for certain candidates to coalesce and work in coalition around a message of mutual validation for their respective supporters and voters whose support they're trying to earn," Kwatra said. "However, perhaps more importantly, will we see certain candidates in races aligning together to specifically brand a certain candidate as unqualified and try and send a unified message to voters of anybody but 'x'? We have seen some of that kind of tactical campaigning in other RCV municipal elections around the country, like Oakland and San Francisco. Remains to be seen if it happens here too."
Ranked-choice voting may be encouraging coalition-building against party-backed candidates all over the city. In District 3, on the west side of Manhattan, five of the six candidates on the ballot have talked about forming a coalition against the perceived front-runner, Erik Bottcher, who previously served as chief of staff to Council Speaker Corey Johnson. "Everybody (else) who's running is running because they don't think Erik is qualified," said Arthur Schwartz, an attorney who is also running for the seat. "We have a very friendly relationship for opponents. The only one that's outside the circle is Erik."
On Staten Island, four progressive Democratic candidates running for borough president signed a pledge to not challenge their petitions – all except party-backed candidate Mark Murphy, which resulted in a nasty petition challenge. Cesar Vargas, one of the five Democrats in the race, told City & State that he and the three other progressive candidates have had conversations about forming an official coalition together, but have so far only been working together informally.
"I think ranked-choice voting has made (the campaign) more collegial," Vargas said. "I can see my competitor not just as a candidate to compete against me, but also as someone who can also support me by working with his community because I can do the same for him, because at the end of the day he or she can be part of my voters' options."
But coalition-building is not a one-size-fits-all approach. In Brooklyn's City Council District 46 race, in which former Brooklyn Democratic Party boss Frank Seddio waged petition challenges against five candidates. One Democrat in the race, Mercedes Narcisse, told City & State that she reached out to candidates to form a coalition but got no response.
She claimed all of the other Democrats in the race met with Seddio but the invitation was not extended to her. (Seddio could not immediately be reached for comment.)
"It would have been a great thing for the community," Narcisse said of a coalition. "But if you have one person, one group, putting (together) all the candidates, how's the coalition going to work?"