News & Politics
Why Cuomo and Adams need each other
The governor and the probable next mayor of New York City seem interested in maintaining an alliance. We'll see how long it will last.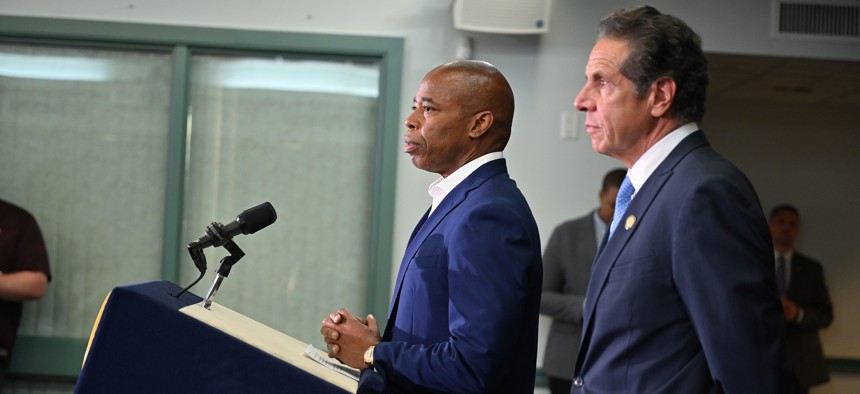 After nearly eight years of consistent sniping and feuding between Gov. Andrew Cuomo and New York City Mayor Bill de Blasio, Gothamites may be hoping for a better relationship between the state's two most powerful executives. And while the two offices historically and naturally have tension, Democratic mayoral nominee Eric Adams is poised to represent a change of pace compared to the current dynamic, at least in the short term. 
Already setting the stage for a more harmonious working relationship than with de Blasio, Cuomo appeared alongside Adams at a press conference last week focused on gun violence. The governor praised Adams and expressed his excitement for his potential mayoralty. "I believe that Eric and I come from the same political philosophy," Cuomo said. "We are progressive Democrats, and we have the same definition of what it means to be a progressive Democrat." That is, progressives who get things done, "not talking about progress, not proposing progress, not theoretical progress," as Cuomo put it. 
Adams echoed Cuomo's rhetoric. "We've allowed the term 'being progressive' to be hijacked by those who do not have a track record of putting in place real progressive changes," Adams lamented at the press conference. He said he would not "engage in all the differences and the debates" after Cuomo pledged to work together. "I think the governor's probably happy that Eric won," said political consultant Basil Smikle. "He would prefer to work with a moderate mayor than any of the progressives that were in the race."
The venerable lovefest last week seemed like a marked difference from the cold and contentious relationship between de Blasio and Cuomo, who continued to feud throughout the pandemic and rarely appeared together – virtually or otherwise – even during the crisis. But it wasn't always that way. Cuomo and de Blasio used to be allies, both having served in the administration of President Bill Clinton. De Blasio was one of Cuomo's few supporters during his disastrous 2002 gubernatorial run, and Cuomo praised the future mayor when he won the Democratic nomination. "Bill is going to lead this city in the great, progressive Democratic traditions," Cuomo said in 2013. That, of course, didn't last long. 
But political observers think that Adams may avoid the pitfalls of de Blasio and other past mayors, who historically have had tense relationships with the governor. Despite the power of the mayor, many policy decisions must go through Albany due to state control over taxes. This dynamic has meant that often, even ideologically similar mayors and governors from the same party end up having tension.
Unlike de Blasio and other recent mayors like Mike Bloomberg and Rudy Giuliani, Adams spent years in Albany as a state senator and gained a familiarity with Albany politics. "What will be interesting to see is whether or not … Adams maintains and takes advantage of the relationships he has with the Legislature," Smikle said. And one New York City political consultant pointed to Adams' time spent as a police officer as another reason he'll be able to work within the limitations that come with the lopsided power dynamics. "Eric's career in law enforcement means that he understands and can work within hierarchical systems, something de Blasio never really figured out," the consultant said.
As the pair pointed out, Adams and Cuomo are similar politically, tending to lean more moderate with a pragmatism that doesn't get hung up on ideology. Whereas, for example, de Blasio continued to push for a tax increase to pay for his signature universal pre-K program even when Cuomo said it could get done with a different funding stream, a fight that left a cloud over their relationship for years, the consultant predicted that Adams is "smart enough to know that a win is a win."
While it makes sense for Adams to play nice with Albany to accomplish his goals, it's in Cuomo's best interest to keep the likely next mayor as an ally as well for now. Facing sexual harassment allegations and COVID-19 death reporting scandals that have resulted in multiple investigations and an impeachment inquiry, Cuomo is in a weakened position leading up to his reelection next year. Smikle said Adams' mayoralty would make him the "de facto spokesperson" for the city's African American communities. "So maintaining that relationship and keeping it a good relationship means that you can maintain a good relationship with Black communities and voters," Smikle said. Alienating Adams' base of support could have a severe negative impact on Cuomo's prospects for a fourth term.
The scene is set for an Adams administration to be treated more amicably with two executives sharing a political philosophy who both benefit from a positive relationship. But next year's June primaries for governor would be only six months into a four-year term for mayor, and history tells us that tensions are all but assured to arise at some point. And while their similarities may mean that small issues may not turn into long-term feuds, "inevitably, there's going to be something they fight over," said one Democratic Albany insider. "The question is how long until then?"
Powered By
NEXT STORY: Adams makes the rounds and COVID-19 numbers inch up