New York State
AG report bombshell and new vaccine requirements
Rounding up the week's political news.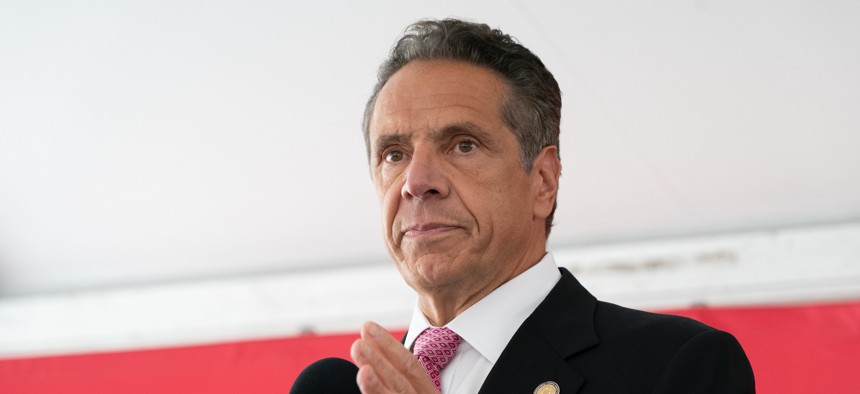 A crazy week that started with Tony Bennett Day and quickly devolved into Gov. Andrew Cuomo's potential impeachment was capped with a little moment of pettiness. Reeling from the attorney general's report on sexual harassment, many from the Cuomo camp remained largely silent. But not "Mean Girl" Melissa DeRosa, Cuomo's secretary and right hand who was heavily implicated in the report for orchestrating the alleged retaliation against Lindsey Boylan and fostering a hostile workplace. She backhandedly congratulated New York Post Albany reporter Bernadette Hogan for her new job at Politico – something that neither the outlet nor Hogan had actually announced yet. Parting shots before the journalist heads to DC?
AG report finds Cuomo sexually harassed women
After a long five month wait, state Attorney General Letitia James released the independent investigators' report on allegations of sexual harassment against Gov. Andrew Cuomo, concluding that he had harassed multiple women and more broadly created a toxic, hostile work environment. The report corroborated the accounts of 11 women, including several whose stories had not previously been reported. Perhaps most notable was a state trooper who Cuomo requested be transferred to his personal security unit before beginning an alleged pattern of harassing behavior that included inappropriate and unwanted touching. Cuomo released a pre-recorded video in response to the report, denying having touched anyone inappropriately and once again stating that it was never his intention to make anyone uncomfortable. His attorney also wrote a rebuttal to the report and many of the women's allegations which included page after page of photographs of Cuomo and others kissing people as supposed evidence that what the governor did was not wrong. Calls for Cuomo's resignation came swiftly and in large numbers, including from longtime allies and unions that have supported him. Among them were House Speaker Nancy Pelosi, President Joe Biden and state Democratic Party Chair Jay Jacobs. As Cuomo has indicated that he has no intention to resign, calls for impeachment have also grown, and the Assembly Judiciary Committee is moving quickly ahead with its investigation. The committee has officially requested that Cuomo send any materials to it as the probe wraps up, and articles of impeachment could be acted on in a matter of weeks.
New vaccine mandate in NYC
As the delta variant of the coronavirus continues to spread in New York and across the country, New York City is taking a new course of action to encourage vaccine holdouts to get the jab and to stymie the spread of the virus. Mayor Bill de Blasio announced that people soon have to show proof of vaccination to enter many private businesses, including restaurants, bars and gyms. This makes New York the first city in the country to impose such a requirement, which is already in place overseas in countries like France and Italy. The move comes just one day after de Blasio declined to impose a new indoor mask mandate despite new CDC guidance on masking, instead just strongly encouraging New Yorkers to continue masking even if vaccinated. It also comes after Cuomo announced that Port Authority and Metropolitan Transportation Authority workers will need to get vaccinated by Labor Day, or else submit to weekly COVID-19 tests.
Police as a protected class
The Nassau County Legislature approved a controversial bill that would make police officers and other first responders a protected class under the county's human rights law and would also permit them to sue protesters for discrimination for sums of $25,000 or more. The legislation was vehemently opposed by police reform groups, civil rights activists, progressives and many people of color. Before lawmakers voted, they heard hours of testimony from those opposed to the bill. However, the Republican-controlled body approved the legislation with the support of one Democrat and the bill sponsor, an independent who caucuses with Democrats. It now goes to Democratic County Executive Laura Curran. She has not said where she stands on the bill and has asked Attorney General Letitia James to review the proposal and offer her opinion on it before taking action. Civil rights groups are expected to sue over the law if it gets signed, with many saying it is unconstitutional and would not hold up in court.
Powered By
NEXT STORY: Why Cuomo will resign … and why he won't