New York State
Major findings from the AG's report into Cuomo's sexual harassment
Investigators spoke with women who had not previously come forward and corroborated accounts from women who had made accusations publicly.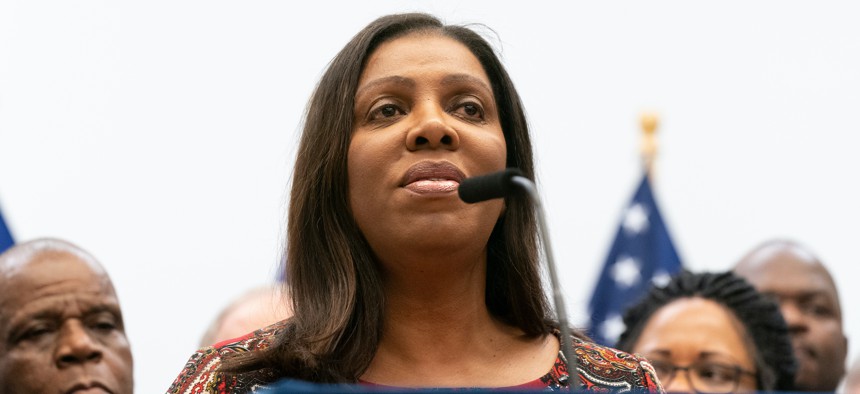 An investigation into accusations of sexual harassment by Gov. Andrew Cuomo released Tuesday found that he kissed, engaged in unwelcome and nonconsenual touching, or made suggestive comments to 11 different women. Cuomo denied any wrongdoing in a recorded statement and rebuttal released later in the day.
The attorney general's five-month independent inquiry into the accusations culminated in a 168-page report that's been met with a storm of national and local attention.
Investigators found each of the 11 women to be credible.
"We have reached the conclusion that the Governor sexually harassed a number of State employees through unwelcome and unwanted touching, as well as by making numerous offensive and sexually suggestive comments," investigators wrote. "We find that such conduct was part of a pattern of behavior that extended to his interactions with others outside of state government." 
While preparing the report, investigators interviewed 179 people, taking testimony under oath from 41 of them. Interviewees included Cuomo, the women who made allegations against the governor, current and former members of the Executive Chamber, current and former members of the New York State Police, as well as other individuals believed to have relevant information. Investigators issued over 70 subpoenas and received over 74,000 documents. The public also supplied approximately 280 potential tips through a tip line that was created for the investigation.
The information provided below on each of the 11 women is based on the findings outlined in the report – findings that have been corroborated with written evidence, emails, conversations held at the time and additional witnesses, according to investigators.
Executive Assistant No. 1
Executive Assistant No. 1, who made the most serious accusations against Cuomo, currently works in the Executive Chamber and has provided administrative assistance to various members including the governor. Investigators found that over the case of her employment in the Executive Chamber, the governor behaved in a way that demonstrated "increasing familiarity and intimacy" ranging from banter about her romantic relationships to looking through her social media and inquiring about the personal life of her and her friend Alyssa McGrath – another executive assistant in the chamber. 
Investigators found the governor's comments became increasingly suggestive over time, and in 2019 or early 2020, he told Executive Assistant No. 1 "if you were single, the things I would do to you." Physical contact too, such as kissing, requesting hugs and running his hands up and down her back during embraces happened regularly, according to the report. 
In November 2020, the woman told investigators that she was asked to assist Cuomo at the Executive Mansion where she said the governor slid his hand up her blouse and grabbed her breast over her bra.  

State Trooper No. 1
Investigators found that Cuomo harassed a state trooper assigned to his protective detail multiple times, including running his finger down her back and his hand across her stomach, kissing her on the cheek in front of another trooper, and making sexually suggestive and gender-based comments.
Investigators also found that the governor spoke to a member of his protective detail about having the state trooper join the Protective Services Unit assigned to the governor after meeting her at an event on the Robert F. Kennedy Bridge. Despite not meeting the requirement of having at least three years of State Police experience, the trooper was hired. The member of the protective detail who Cuomo spoke to sent her an email saying "ha ha they changed the minimum from 3 years to 2. Just for you." According to the report, the trooper joined the Protective Services Unit in January 2018.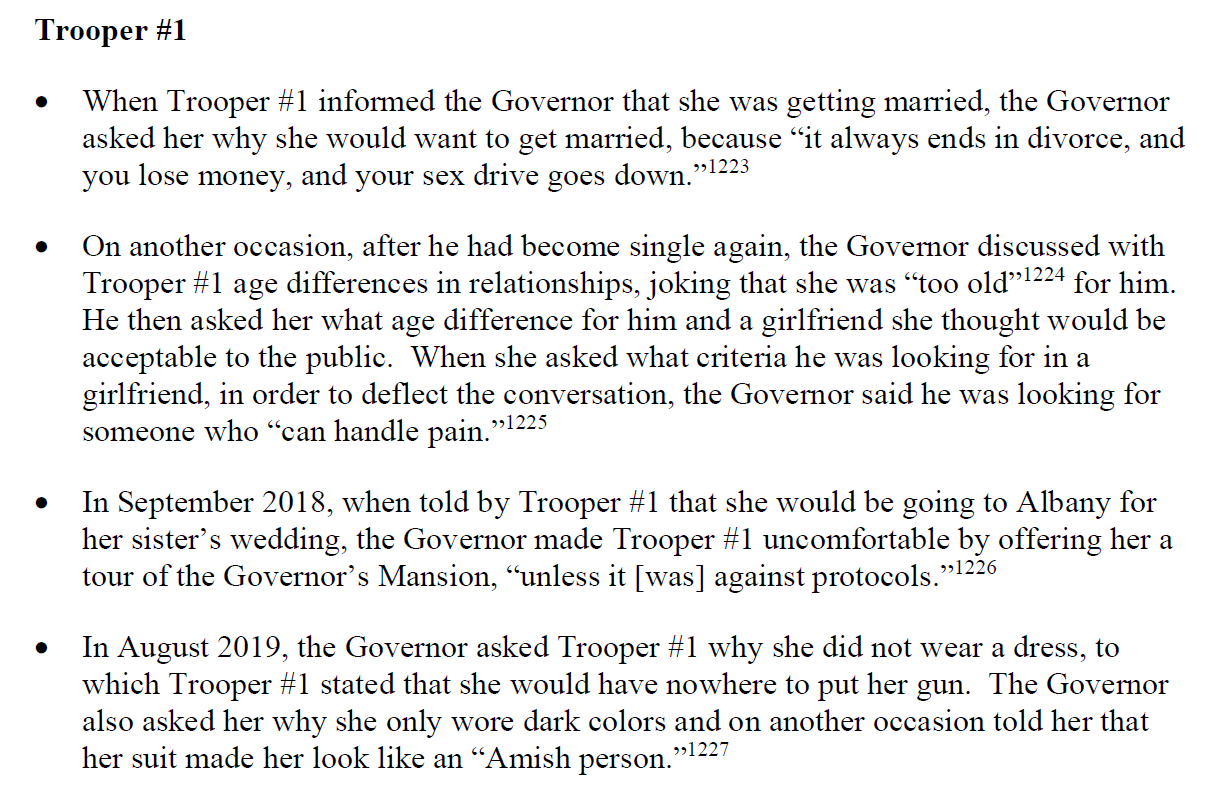 Charlotte Bennett 
Former Cuomo aide Charlotte Bennett began working for the governor's office in New York City in January 2019 as a briefer. She was later promoted to executive assistant and senior briefer, working in Albany between March and July of 2020. She had been the subject of several inappropriate inquiries from the governor, investigators found, which were corroborated by contemporaneous text messages Bennett sent. One of Bennett's texts said "Something just happened and I can't even type it out … GOING TO BURST INTO TEARS."
Bennett told investigators she initially believed she had a positive relationship with Cuomo, confiding in him that she wanted to work public service after experiencing sexual assault previously and having difficulty reporting it. Cuomo used much of his official recorded response to the attorney general's report to address his conversations with Bennett, insisting that he was trying to help her process her trauma of being sexually assaulted.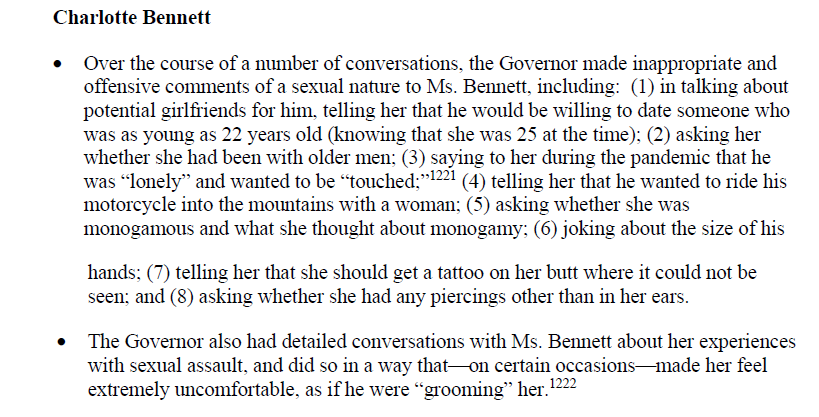 Lindsey Boylan 
Lindsey Boylan worked for Empire State Development starting in 2015. She transitioned into the governor's office and became deputy secretary for economic development and special adviser to the governor in 2018. She was the first to accuse the governor of sexual harassment, and she has remained one of his most outspoken critics. Investigators found that some of her recollections of Cuomo's comments on her appearance could be corroborated by Howard Zemsky, her former boss at Empire State Development. Investigators also concluded that the response to Boylan's accusations constituted unlawful retaliation. They detailed a "flurry" of activity after Boylan went public, during which Executive Chamber staffers pulled her personnel file and looked for Wite-Out to redact every name but Boylan's to leak the file to the press.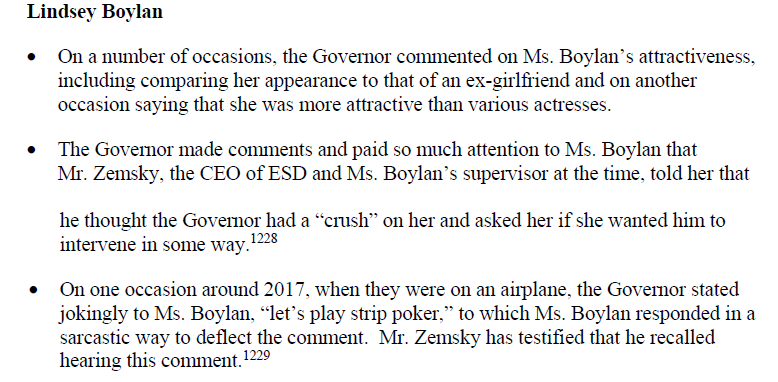 Alyssa McGrath 
Alyssa McGrath, an executive assistant in the Executive Chamber since May 2018, accused Cuomo of sexually harassing her at work and in the Executive Mansion. Investigators corroborated these claims, saying the governor made inappropriate comments and engaged in harassing conduct during their interactions in 2019. According to the report, Cuomo regularly asked McGrath about her personal life including her marital status and divorce, stared down her blouse and commented on her necklace which was tucked inside of her shirt and asked whether she planned to "mingle" with men on an upcoming trip to Florida with Executive Assistant No. 1.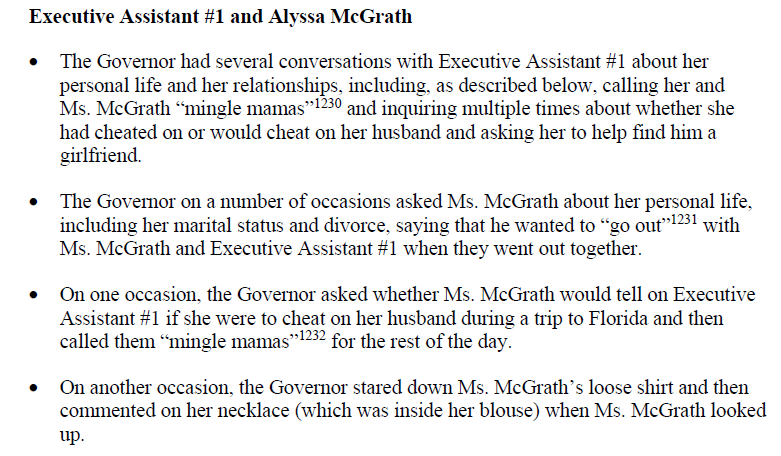 Ana Liss 
Ana Liss worked in the governor's office as an Empire State fellow from 2013 to 2015. She was relocated to work closer to the governor's office, and she eventually concluded that she was moved there because of her appearance, to be "eye candy." Another staffer said he had the same impression of Liss' relocation. She recalled a pattern of inappropriate comments about her appearance and unwanted touching from the governor. The governor testified that he does not remember Liss. 

Kaitlin
Kaitlin, whose last name is not public, was a lobbyist toward the end of 2016 when she met the governor at a fundraiser. While introducing herself in what she said was her second time meeting Cuomo, investigators said the governor "pulled her by her hand and held her in a dance pose that was captured in photographs." He told her that he wanted her to work in state government. Nine days later, she received a voicemail inviting her to interview with the Executive Chamber. Kaitlin felt at the time that the offer was made "because of what (she) looked like." After she accepted the position, Kaitlin said Cuomo made numerous comments about her appearance and that she was in several uncomfortable situations alone with him at the office. She was transferred to another state agency after about a year of working in the Executive Chamber because she felt "(the Governor's) inner circle did not like her," according to the report. Soon after Boylan publicly accused the governor of sexual harassment in December, Kaitlin received a phone call from a former colleague in the Executive Chamber – a phone call that was secretly recorded at the insistence of Secretary to the Governor Melissa DeRosa. According to the report, "DeRosa testified that she called the former staff member and asked her to call Kaitlin because Ms. DeRosa 'thought there was a politically calculated movement afoot that was being driven by (Alessandra) Biaggi and (Lindsey) Boylan, and that Kaitlin was part of it.'"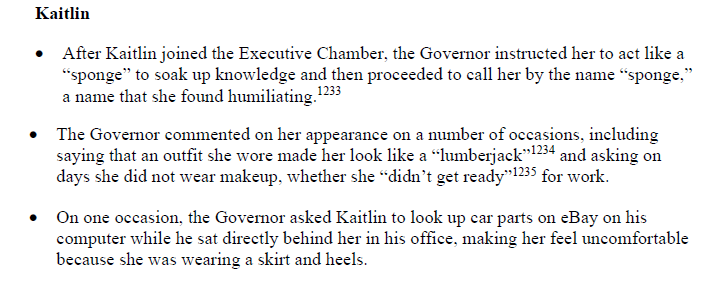 State Entity Employee No. 1
State Entity Employee No. 1 is an employee of a state-affiliated agency who made allegations of Cuomo's inappropriate conduct. According to investigators, the governor touched her butt in an unwelcome manner during a work event in 2019 while the two were taking a photograph together. When she attempted to immediately tell her supervisor, who was also present in the photo, about the touching, the report says her supervisor did not respond. Investigators said the state entity employee has not interacted with Cuomo since, but when she tried to bring up the unwelcome contact again with her supervisor the next week, she was met with questions about the governor's intent.

State Entity Employee No. 2
A doctor and former director at the state Department of Health, referred to as State Entity Employee No. 2 in the report, performed a COVID-19 nasal swab on the governor during a televised press conference on March 17, 2020. Investigators say that during a run-through before the press conference began, the governor requested she not "go so deep that (she) hit (his) brain" to which she promised she'd be "gentle but accurate." According to the report, the governor responded with "(G)entle but accurate, (I've) heard that before" – a comment the doctor took to have an inappropriate sexual undertone. 
The doctor also testified that the governor behaved in a flirtatious manner throughout their encounter. During the live televised press conference, the governor said she made the full personal protective equipment "look good."

Virginia Limmiatis
On May 24, 2017, Virginia Limmiatis attended a conservation event in upstate New York where Cuomo gave a brief speech. She wore a shirt to the event that had the name of the energy company she worked for printed across the chest area of the shirt. When she went to shake hands with the governor after the event, he pressed two fingers on each letter of the company's name on her shirt, Limmiatis told investigators. Immediately after that, "The Governor leaned in so his cheek was touching Ms. Limmiatis' cheek, and said something along the lines of, 'I'm going to say I see a spider on your shoulder.'" He then "brushed his hand in the area between her shoulder and breast below her collarbone." She told investigators that she took that to mean he knew he had done something wrong and needed "to create a cover story."

Anna Ruch
On Sept. 14, 2019, Anna Ruch attended the wedding of Cuomo's then-senior aide Gareth Rhodes, as she was a close friend of the bride. She met the governor for the first time that day, and after quickly shaking hands, he touched her back where there was a cutout in her dress. She forcibly removed his hand from her back and then he grabbed her face, saying, "Can I kiss you?" A photo of the incident, which appeared on the cover of the New York Post in March, was one of the more shocking examples of the governor's behavior when these allegations first started becoming public.

Powered By
NEXT STORY: Investigators determined Cuomo sexually harassed women