New York State
Investigators determined Cuomo sexually harassed women
State Attorney General Letitia James said the work "shines light on the injustice that can be present at the highest levels of government."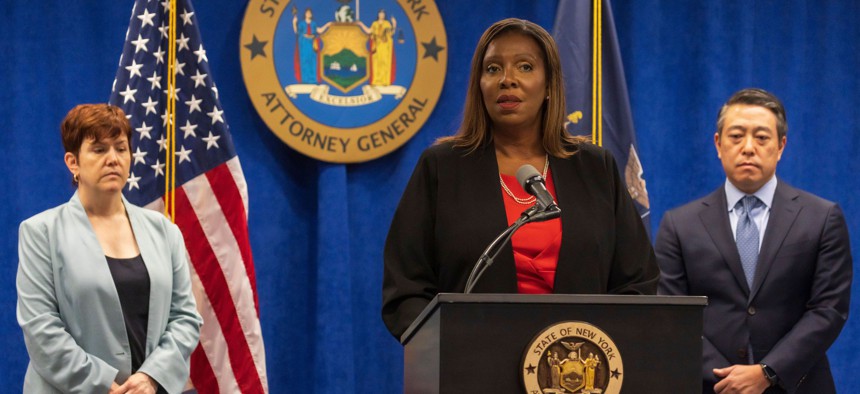 After an investigation that lasted five months, state Attorney General Letitia James has concluded that Gov. Andrew Cuomo sexually harassed multiple women. The report includes allegations from 11 women, all of whom investigators said they found credible. Cuomo continued to deny the allegations of inappropriate touching in a prerecorded response to the report, and indicated he intends to remain in office. But Assembly Speaker Carl Heastie said his chamber intends to "move expeditiously" on impeachment.
Speaking from her lower Manhattan office and joined by independent investigators Joon Kim and Anne Clark, James said the governor sexually harassed both current and former state employees – including a state trooper on his security detail, which had not been previously reported. As part of the investigation, Clark and Kim interviewed 179 people and reviewed 74,000 pieces of evidence. "These interviews and pieces of evidence revealed a deeply disturbing, yet clear picture," James said. "Gov. Cuomo sexually harassed current and former state employees in violation of both federal and state laws." Those interactions included "unwanted groping, kisses, hugging and by making inappropriate comments." 
The report also concluded that the governor retaliated against Lindsey Boylan, a former staffer who was the first to publicly announce her allegations in December, and that Cuomo fostered a "toxic workplace" more generally. "None of this would have been illuminated if not for the heroic women who came forward," James said, praising the 11 women who shared their stories of harassment.
The Attorney General's office is not bringing any charges – either criminal or civil – against Cuomo following the investigation. Although law enforcement can use the findings to aid their own investigations and potentially file charges. The Albany County District Attorney's office acknowledged its own ongoing criminal investigation into Cuomo's sexual harassment, and said it would be requesting materials from the attorney general.
The report also didn't lay out any punishment for the governor based on its findings. "There are no penalties specifically tied to this report," Clark said. "But women can decide, some of them can decide, if they want to bring a civil action."
James and the investigators said they were able to corroborate claims of both verbal and physical harassment made by the women who spoke with them. Clark said that Cuomo "clearly met, and far exceeded" the legal standard for sexual harassment, a standard the governor expanded to include more unwanted behavior when he signed a law in 2019.  The report included several new allegations as well. One involved the governor inappropriately touching a state trooper in his security detail on multiple occasions, including running his finger down her spine and running his open hand across her stomach. "She told us that she felt completely violated," Clark said.
The report also found that Cuomo had groped an unnamed current staffer in the executive mansion, an incident first reported by the Times Union. James said that a police report had been filed by the victim in Albany County.
In addition to specific allegations of sexual harassment, James and the investigators said Cuomo fostered a "toxic workplace," which has been the subject of numerous reported pieces in the months since the sexual harassment allegations first came to light. "The culture within the Executive Chamber contributed to conditions that allowed the governor's sexually harassing conduct to occur and to persist," Kim said. He said the people they interviewed used words like abusive, hostile, vindictive and bullying to describe the working environment in the Executive Chamber. "Hopefully, when this is all done, people will realize the culture, even outside the sexual harassment stuff, isn't something you can get away with," one unnamed staffer said in a text included in the report. "You can't berate and terrify people 24/7."
As the investigation neared its end – and as it likely became clear to the governor and his team that his harassment would be substantiated – they tried to publicly discredit the investigators. "I have concerns as to the independence of the reviewers," Cuomo said at a July 26 press conference, suggesting that Kim and Clark were out to get him. Other members of the governor's circle suggested that James was planning to hurt Cuomo to help her own political standing.
On Tuesday, James repeatedly emphasized that Cuomo himself referred the case to the Attorney General's office and asked for the investigation. She also thanked Kim and Clark "for their professionalism, despite the attacks, and for the dogged investigation that brought us to the truth." Kim emphasized the investigation's independence. "We were allowed to, and did, follow the facts without fear, without favor," he said. 
Cuomo declined to step down or resign on Tuesday, despite overwhelming pressure from the state's Democratic elected officials. Every Democrat in the state's congressional delegation – including U.S. Sens. Chuck Schumer and Kirsten Gillibrand – called on Cuomo to resign. But he, once again, denied all wrongdoing.
"The facts are much different than what has been portrayed," Cuomo said in a pre-recorded video released Tuesday afternoon. "I want you to know directly from me that I never touched anyone inappropriately or made inappropriate sexual advances. … That is just not who I am. And that's not who I have ever been." Cuomo also released an 85-page report rebutting the allegations, compiled by his personal attorney, Rita Glavin. In that report, Glavin called the investigation "utterly biased" and said investigators "willfully ignored evidence inconsistent with the narrative they have sought to weave (from) the outset."
By the end of his 14-minute statement, Cuomo seemed to pivot to a reelection message. "My job is not about me. My job is about you," Cuomo said. "What matters to me at the end of the day is getting the most done I can for you. And that is what I do every day. And I will not be distracted from that job." Cuomo has served as governor since 2011, and his third term is scheduled to end on Dec. 31, 2022. He has continued fundraising, even through multiple investigations, and reported having $18.3 million, as of the latest campaign finance filing in July. While many Republicans have started campaigning ahead of the 2022 gubernatorial election, no Democrats have announced a primary challenge, since Cuomo's political future had been so unclear. But the attorney general's report surely weakened the reelection chances of a governor who was already struggling in the polls, and all the rumored and potential candidates have to now be weighing their options – including James herself, who was elected to statewide office in 2018 with Cuomo's support.
James herself wouldn't opine on whether Cuomo is fit to serve or whether he should resign, saying that she doesn't "engage in political speculation." But plenty of other lawmakers weighed in after the report was released to reiterate their calls for the governor to step down, including state Senate Majority Leader Andrea Stewart-Cousins. "Now that the investigation is complete and the allegations have been substantiated, it should be clear to everyone that he can no longer serve as governor," Stewart-Cousins said in a statement.
In his most definitive statement yet on the matter, Heastie said, "(I)t is abundantly clear to me that the governor has lost the confidence of the Assembly Democrats and he can no longer remain in office." His chamber has been conducting its own independent impeachment investigation, which is being led by the Judiciary Committee and its Chair Charles Lavine. Now, Heastie said the Assembly will move "expeditiously" to conclude the inquiry "as quickly as possible."
In addition to the sexual harassment allegations, that probe is also examining Cuomo's handling of COVID-19 in nursing homes, how he reported nursing home deaths from COVID-19, potential construction issues with the Gov. Mario M. Cuomo Bridge and the governor's alleged use of government resources to help with his recent memoir. Heastie's comments came after Democrats in his chamber held an emergency conference on the new report. One lawmaker in attendance said they expect impeachment proceedings before the end of the summer, as more colleagues joined the call for impeachment.
Cuomo is still facing other ongoing probes as well. James said Tuesday her office's investigation was ongoing into the alleged use of government resources related to the publication of Cuomo's book about the state's fight against COVID-19. And federal prosecutors in Brooklyn as well as the FBI are looking into the administration's handling of nursing homes deaths during the pandemic, including allegations of a cover-up about the number of COVID-19 deaths in those facilities. Those federal prosecutors also subpoenaed documents relating to Cuomo's book in June.
With Cuomo steadfastly declining to step down and other investigations ongoing, the full political fallout of the attorney general's report remains to be seen. While James wouldn't talk about those politics, she said she hopes that New Yorkers will take away from the report the need to believe and protect women. "What this investigation revealed was a disturbing pattern of conduct by the governor of the great state of New York," James said. "And those who basically did not put in place any protocols and procedures to protect these young women who believed in public service."
Powered By
NEXT STORY: New York politicians react to Cuomo sexual harassment report