Politics
The Hochul tone debuts in Albany
'Collaboration' is the magic word as the new governor promises a new approach to policymaking.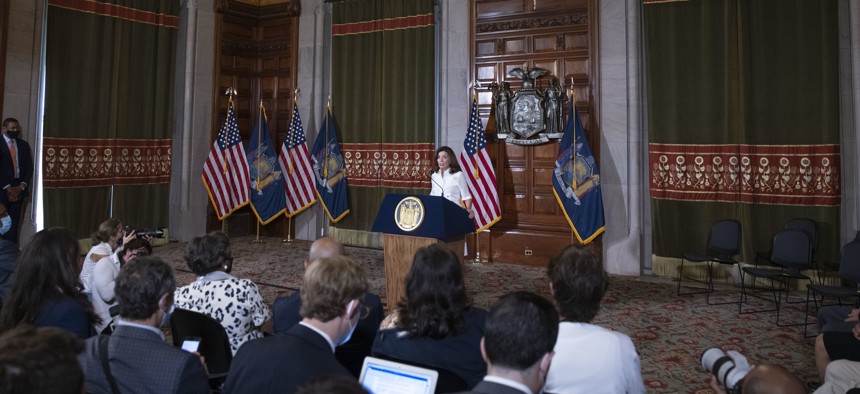 Gov. Kathy Hochul had a straightforward schedule in her first day on the job after being sworn in just after midnight on Tuesday in a private ceremony at the state Capitol. She took questions from reporters for the first time as governor in the morning before huddling with legislative leaders at noon. An afternoon speech broadcast online punctuated a busy day of keeping up appearances. That might have been enough to begin enacting some big changes in how state government works following the long tenure of former Gov. Andrew Cuomo.
The first female governor in state history believes that a diplomatic approach with local officials and legislative leaders can help her succeed where Cuomo fell short on pressing problems like the ongoing spread COVID-19 and the sluggish rollout of the state's rent relief program. A change of leadership on the Second Floor, however, does not necessarily mean a change in political direction.
"I'm looking forward to a fresh, collaborative approach," she told reporters. "It will be nothing new for me, but it's something I'm planning on introducing to the state Capitol." Such words have already won the new governor significant goodwill from a long list of legislators, local officials and activists eager to turn the page on the Cuomo era. "It's a collaborative tone," state Senate Majority Leader Andrea Stewart-Cousins told reporters after meeting with Hochul and Assembly Speaker Carl Heastie. "Whatever has to be done, we will do in order to make the lives of New Yorkers better." A diplomatic touch appears to have even bought the new governor some political space from the legislative leaders, who both indicated that they were willing to give the new governor some leeway as she develops her policy agenda in the coming weeks.
A top issue at the meeting between the three top leaders in state government was what to do before the statewide eviction moratorium expires at the end of the month. Stewart-Cousins and Heastie could reconvene their chambers to pass new legislation, which Hochul would then have to sign into law. While the legislative leaders said Tuesday they have yet to make a decision about that, their new partner in power promised to push hard in the meantime to speed up the disbursement of rent relief money approved by state lawmakers months ago. "I want the money out now," Hochul said. She added that the state would take actions like hiring more people to process applications while a "top team" identifies other possible changes to the program. "I'm going to go out there with the same intensity I have with this renter program," she told reporters of dealing with a similarly slow rollout of the $2.1 billion "excluded workers" fund included in the state budget that was approved in early April.
Hochul also promised a collaborative approach on confronting the ongoing surge in COVID-19 cases as a new school year approaches. "I've been consulting with parents, elected officials, teachers, school boards and superintendents," said Hochul, before announcing that she would direct the state Health Department to require "universal masking for anyone who enters our schools." Requiring vaccinations for all school personnel, however, would require local districts to take action with gubernatorial backing.  She added that additional "concise and consistent" policies for reopening schools would come later this week in consultation with local leaders. The early response from local school leaders and teachers suggested her approach was resonating with them. "Hochul brings a breath of fresh air to Albany," reads a statement released by New York State United Teachers, a union representing public school teachers across the state, after her speech.
A collaborative approach could also help Hochul accomplish what she said is her biggest goal as governor. "I want (New Yorkers) to believe in government again," she said. That is a goal that past governors like Cuomo have failed to accomplish and one that Hochul cannot do alone. She said she will get the ball rolling by implementing changes in the executive branch. State employees will have to do their sexual harassment training in person rather than through online portals. An executive order will also require them to do ethics training. Her newly installed gubernatorial counsel is going to speed up the release of public records requested through the Freedom of Information Law. Making lasting changes to state ethics law though will require the state Legislature to get involved by replacing the much-criticized Joint Commission on Public Ethics with a more independent body, whether that means passing a new law or an amendment to the state constitution.
A change in political tone, however, did not mean that Hochul will differ from Cuomo that much on policy. She touted her role as lieutenant governor in helping the former governor get legislative initiatives like expanded paid family leave, a $15 minimum wage and additional gun control measures through the Legislature. "I've been in the trenches with local health leaders and officials, battling the pandemic, day after day after day," she said. The sum of all this experience appears to be a moderate political agenda that will not differ much from her predecessor. Like Cuomo, she is promising to reform Albany, battle COVID-19 and restore faith in government. The big difference is that she is trying to do this in cooperation with state lawmakers, who Cuomo would typically try to strong-arm.
Hochul appeared to have two big objectives on her first day in office. The first was to show that she was in control of the executive branch and getting down to the business of governing. She met that goal in part by speaking to reporters, legislative leaders and the public about some initial actions she will take against challenges like COVID-19. Her second objective was to get the legislative leaders and as many other public figures as possible to express confidence that her collaborative approach will really yield the types of results she is promising. Stewart-Cousins and Heastie both said they were optimistic about their future working relationship with a governor who said she wants to include them in the decision-making. It will take some time for New Yorkers to know what that means for them in the end, but Hochul has already explained how she wants to make it happen. "If they have any questions about my ability to lead, speak to every single person who's in government with me," she told The New York Times as her first day in office drew to a close. "They know I bring up a collaborative approach to government."