New York State
Hochul's curious comments on gerrymandering
The new governor promised to change Albany politics before making a very interesting comment on redistricting.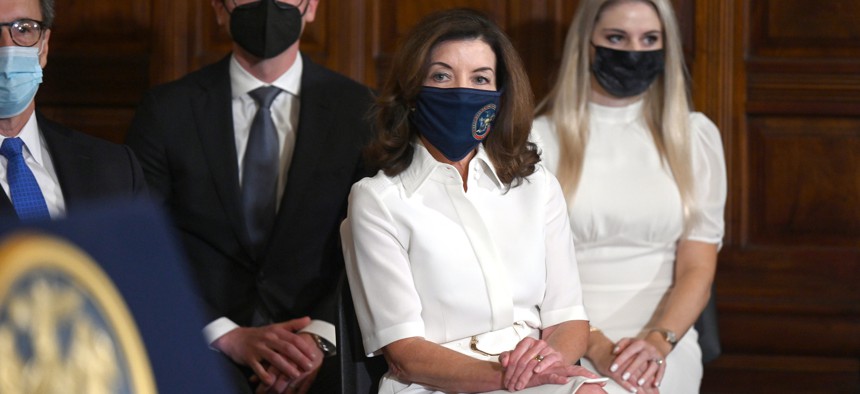 Gov. Kathy Hochul has talked a lot about how she wants to change the political tone in Albany. Many of her earliest moves in office have demonstrated what this means in practice. Sexual harassment policies are getting changed. State employees are going to have to take ethics training for the first time. State lawmakers are excited about a governor who avoids the heavy-handed approach of her predecessor Andrew Cuomo. Partisan gerrymandering, however, appears to be fine by Hochul.
Just look at the answer she gave to The New York Times when asked whether she planned to use her sway as governor to help Democrats gain seats in the U.S. House through the ongoing redistricting process. "Yes," said Hochul before digressing into how loyal of a "Biden Democrat" she really is. City & State reached out to a spokesperson, who reiterated the substance of her statement and did not deny this apparent embrace of partisan gerrymandering. "One would be naive to think there isn't politics involved in the political process of redistricting but I was encouraged by Governor Hochul saying she wanted people to believe in their government again during her press conference yesterday," political consultant L. Joy Williams said in a text. "Part of that would be ensuring a fair and transparent redistricting process."
Hochul's comments go against the values laid out through a yearslong redistricting reform effort that culminated in a state Constitutional amendment approved by voters in 2014. This is the first time that the state's new Independent Redistricting Commission has been tasked with the decennial process of drawing new legislative and congressional lines. "The purpose of creating the Commission is to make the process independent from the legislature in favor of an equally bipartisan body," reads the commission website. "For the first time, both the majority and minority parties in the legislature will have an equal role in the process of drawing lines." Hochul's comments to the Times suggest that despite those reforms, Democrats still want to leverage their power over the process to gain as much electoral advantage as they can. 
The details of the process are complicated, but what matters most is that any plans by the bipartisan Commission have to be approved by both chambers of the state Legislature – where Democrats hold supermajorities – and the governor, who has veto power over the process. If lawmakers reject lines proposed by the commission twice, then the Democratic supermajorities in both chambers could draw new maps as they please with a two-thirds vote in each chamber. This might not matter much when it comes to who controls the Assembly, which Democrats have dominated for decades, but partisan gerrymandering could determine whether they hold onto their supermajority in the state Senate – and even more importantly – whether they still control Congress next year. 
Partisan gerrymandering in other states like Texas will make it hard for Democrats to hold onto their razor-thin majority in the U.S. House, especially considering how the party controlling the White House historically loses seats in a midterm election. Republicans hold eight congressional seats statewide, and Democrats could flip some of them on Long Island, in New York City or Upstate by redrawing districts in ways that would boost their own candidates. This might happen by dividing GOP voters into separate districts with Democratic majorities. Or, they could cram as many Republicans as possible into a few super-red districts. Those are two approaches that the GOP-controlled state Senate used a decade ago to much criticism while protecting their own political position in the state.
Lawmakers had an informal arrangement in past cycles that allowed the party in control of each chamber in the state Legislature to redraw their own districts as they wanted. This helped Democrats protect their majority in the Assembly and Republicans their erstwhile majority in the state Senate – at least until Democrats flipped the chamber in 2018. Democrats have talked big since then about remaking state government in a more ethical way. While they have a lot to gain by redrawing maps to their full advantage in New York this time around, it could make them look more than a little hypocritical in the process. Whether Democrats will prioritize good government over partisan advantage is the biggest question when it comes to the redistricting process. Hochul's latest comments provide an indication, no matter how it might contradict her vows to change Albany politics.
Powered By
NEXT STORY: Hochul picks Brian Benjamin for LG