Politics
How the Cuomo administration sought to undermine Lindsey Boylan
A detailed guide to what the governor's aides did in the days after Boylan said she was sexually harassed, according to the AG's report.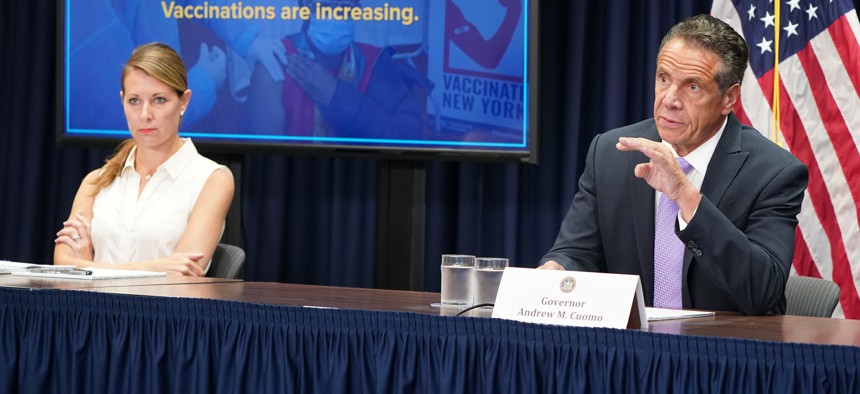 The findings of independent investigators hired by state Attorney General Letitia James into allegations of sexual harassment and sexual assault by Gov. Andrew Cuomo revealed actions by the governor that James described as violations of state and federal law.
But the 168-page report and its attached appendices also exposed a pattern of actions by Cuomo's inner circle – both his senior staff within the Executive Chamber and other advisors to the governor – that sought to discredit his accusers and fight the intensifying scrutiny of Cuomo's behavior. That pattern is perhaps made most clear in what the report revealed about staffers' behind-the-scenes attempts late last year to undermine Lindsey Boylan, the first woman to publicly accuse Cuomo of sexual harassment, while denying her accusations in statements and through the press. On Wednesday, a day after the report was released, Boylan's lawyer told The New York Times that she planned to sue Cuomo and advisers mentioned in the report for "retaliatory actions."
"One of the report's many errors is its conclusion that the Executive Chamber impermissibly retaliated when it responded to Lindsey Boylan's allegations," Paul Fishman, an outside attorney for the Executive Chamber, said in an emailed statement on Thursday afternoon. Fishman referenced a 13-page document explaining the administration's argument that was sent to the attorney general's office last month.
Here's what happened in December after Boylan's first accusation, according to the report led by independent investigators Joon Kim and Anne Clark.
Dec. 5, 2020 – Lindsey Boylan, who worked for New York state between 2015 and 2018 – first for Empire State Development, then for Gov. Andrew Cuomo – refers to the Cuomo administration a "toxic team environment" in a tweet. She had previously referred to the environment as "toxic."
Dec. 9, 2020 – Boylan tweets: "@NYGovCuomo will go down as one of the biggest abusers of all time."
Dec. 9, 2020, later in the day – Secretary to the Governor Melissa DeRosa in a text chat with former Cuomo Chief Counsel Alphonso David and Department of Financial Services Superintendent Linda Lacewell shares Boylan's tweet from earlier in the day and asks to see Boylan's "full file" from her time working with the state. "Alphonso I need to see her full file," "Emails etc," DeRosa wrote in two texts.
David, who didn't work for Cuomo at the time but did during Boylan's tenure, responded that then-special counsel to the governor Judith Mogul would be able to send her the file from Boylan's time working in the Executive Chamber, which Lacewell confirmed. David is now, and was at the time of these texts, president of the Human Rights Campaign. David has now called for Cuomo's resignation, and in a statement emailed to City & State said, "I was never aware of any allegations of sexual misconduct, and no one ever reported them to me, as the report verifies. Of the 11 survivors, I only directly engaged with one, and that was on a personnel matter that had nothing to do with sexual misconduct." David now faces calls to resign from the Human Rights Campaign.
Dec. 11, 2020 – Boylan tweets in reference to an article about then President-elect Joe Biden considering Cuomo for U.S. attorney general, ".@JoeBiden if you make this man Attorney General, some women like me will be bringing the receipts. We do not need a sexual harasser and abuser as "the law," of the land."
Dec. 11, 2020 – Alphonso David sent Cuomo spokesperson Rich Azzopardi files he kept from an investigation into complaints made against Boylan shortly before she resigned from the Executive Chamber. The files, according to the independent investigators, included documents marked "confidential" and "privileged" and included complaints about Boylan during her time working for the state.
DeRosa testified to the investigators that the idea to release the files about Boylan was first proposed by former Executive Chamber staffer Josh Vlasto to respond to tweets that Boylan sent prior to Dec. 13, when she would make a more specific allegation against Cuomo.
Before the files were circulated, however, there was some back and forth about whether it was legally permissible to release the files and whether it was the right move from a public relations perspective, with DeRosa soliciting opinions from senior staff, including Azzopardi, Vlasto, Mogul and Lacewell.
Dec. 13, 2020 – In a Sunday morning tweet, Boylan accuses Cuomo of sexually harassing her. "Yes, @NYGovCuomo sexually harassed me for years. Many saw it, and watched," Boylan wrote. "I could never anticipate what to expect: would I be grilled on my work (which was very good) or harassed about my looks. Or would it be both in the same conversation? This was the way for years."
Dec. 13, 2020 – Azzopardi sends Boylan's files to former senior staffers, including former Communications Director Dani Lever, former aide Steve Cohen, former Communications Director Rich Bamberger and Vlasto.
Outside lawyers for the Executive Chamber, in the letter they sent to the attorney general's office, said that Mogul, Lacewell and Michael Volforte, director of the governor's office of employee relations, discussed on this day the idea of releasing a file that included allegations of misconduct on Boylan's part and discussed the circumstances of her resignation for the purpose of rebutting what they said were Boylan's false or misleading statements about how and why she left the job.
The independent investigators, meanwhile, concluded that DeRosa made the decision to release the files on Dec. 13 because Boylan's tweets had escalated. DeRosa testified that Cuomo was also informed of the circulation of the files after the fact, though Vlasto said that he assumed Cuomo had approved of the plan to release the files to the press.
Dec. 13, 2020, hours after Boylan's tweet – Azzopardi began sending Boylan's files to different reporters at The Associated Press, The New York Times, the New York Post and the Times Union.
Also on this day, Bamberger emailed with a reporter at The Associated Press, sending a tweet of Boylan's from 2018 sharing – and implying agreement with – The New York Times' 2018 endorsement of Cuomo for governor.
Dec. 13, 2020 – A former Cuomo staffer identified by the investigators as Kaitlin tweets in apparent support of Boylan, writing, "Keep talking, Lindsey. Men like him should not be in positions of power." This tweet would quickly catch the eye of Cuomo's advisers.
Dec. 14, 2020 – In a Monday press conference, Cuomo addressed Boylan's allegation from the day before, saying, "Look, I fought for and I believe a woman has the right to come forward and express her opinion and express issues and concerns that she has … but it's just not true."
That same day, Azzopardi sent the Boylan files to reporters at The Hill, CBS and NY1.
Dec. 15, 2020 – Vlasto, under the direction of Azzopardi or DeRosa according to the report, sent the Boylan files to the Daily News.
Dec. 15, 2020 – It's around this time that the independent investigators found that Cuomo and several advisers began working on another offensive tactic: a letter or op-ed that would level personal and professional attacks at Boylan. In several drafts, a letter – to be signed by former staff who worked with both Cuomo and Boylan – referenced complaints made about Boylan in the aforementioned files, mentioned alleged interactions between Boylan and other male colleagues, and, as the investigators wrote, "impugned (Boylan's) credibility, and attacked her claims as politically motivated."
According to the testimony of DeRosa and Stephanie Benton, director of the governor's offices, Cuomo wrote the first draft of this letter and Benton later typed it up. DeRosa, Mogul and Cohen all weighed in.
Drafts of the letter responding to Boylan's allegations and leveling critiques against her circulated among senior staff and others as the administration decided how best to approach their response. At some point, DeRosa sent a draft of the letter to attorney Roberta Kaplan, Cohen, Lacewell, Mogul, David, Vlasto, Lever and Annabel Walsh, then-director of scheduling for Cuomo.
DeRosa testified that Kaplan shared the draft with Tina Tchen, the head of Time's Up, an anti-harassment organization, who allegedly suggested that the letter was fine if it omitted references to Boylan's interactions with other male colleagues. "First, I would never, nor have I ever, worked to discredit a survivor in any way," Tchen said in a statement on Aug. 4, 2021. "Secondly, I have never given advice to the Governor or his team. I had a phone call with Robbie Kaplan about a letter she said was being sent by his staffers during which I gave the same advice I give to everyone else: No survivor should be attacked and the truth should be told. I'm furious that the Governor's office used me and TIME'S UP as a justification for their defense. TIME'S UP is an organization that has always centered survivors while holding those committing harm accountable. Any characterization of us to the contrary is simply not true."
Most people who DeRosa consulted about the letter suggested it was a bad idea, which DeRosa told the governor. Cuomo suggested seeing if more people would sign on to it. According to the investigators' report, DeRosa, David, Lacewell and Bamberger sent or read drafts to other former staffers, asking them to sign it or help solicit more signatures.
In an emailed statement to City & State, David said that he was asked to sign a letter regarding a former employee after he left the governor's office and declined. "The report verifies that I was not aware of any allegations of sexual misconduct during my service to the state," his statement said. "I reviewed the letter and wasn't familiar with many of the references in it, so I declined to sign it. I was also not advised on allegations by any and all survivors, so my review of the letter did not have the context of those allegations."
Drafts of the letter eventually were seen by over a dozen people. That included, later, reporters at the New York Post, and parts of it were communicated to the Daily News once it was clear the letter might not be published, DeRosa testified.
In their letter to the attorney general's office, lawyers for the Executive Chamber said that no version of a letter was ever circulated publicly.
Dec. 15, 2020 – At the same time that the Cuomo administration was sending copies of Boylan's state personnel files, some in the Executive Chamber were trying to keep tabs on other former staffers, including those who might be supportive of Boylan, the report concludes.
One such person is the former staffer, Kaitlin, who, as mentioned above, tweeted in support of Boylan on Dec. 13. Two days later, on Dec. 15, she received an email notification that Lacewell and Walsh had viewed her profile on LinkedIn.
Dec. 16, 2020 – While discussions about releasing a letter criticizing Boylan continued, Walsh suggested to DeRosa that instead of attacking Boylan in a letter, the administration should release a statement highlighting positive experiences working with the governor.
Dec. 17, 2020 – With Cuomo and the rest of the administration having decided against publishing the letter criticizing Boylan, DeRosa sent around a model statement shared by Walsh that was focused on positive experiences working with Cuomo. A draft of that kind of statement, meant to come from women, was shared later that day by Benton. Azzopardi said that he and Lacewell wrote that draft.
On Dec. 17, Benton, DeRosa and Lacewell also discussed over email how to get women who had worked with the governor to sign on to the letter. Cuomo wanted 50 people to sign it. Apparent draft text or a summary of the letter was included in emails between Benton, DeRosa and Lacewell. "Send to linda tell her to ask 50 names to sign the following letter," read an email that appears to come from Benton on Dec. 17. "'We all worked for Governor Cuomo directly. His motto (was) Performance Integrity Pride, we work for the people. He has always been true to that pledge. He is strong tough respectful inclusive and effective. He showed the teams capacity with a long record of accomplishments and the world (saw) it in the teams product during covid. We are all glad and proud to have served him and the people of the state.'"
"So this is progress," Benton added in the email. "How do we get him 50 plus names. Would be great to keep his mind on this path and would be real shot in the arm if we can get him names in am."
A chart included in the report's appendices appears to show a game plan for reaching out to would-be signatories, with a fully redacted "To Be Called" column followed by a column assigning either David, Lacewell or Benton to call that person.
Dec. 17, 2020 – Four days after Kaitlin tweeted in support of Boylan, she received a call from another former Cuomo staffer who she had worked with. In a transcript of the conversation included in the investigators' report, that unnamed former staffer told Kaitlin that reporters had reached out to her and asked whether reporters had reached out to Kaitlin as well. Kaitlin expressed confusion at how reporters would even know to reach out to her – presumably with questions about what it was like to work for Cuomo – and the former staffer suggested that they may have spotted that state Sen. Alessandra Biaggi liked Kaitlin's tweet supporting Boylan. "So, I – listen, just letting you know. I mean, again, you know, if like, I think it would be fairly clear, you know, if like an elected official liked it. And, in the wake of the Lindsey stuff, obviously everybody knew that you worked there could easily surmise that," the former staffer said to Kaitlin on the call.
Kaitlin testified that she perceived the call to be a "fishing expedition on behalf of the Executive Chamber," the investigators' report said. That former staffer in fact testified that she had been directed to make the call to Kaitlin by DeRosa, "who 'was looking for information about if (Kaitlin) was working with Lindsey (Boylan) or if she had allegations against the Governor.'"
In her own testimony, DeRosa said she asked the former staff member to call Kaitlin because she "thought there was a politically calculated movement afoot that was being driven by Biaggi and Boylan, and that Kaitlin was part of it."
February 2021 and beyond
While the month of December saw current and former Cuomo staffers alike scramble to respond to Boylan's bombshell allegation and discredit her, more specific allegations were still to come. In a Medium post from February, Boylan recalled Cuomo suggesting they play strip poker while traveling on the governor's plane in October 2017. Boylan also mentioned a meeting at the governor's New York City office after which she alleged he kissed her on the lips without her consent. She further accused him of "going out of his way to touch me on my lower back, arms and legs." (Cuomo has testified that he never suggested playing strip poker, never kissed Boylan on the lips and denies ever inappropriately touching anyone in a sexual manner.)
Immediately after Boylan published that Medium post, the Cuomo administration released a simple statement from press secretary Caitlin Girouard: "As we said before, Ms. Boylan's claims of inappropriate behavior are quite simply false." Along with that response was a statement attributed to several Cuomo aides – and former Empire State Development head Howard Zemsky – who were on flights that October with Boylan and Cuomo, and said that a conversation about strip poker never happened. In his testimony later, however, Zemsky said that Cuomo did in fact say "something like, 'Hey, want to play strip poker?'" on a plane, directing the comment to Boylan.
A cascade of more allegations soon followed Boylan's Medium post, putting the governor – and now his most trusted advisers – in the precarious position they find themselves today.