Albany Agenda
Lawmakers could return to Albany this week. Here's what they want to get done.
We know what you're thinking: Impeachment's not the No. 1 priority.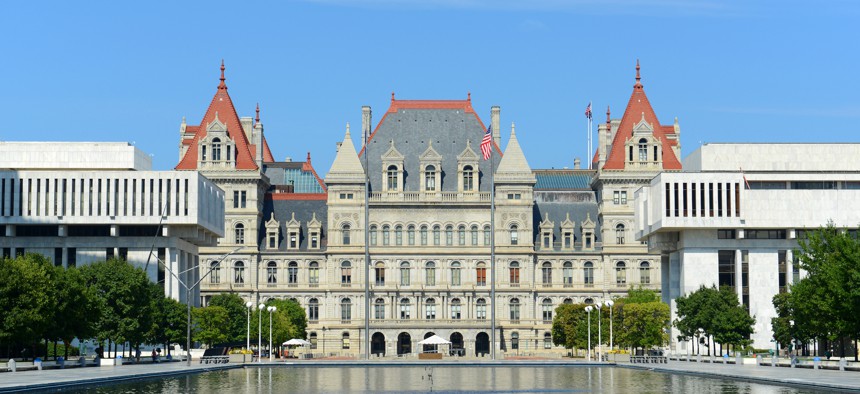 State lawmakers thought they wrapped up their work for the year on June 10, but they are all but certain to return to Albany for some legislative overtime as soon as this Wednesday, multiple lawmakers tell City & State. It is just a matter of when and how ambitious Democrats want to be on a range of outstanding issues.
At the top of the legislative agenda is extending the expiring statewide eviction moratorium in a way that will ensure that it can survive future legal challenges. Legislators also want to tweak the $2.7 billion Emergency Rental Assistance Program in ways that would help more tenants and landlords access aid more quickly. While that could be the extent of the legislative action this week, some lawmakers want to do a lot more than that.
Members of the state Senate and Assembly could consider a broad range of outstanding legislative issues beyond housing, but that all depends on who specifically calls on them to reconvene. Gov. Kathy Hochul could limit lawmakers to a relatively narrow agenda by calling for them to reconvene while state Senate Majority Leader Andrea Stewart-Cousins and Assembly Speaker Carl Heastie could beckon their members back for whatever reasons they want, though that would require them to upend the traditional legislative schedule.
Democrats in both chambers are meeting today to decide next steps, and it remained unclear before publication time whether Hochul or the legislative leaders would ultimately call for lawmakers to return to the state Capitol. Both chambers – which will no longer allow remote voting – traditionally wrap up their legislative work in the first half of the year even though they officially remain adjourned at the call of Stewart-Cousins and Heastie. This arrangement allows them to reconvene their chambers without requesting that a governor issue a call for a special session. Following the lead of the executive, however, could help the legislative leaders avoid a slippery slope situation with members eager to pack as much legislative action as possible into an unexpected late-summer session that follows a lot of drama surrounding the possible impeachment of Cuomo. 
A spokesperson for the governor said Hochul would have something to say about calling a special session "very soon" following an Aug. 27 statement where the governor said her staff would meet with the legislative leaders over the weekend to discuss next steps "to deliver relief to renters and homeowners in need as quickly as possible." Some lawmakers say a gubernatorial request for action on outstanding appointments like making Janno Lieber the permanent head of the Metropolitan Transportation Authority is also possible. 
If it were up to the political left, however, the legislative agenda would be much longer. Left-leaning Democrats in both chambers, as well as activist allies, say they want to pass parole reforms and the Clean Slate bill that would allow more people to have their criminal records automatically expunged. More than a few among them have not given up on the idea of impeaching ex-Gov. Andrew Cuomo. The new ethical zeitgeist shrouding the Capitol has also energized efforts to replace the much-criticized anticorruption agency the Joint Commission on Public Ethics, strengthen laws against sexual harassment and maybe even update public meeting laws to allow remote proceedings at a time when COVID-19 cases are surging once again. 
What could be stopping the Legislature from getting all this stuff done sooner rather than later? The governor and legislative leaders might decide that a more limited legislative agenda is better at a time when the new governor is transitioning into her new job. Normalizing the idea that state lawmakers can meet in the latter half of the year could also undermine legislative leaders' ability to wrangle deals in the future as the scheduled end of a legislative session approaches. Plus, calls for the state Legislature to reconvene in the summer and fall are nothing new – as are legislative leaders' refusals to indulge them. Some lawmakers called to no avail for a special session in 2019 to address limousine safety in the wake of a deadly crash in Schoharie. While both chambers did reconvene in the latter half of 2020 to pass police reforms and complete some legislative work interrupted by the pandemic, the end of remote voting makes that a lot more complicated to do moving forward. 
Getting Hochul to call a special session gives Stewart-Cousins and Heastie a pretext to limit the legislative activity in the upcoming days to housing issues. One key reason why lawmakers got a pay raise a few years back was because their job has evolved to be much more than the part-time gig it was decades ago. Some Democratic lawmakers though say that the time has come for Hochul and legislative leaders alike to back the idea that lawmaking can be a year-round activity. "We should just have a fall session as a matter of course," Assembly Member Robert Carroll of Brooklyn said in a text Monday morning. "Gov. Hochul has an opportunity to partner with the legislature and she should want us in Albany in September and October doing work showing she can lead the state."