New York State
6 things to know about the state's new LG
Gov. Kathy Hochul has picked state Sen. Brian Benjamin to serve beside her in Albany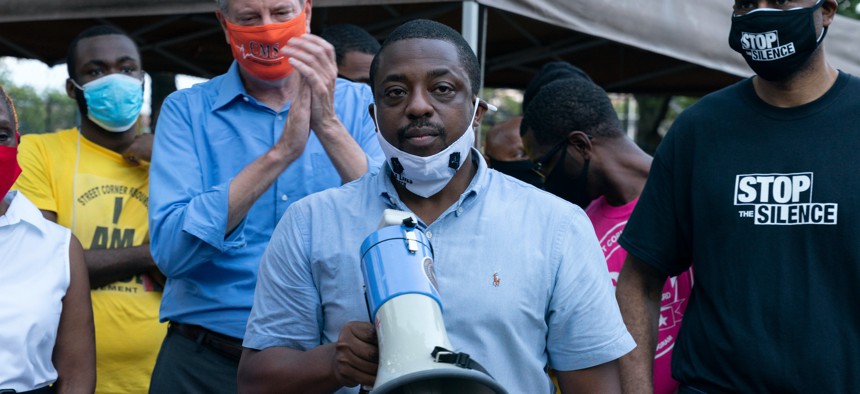 Gov. Kathy Hochul has landed on state Sen. Brian Benjamin to replace her as lieutenant governor and serve alongside her through 2022, according to multiple sources. The Harlem Democrat will be only the second Black person in the position in the state's history. Fresh off of a failed bid for New York City comptroller, he now finds himself in a statewide, rather than citywide, position.
Benjamin was one of several lawmakers rumored to be in contention for the position, including state Sen. Jamaal Bailey and Assembly Member Rodneyse Bichotte Hermelyn, as Hochul sought a downstate person of color to join her in the Executive Chamber. First elected in a 2017 special election for the seat once held by former Gov. David Paterson, Benjamin has been a constant and reliable presence in his chamber, where he often presided over session. Here are a few things to know about the incoming lieutenant governor.
Criminal justice reform is a key issue
In the four years he has been in office, Benjamin has made criminal justice reform one of his key issues. He entered office in 2017 with the promise to close Rikers Island and has introduced legislation to accomplish that goal within three years, though the city is moving forward with a plan to close the facility before the end of the decade and replace it with four borough-based jails. He has co-sponsored landmark legislation that largely eliminated cash bail and ended solitary confinement. This past session, Benjamin notably sponsored the so-called Less is More Act, which would have limited the use of reincarceration as punishment for technical parole violations. The bill was one of several items, including the Clean Slate Act and Fair and Timely Parole, that criminal justice reform advocates pushed lawmakers to pass this year. Benjamin's was the only bill out of that package to make it through the Legislature, although it still awaits a signature from the governor. He has also said he supports the movement to defund the police, potentially putting him at odds with Hochul.
Questions raised about ethics
Benjamin has faced several questions over potential ethical issues, although he has never been found guilty of any wrongdoing. The first instance came not long after he took office when he faced accusations that he still consulted for the real estate firm Genesis Companies, his old employer. The firm's CEO reported that it was paying Benjamin to serve as an adviser after he took office, something Benjamin denied to City & State, saying there was no overlap between his time as a senator and his paid time as a consultant. The next year, in 2018, Benjamin faced criticism over his ties to a purported grassroots nonprofit aimed at helping Harlem communities. Most recently, Benjamin faced scrutiny over his campaign finances while running for comptroller when reporting revealed a handful of donors who never gave money were recorded as having done so, including a two-year-old. He later returned all the cash in question. Also during that campaign, Benjamin raised eyebrows when two campaign expenses from his 2018 state Senate account that came from Milton's Playhouse closely coincided with his wedding anniversary celebration at the venue.
A background in real estate
Immediately before taking office, Benjamin had spent seven years in real estate working for Genesis Companies, a minority-owned business that builds and manages affordable housing in Harlem. It was perhaps this background that set him apart from other New York City comptroller candidates like Council Speaker Corey Johnson and Council Member Brad Lander, who refused donations from real estate interests. Benjamin did not make a similar pledge and received many donations from those who work in the industry. This puts him somewhat at odds with other progressives, many of whom have sworn off real estate donations and often have a fairly adversarial relationship with the industry.
Financial chops
In addition to his real estate credentials, Benjamin will come into the role of lieutenant governor with fiscal experience as well. Before joining Genesis Companies, he spent a few years as an investment adviser for Morgan Stanely. After Democrats gained the majority in 2018, he became the chair of the Committee on Revenue and Budget, where he focused on divesting the state pension fund and banks from for-profit prisons. Benjamin also sought to become New York City's next comptroller, losing the Democratic primary this year to Lander – a sign too that he was looking for a career change before Hochul tapped him. However, Benjamin has also faced criticism for serving on the board of directors of NextPoint Acquisition Corp., a Canadian company run by a Wall Street executive involved in the subprime mortgage crisis, for which he received up to $50,000 a year. After blowback from progressive groups and calls for him to give up his Senate committee, Benjamin stepped down from the company position.
Early supporter of Kamala Harris
Benjamin jumped on the Kamala Harris train early in the 2020 Democratic presidential primary season, when the pool of candidates seemed to know no bounds. The choice was different than some other progressives in the Legislature, many of whom threw their support behind Sens. Bernie Sanders or Elizabeth Warren, though different too from the early backers of now-President Joe Biden, the establishment favorite. Like Harris, who found herself in the deputy position at the national level after losing her election, Benjamin now finds himself as the governor's number two after a poor showing in his comptroller race.
Progressive stances but establishment roots
Benjamin touts himself as a progressive, and in most regards, his policy stances stack up. He briefly flip-flopped on the so-called "good cause eviction" bill, something of a left-wing litmus test hated by the real estate industry, but is now a co-sponsor. Benjamin's support for criminal justice reform, shutting down Rikers, divesting from prisons and tenant rights puts him in line with many in the leftwing of his party. However, he also has close ties to the Manhattan Democratic Party, who helped him into office in 2017. Special elections for state positions are not open like at the New York City level, but rather the parties select nominees to run. The current setup is often criticized as a means for party leaders to handpick new lawmakers, who don't have to run in a primary and don't face a competitive general election against a Republican in heavily Democratic districts. Benjamin, a close ally of Manhattan Democratic Party head Keith Wright whose wife is a former Wright staffer, got the blessing of the party over several other candidates, paving his way to the seat over several other candidates vying for the position.