New York State
Five things to watch on redistricting in the coming days
The Independent Redistricting Commission is set to release draft congressional and state legislative district lines soon.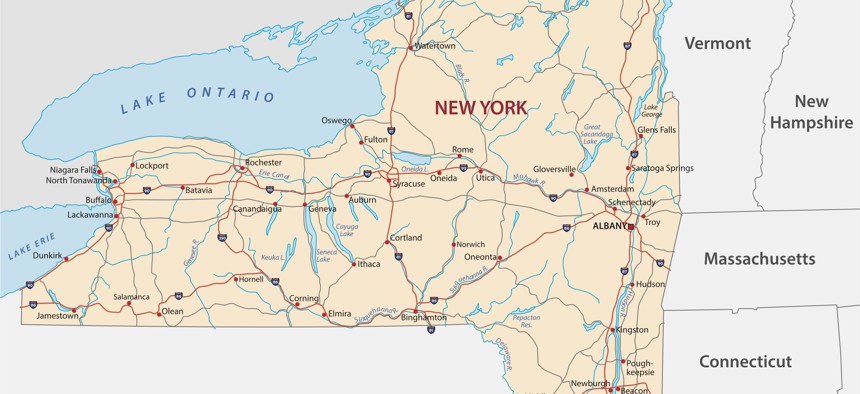 Ex-Gov. Andrew Cuomo's recent resignation has inspired a fresh round of conversation about how New York state lawmakers can improve their democracy. Doing as little as possible might be the best course of action when it comes to redrawing congressional and legislative districts next year. That task is supposed to fall under the control of the bipartisan Independent Redistricting Commission established by a 2014 amendment to the state constitution, and reforms were put in place to supposedly keep lawmakers from meddling. 
The ongoing redistricting process in New York will have implications for which party controls the U.S. House and whether Republicans will ever have much hope of recapturing the state Senate. Draft maps scheduled to be released by Sept. 15 will highlight how the commission is approaching its work at a time when prominent Democrats like Gov. Kathy Hochul are keeping their options open on gerrymandering the final congressional and legislative maps. 
Democrats' legislative supermajorities could redraw district lines as they please once they vote more than once to reject any final maps proposed by the commission. The commission's maps will be based on a series of hearings this summer to get public feedback on which communities should be represented together in the state Senate, Assembly and U.S. House. Commissioners are expected to detail their approach and identify the staff members tasked with drawing the draft maps, at a Sept. 9 virtual hearing. A spokesperson for the commission could not be reached by publication time to confirm whether the draft maps would be released at that time. 
Final maps are not scheduled to be approved until early next year, but the draft maps will say a lot about which party stands to benefit most once the redistricting process concludes. A fair-minded process would seemingly benefit the Democrats in the state Senate and the GOP in the Assembly. That's because current maps were drawn by the legislative majorities in those chambers ten years ago when Republicans controlled the state Senate and Democrats controlled the Assembly. But nothing short of control of Congress could hinge on Democrats' willingness to not ultimately overrule the commission's final proposed maps. 
Here are five things to watch once the first draft maps get released in the coming days.
To gerrymander or not to gerrymander?
State lawmakers have the last say on legislative and congressional redistricting even if the Independent Redistricting Commission is nominally tasked with redrawing the maps. This is because of the 2014 state constitutional amendment that set up the new rules of the redistricting process. Legislative leaders chose eight of the ten commissioners, who then selected two more people to fill their ranks. Lawmakers can overrule the commission's plans – based on years of research and public input – if they vote to reject them. 
Hochul and a litany of Democratic legislators have made no secret in recent weeks of how they might end up gerrymandering new lines to protect their slim majority in the U.S. House. The temptation to shore up their positions in the state Senate and Assembly will also be there. All they have to do to redraw the lines as they please is reject the commission's proposed maps twice by two-thirds majorities in both chambers. Doing this, however, would require nearly all Democratic legislators to vote in lock-step. So keep an eye out for a handful of dissident Democrats who could explicitly reject any possibility of gerrymandering. 
As things currently stand, legislative leaders could only spare two out of their 43 members in the 63-member state Senate, and seven of their 107 members in the 150-member Assembly, to write maps as they please under the current constitution. A proposed amendment would lower the threshold for voting to overrule the commission from a two-thirds supermajority (42 seats in the state Senate, 100 in the Assembly) to 60% in both chambers if voters approve the amendment this November. 
Republicans could be doomed on Staten Island
Congressional District 11 is the only remaining congressional swing district in New York City including all of Staten Island and a little bit of southern Brooklyn. This has been the status quo in recent decades, but there is precedence for joining Staten Island with parts of Manhattan, an arrangement that would likely benefit Democrats considering their dominance in the borough. That could doom incumbent Republican Rep. Nicole Malliotakis in 2022, but supporters of Democratic Rep. Jerry Nadler of Manhattan are not so keen on the idea of splitting District 10 in a way that would undermine the Jewish vote in the district. A quick glance at the draft congressional map will show which way the commission is heading when it comes to joining Staten Island with either Manhattan or Brooklyn. 
Upstate Republican reps have reasons to be nervous
New York is losing a congressional seat. The fact that upstate is the place struggling most with population growth suggests that is where mapmakers will eliminate one of the current 27 congressional districts. Retiring Republican Rep. Tom Reedof the Southern Tier is one less incumbent for the commission to worry about angering as it drafts new lines. There is also the chance that GOP Reps. Claudia Tenney and John Katko of Central New York have to end up competing for the same district. Tenney is relatively conservative, which could benefit her in a primary against Katko, while making it harder to run against a moderate Democrat in a general election. The soon-to-be-revealed draft maps will show which of the four upstate GOP representatives who are expected to run for reelection will already have to start worrying about their future districts even if Democrats don't meddle. If Democrats do skew things, political foes like Rep. Elise Stefanik of the North Country might have something to worry about. 
The state Senate is going to get more Democratic no matter what
It should not be forgotten how much Republicans succeeded at gerrymandering the state Senate back when they controlled the chamber a decade ago. They split Democratic voters in places like Rochester among multiple districts while packing as many right-leaning voters as possible to continue winning in places like Brooklyn and Long Island. The fact that Democrats have flipped many of these districts in recent years does not bode well for the GOP. If they had trouble winning with gerrymandered districts, how can they expect to win in a more balanced process? The draft maps to be released later this month will offer a glimpse of how bad it could be for the Republicans even if Democrats don't bother to tamper with the process.
A fair process could help the Republicans in the Assembly
The GOP has not won a majority in the Assembly for decades, and Democrats' dominance is not going to end anytime soon considering how members of the chamber disproportionately come from leftist bastions like New York City. Still, Republicans could deprive Democrats – who controlled redistricting in the chamber a decade ago – of a supermajority in the chamber if they flipped a few seats. They actually came pretty close to doing that in 2020 when they defeated a handful of Democrats though the Democratic conference ultimately ended up with 107 seats in the 150-member chamber. Maybe, just maybe, the electoral maps and political landscape will be friendly enough after redistricting so that the GOP can flip the four seats they need to get rid of the Dems' supermajority. A lot depends on what the commission reveals about the new Assembly districts later this month. 
With reporting by Jeff Coltin.
Powered By
NEXT STORY: Protecting NYC 20 years after 9/11