News & Politics
Food delivery workers won new protections in New York City. Can the state keep up?
The historic legislation guaranteed ride-hailing drivers and delivery workers minimum pay, but statewide reforms are harder to come by.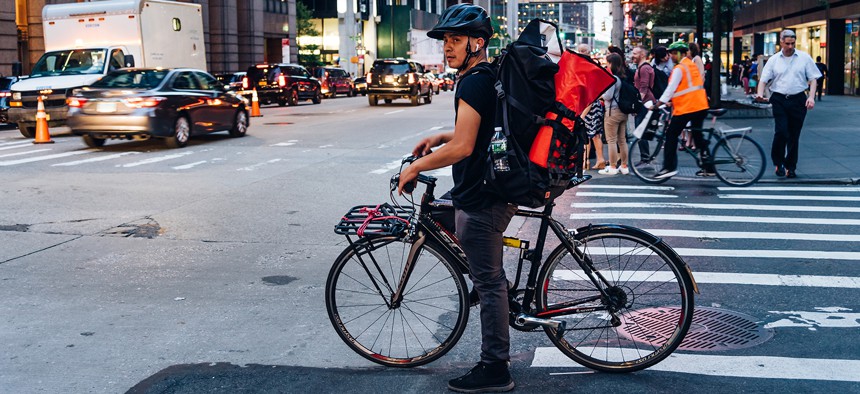 New York City has made history in recent years for establishing labor protections for several types of gig workers – who, because of their classification as independent contractors, don't typically have the labor rights that employees do. First, it was the New York City Council passing minimum pay rules for ride-hailing drivers working for companies like Uber and Lyft in 2018. And then on Thursday, grassroots activism by food delivery workers led to the Council's passage of bills mandating minimum pay, protections for workers' tips, the right to use restaurant bathrooms, and more.
These gains for the city's gig workforce have come even as attempts at the larger effort of reforming gig workers' classification have stumbled and failed on the state level. Earlier this year, a deal between labor unions and gig companies like Uber and Lyft fell apart after overwhelming criticism. (Los Deliveristas Unidos, the collective of largely immigrant delivery workers who began the fight for these City Council bills, was among the worker advocacy groups left out of discussions over worker classification at the state level.)
But there's little disagreement that gig workers need better protections. State legislators and even former Gov. Andrew Cuomo have made statements over the past few years on the need to extend traditional labor benefits to gig workers. Disagreements about how to do that – whether gig workers should be classified as employees, remain independent contractors or be granted benefits in another way – have impeded action. Gig companies like Uber, Lyft and Doordash have lobbied hard against reclassifying gig workers as employees, including most notably in California, where companies funded a ballot proposition to exempt them from a law that would reclassify their workers. 
The New York City Council's work on advancing protections for gig workers now stands in stark contrast to the state Legislature's stalled action. "Let's take this to Albany next," state Sen. Jessica Ramos, who chairs the Senate Committee on Labor, tweeted in reference to the Council's package of bills. Ramos told City & State on Friday that she is working with delivery workers to figure out how to "scale up" the kinds of regulations and protections passed by the Council to the state. "We're analyzing all of the issues that delivery workers face on a daily basis, and when we're ready to share, we will," she said.
Hildalyn Colón Hernández, director of policy and strategic partnership at Los Deliveristas Unidos, told City & State on Friday that their first priority is ensuring the successful implementation of the new protections and educating delivery workers about their new rights. (The bills also have to be signed by Mayor Bill de Blasio, which he is expected to do.) But statewide reforms, while perhaps further away, are nonetheless on their minds. "This is just the beginning, a first step forward on building rights for gig workers," Colón Hernández said. "We're looking to the horizon, and definitely that conversation – what is going to happen at the state level – needs to happen."
State Sen. Diane Savino was set to introduce legislation last session described as a compromise between labor unions and gig companies that would have given gig workers collective bargaining rights, but the proposal was preemptively squashed following criticism from workers and advocacy groups that the approach was inadequate, stopping short of reclassifying them as employees. Savino told City & State on Friday that ahead of the next legislative session, she is going back to the negotiating table with labor, business and workers groups. Savino congratulated Los Deliveristas on advancing the package of City Council bills that she said would make a "profound difference" in their day-to-day lives. But the state's job now, she said, is to address the issue of worker classification. "Try and find a way to make sure that these workers have the foundation that all workers have; the right to organize, workers comp, unemployment insurance. That they're able to contribute to Social Security," Savino said. "Just propping up the gig economy without those foundations is not good for any of us."