New York City
Organized labor's new generation of political directors
A diverse group of staffers are delivering for New York's top unions.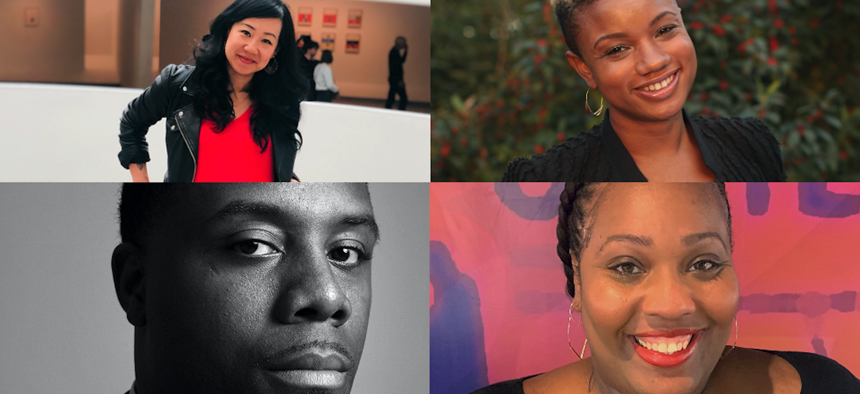 During the June primaries in New York City, organized labor had a strong showing. District Council 37, 32BJ SEIU and the New York Hotel and Motel Trades Council helped propel Brooklyn Borough President Eric Adams to the Democratic mayoral nomination. New York City Council Member Brad Lander won the Democratic city comptroller primary with pivotal union endorsements, including early nods from the Communications Workers of America District 1 and United Auto Workers Region 9A. CWA District 1, 32BJ SEIU, DC 37 and the Hotel Trades Council also teamed up with the New York State Nurses Association to form the Labor Strong coalition that supported 34 City Council candidates, with only six picks losing their races.
Next up? Selecting the speaker of the New York City Council, with organized labor aiming to fill a vacuum as the party bosses who traditionally filled the post have steadily lost power.
"We worked really hard as a coalition of labor, all of us representing essential workers, our membership bases are similar: Black and brown, immigrant workers," said Candis Tolliver, 32BJ SEIU's political director and vice president. "And so we want to make sure those voices are represented at the table when it comes time to choose the speaker. And we think the work that we did in the primaries puts us there."
Tolliver is one of a small but influential cohort of younger and more diverse political directors who have helped deliver impressive victories at the ballot box – and, in turn, put their unions in a better position to secure labor-friendly policies in City Hall and the state Capitol.
The top ranks of New York's biggest labor unions partly reflect the state's racial and ethnic diversity, with leaders like 1199SEIU's George Gresham and 32BJ SEIU's Kyle Bragg, who are Black, and DC 37's Henry Garrido, who is Latino. On the legislative side, state Sen. Jessica Ramos, a Latina, and Assembly Member Latoya Joyner, who is Black, have snagged coveted assignments chairing the state Legislature's labor committees.
But the racial and gender shift is most striking among the political directors at New York's top unions. Along with Tolliver, 1199SEIU's Gabby Seay and NYSNA's Michelle Crentsil, who are Black women, there's also DC 37's Jeremy John and Davon Lomax, of International Union of Painters and Allied Trades District Council 9, who are Black men. CWA District 1's Hae-Lin Choi and HTC's Bhav Tibrewal are Asian American. Lucia Gomez with the New York City Central Labor Council, an umbrella organization for public and private sector unions, is Latina.
"I grew up in Ohio, where labor was much more pale and male, if you will," Seay said. "Here in New York City, the folks at our unions are incredibly diverse. They're the drivers of the city, especially during the pandemic. It is past time to see more people of color and more women in these roles. In New York, we're just starting to see that power come through – and frankly the recognition for an incredible amount of work that a lot of my sisters in labor do."
While 1199SEIU has its own objectives – it endorsed Maya Wiley for mayor over Adams – Seay regularly discusses strategy with her counterparts such as Tolliver, and not just because they're both in the SEIU fold.
"There's friendship there. There's trust there," Tolliver said. "And while the most important thing is for us to represent our organizations and our members, we also understand that labor working together, collaborating and having camaraderie is important, not just for our own members but for the entire working people in New York City."
One shared priority for 1199SEIU and 32BJ SEIU, as well as DC 37, is containing hospital costs. "The truth is that the higher the cost of health care rises, the less money there is available to pay for vital city services," DC 37's John told QNS in June. "This is something every city resident should care about and join forces with us to combat."
Tolliver is also in touch several times a week with Tibrewal, who moved up to become HTC's political director last year. Tibrewal and other HTC officials are on the brink of securing a permitting change that would require New York City Council approval for a new hotel, likely blocking nonunion hotel developments.
On the state level, 1199SEIU, DC 37, 32BJ SEIU, CWA District 1 and NYSNA were part of a coalition championing the New York Hero Act, a union-backed worker protection measure drafted in response to COVID-19. NYSNA also teamed up with CWA District 1 and 1199SEIU to finally see long-sought staffing legislation enacted in June, a year after Crentsil came on as political director.
Despite the critical role they play, political directors rarely if ever move up to the union's top spot. They tend to come in with significant campaign experience and are not on the same track as dues-paying members rising through the leadership ranks. (One exception is Lomax, who began as an apprentice with DC 9 and served as a shop steward and foreman before taking on political duties.) But they do gain skills that can lead to more high-profile jobs. Katie Moore, a former HTC political director, guided Adams to his primary victory as his campaign manager. Alison Hirsh, a former longtime political director at 32BJ SEIU, was a senior adviser for Wiley, who finished in a strong third place with support on the progressive left.
"The role of political director with a union is different than the role of a staffer for an elected official or a lobbyist for somebody else," Hirsh said. "You really have to understand strategic campaigns and how to build power, because your No. 1 job is to build power behind the members you represent. It's an organizing role, and it's a role in which you have to understand the nuance of the legislative process and the political process. You really have to have good judgment to know when to fight and when to be friends – with a very clear goal to build power for working people."
Hirsh said the position is often viewed – accurately or not – as second only to the president, who handles the more fundamental tasks of negotiating contracts and protecting members. "But having a strong political program strengthens all of those components so much, because when you have the support of elected officials, when you're able to move legislation, it is easier to organize, and it is easier to win fights against the boss," Hirsh said.
Other notable political figures who cut their teeth in union political roles include 1199 SEIU veterans Patrick Gaspard, who now leads the Center for American Progress, and political consultant Jennifer Cunningham. The CWA's Bob Master co-founded the influential Working Families Party. Bill Lynch, who was credited with electing David Dinkins as mayor, had a stint as political director at District Council 1701 of AFSCME. Others go on to lucrative corporate, consulting or lobbying jobs, where their abilities are in high demand.
But many ex-political directors remember their union work as a labor of love. "Personally, for me, it was one of the best jobs I've ever had," Tara L. Martin said of her tenure as political director of NYSNA from 2016 to 2020. "But also working in labor is a challenge sometimes. You're living on the road, you're away from your family, and very often you're working 16-18 hours a day, working around the clock. But you have the heart for this work. And your No. 1 priority is the members who always reap the benefits and the rewards."