Politics
These NY politicos lost their elections and then ended up with some pretty fancy jobs
You win some, you lose some, you get appointed to some.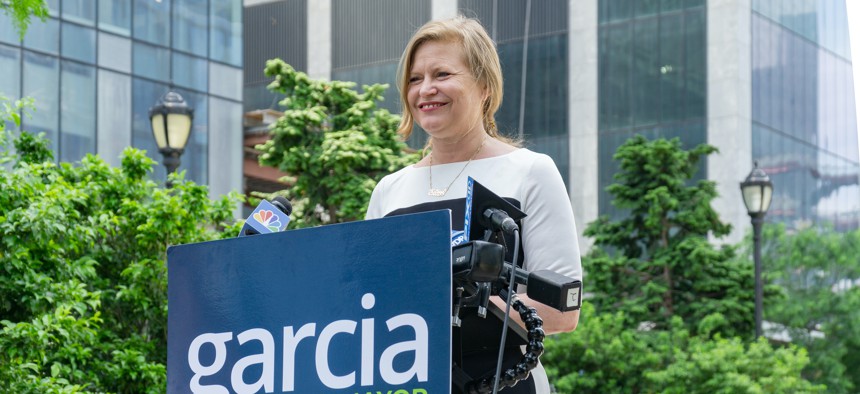 When primary season gives you lemons, forget lemonade and leverage yourself into a powerful new job offer. If at first you don't succeed in an election, try, try to get another job instead. If you give a candidate a fish … sorry, you get the picture. All of the ex-candidates below lost an election in 2021 but went on to land some highly coveted government gigs anyway.
Brian Benjamin turned a fourth place finish in the New York City comptroller race into one of the most visible seats in the state government in the span of a summer. Hochul publicly promised him a more active role in her administration compared to the typical lieutenant governor fare, and there's reason to believe she means it – after all, if she wants to win in 2022, she desperately needs his Harlem bonafides.
Alicka Ampry-Samuel losing to machine candidate Darlene Mealy was a 2021 upset no one was prepared for. Alas, sometimes the Democratic establishment taketh away… but sometimes it also giveth! The popular Ampry-Samuel has a new gig lined up as regional administrator for the Department of Housing and Urban Development. She may have not grabbed the majority of votes in District 41 in Brooklyn, but she has Joe Biden's vote of confidence.
Yudelka Tapia came in second in the primary to take over Fernando Cabrera's council seat in District 14, and now she's been tapped by the Bronx Democrats to replace a retiring Victor Pichardo (who's already endorsed her) in the 86th Assembly District, where she's all but guaranteed to come in first. 
Cordell Cleare ran against her former boss Bill Perkins in City Council District 9 in Harlem and they BOTH lost to progressive Kristin Richardson Jordan. Cleare doesn't have to dwell on that loss, because she's now emerged victorious from the Manhattan Dems county committee process as their pick to fill Brian Benjamin's vacant state Senate seat. Considering how many current elected officials publicly admitted to having their eye on that seat, Cleare should be feeling pretty triumphant right now.
Amit Bagga finished in a close second to Julie Won in the primary for Council District 26 in Queens and was recently appointed as Hochul's deputy secretary for intergovernmental affairs. The governor is toeing the party line when she says things like no one in her administration supports the "defund the police" movement, but Bagga's new position shows that she's made room in the executive branch for leftists to land on their feet.
Kathryn Garcia got so close to the office of New York City mayor she could almost taste it. After famously commenting that she was "not running for No. 2", she was able to sidestep a rumored position in the Eric Adams administration with a deus ex Hochul. We wonder if she'll still find time to ride a Multihog as director of state operations.
Shirley Paul is another second placer (District 46 in Brooklyn) who was able to secure a sweet spot in the Hochul administration. Whether her name was in the running for a senior adviser position before or not, the new governor clearly got some good vibes when Paul notarized her oath of office. 
Jenny Low didn't have a particularly strong showing in her bid to replace Council Member Margaret Chin in lower Manhattan, but her reputation was strong enough to get her nominated as a city Board of Elections commissioner. She'll probably provide the exact kind of on the ground experience they need to avoid tweeting about brunch.
Stacy Lynch may have only come in third in the primary for City Council District 7 in Manhattan, but Brian Benjamin knows better than to overlook someone who snagged an endorsement from Hillary Clinton. Lynch is now serving as chief of staff for Benjamin in his new role.
Powered By
NEXT STORY: Brooklyn could decide the 2022 Democratic primary for governor