Campaign Confidential
Carlina Rivera isn't aligned with Eric Adams. Is that a problem?
The Somos conference is an opportunity for the progressive Latina to prove she's the perfect fit for speaker.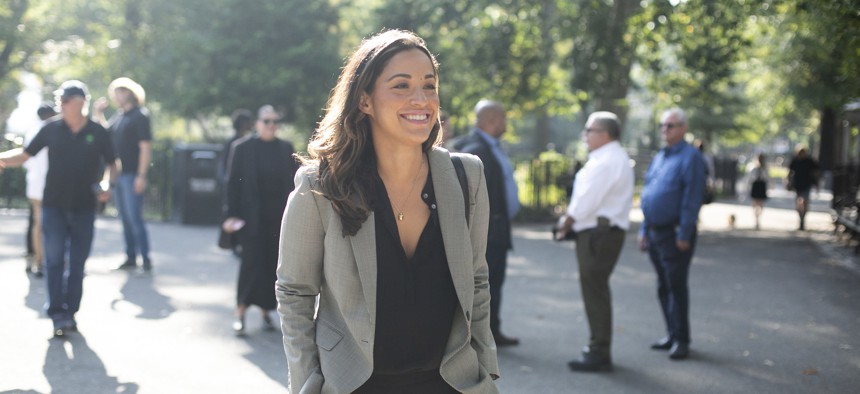 To many, Carlina Rivera seems like the perfect fit to be the next speaker of the New York City Council. She's a Latina, of Puerto Rican heritage, at a time when there are no other Latino citywide or statewide leaders. She's a woman in a city where the mayor, comptroller and public advocate are all men, and will all be men in 2022. She's from Manhattan, the home of the past four City Council speakers, often chosen as a compromise to keep the peace among the historically stronger Bronx, Queens and Brooklyn Democratic parties. Rivera did not endorse anybody in the Democratic primary for mayor, as a member of a legislature that's eager to be seen as a co-equal branch of government. And she's a progressive in a city that fancies itself as left-leaning but whose Democrats nominated Eric Adams, a candidate friendly with big businesses whose idiosyncratic politics could hardly be called progressive.
Despite all that, Rivera hasn't put the votes together yet to secure the position, which has some observers – critics and allies alike – feeling like Rivera has lost her front-runner status. "Four months ago, everyone thought she'd be speaker," said one labor operative who asked for anonymity to discuss private conversations. But that's changed: "There's been no forward momentum at all."
Of course, it's still early in the speaker race. The Somos Conference in Puerto Rico, where a lot of politicking is expected to happen, is still weeks away. And the past two speakers, Melissa Mark-Viverito and Corey Johnson, didn't secure the votes they needed until mid-December, ahead of the early January vote. But Rivera seems to be coming face to face with the fact that her progressive political identity – and her lack of alignment with Adams – could actually be a liability in this year's speaker race. Adams is all but guaranteed to be the city's next mayor, and many people are eager to see action on issues that didn't get addressed in the past eight years of Mayor Bill de Blasio, whether that's property tax reform, noncitizen voting or a streamlined government with a lower headcount. Unlike in 2017, when independence and oversight were the name of the game and Johnson won in a field that tried to distance itself from de Blasio, cooperation could be key. Rumors fly about whether Adams prefers Justin Brannan, Francisco Moya or somebody else – but nobody thinks it's Rivera. Still, Rivera is de-emphasizing the divide between her and Adams.
"I don't think there's tension there. Every time I've encountered Eric Adams he's been pleasant and very direct about his agenda," Rivera told City & State. "New York City is still in a crisis. We need the next mayor to be successful. No one benefits if the mayor's not successful. Of course the City Council needs to be independent, proactive and provide oversight, and as speaker we are going to do just that. But the people of New York City aren't interested in a constant fight. And neither am I."
It didn't have to be this way – Adams was harshly criticized in the primary by opponents like Maya Wiley, who won over much of the city's progressive establishment and left-leaning voters. That same progressive establishment could end up throwing its weight behind Rivera, but the major players have so far resisted doing so, at this relatively early stage in the race.
"We've made no decisions at this point," said Elana Leopold, New York City political director for the Working Families Party. "We hope and are confident that there are things that we'll be able to work with Eric Adams on, but also are certain that there will be moments where we need to push back and hope that whoever the speaker is that we can count on them to be on our side and to act as that counterweight."
Incoming progressive members, too, are hesitant to line up behind Rivera just yet, even if she seems to be the contender best aligned with their views. "I haven't endorsed or am backing anyone right now," said Tiffany Cabán, a democratic socialist who's expected to win election in Council District 22 in Queens. "I'm continuing to get to know my new colleagues, trying to find my people, find the folks that are politically and values-aligned and get a sense of, collectively, what we want to prioritize going into the next session."
Cabán has already been putting in some work on that. In August, she organized an open letter calling on de Blasio and the city's district attorneys to immediately reduce the number of people being held on Rikers Island. Including Cabán, 19 presumptive incoming members signed on, which is a decent approximation of what the council's left flank could look like next year. And Rivera could be their candidate. She was the one speaker contender who voted against the contentious city budget in 2020, when progressives wanted to see far more significant budget cuts to the New York City Police Department. "There was no equity in cuts, in my opinion," Rivera said this month. "My issue at the time was that we really should have focused on equity in those cuts. It was a tough decision." And one that many council sources say harmed her relationship with Johnson. "I think people know who I am and where I'm coming from and that I stand up for what I believe in. And that was a decision that I made for my constituents and my district. And I think Corey understands that."
But even if you add a few other members to the 19 progressives who signed Cabán's letter, such as Christopher Marte, Charles Barron or Diana Ayala, a returning member who is running for speaker herself, the list falls short of a 26-member majority in the 51-member council. That would suggest that Rivera, or any candidate, couldn't solely rely on progressive members to become speaker. They need to win over more moderate members as well. "People aren't interested in the labels," Rivera said. "They don't want to hear where you are on the (political) spectrum. … I'm hoping we can all be on the same page in saying how are we going to take care of the people who are living in poverty and make sure that the garbage gets picked up on time?"
But Rivera does have some numbers on her side. The council is expected to have 29 or 30 women next year – a huge increase from this session, which means that women will make up a majority of the council for the first time in its history. So pretty much anyone you talk to says they're hoping to see a woman lead the council. The United Federation of Teachers, one of the city's more influential unions, passed a resolution this month supporting a female speaker, without naming any names. Women endorsed by 21 in '21 have also made it known that they'd like to see a woman lead the council. The City Council has been led by women twice before: Christine Quinn and Mark-Viverito. But Rivera isn't the only woman vying for the position. Adrienne Adams, Diana Ayala and Gale Brewer are all running too. Rivera has been laying the groundwork for a speaker run almost since she entered the council, while Ayala jumped in the race recently, leading some to speculate that her campaign was only a reaction to Rivera's – a Latina in the race whose politics would be more palatable to power brokers like Rep. Adriano Espaillat and state Sen. Jamaal Bailey, the Bronx Democratic Party chair. Mark-Viverito, an Ayala ally, rejected that. "No, not at all. And let's be very clear, as much as the press wants to make it seem like it's something, that's not what it is at all," she said. If Ayala is Mark-Viverito's top choice, it seems like Rivera would be her second. "We have good candidates, two good candidates," she said. "It should be a Latina speaker."
Rivera, unsurprisingly, denies that her speaker campaign is flagging. "People will always have opinions," she said. "I think if they're still talking about me, it says something else." But there's no doubt that the Somos conference is a huge opportunity for Rivera. Dozens of incoming council members and stakeholders will be flying to San Juan, Puerto Rico, immediately following the Nov. 2 general election, and the still-evolving speaker race is expected to come into much clearer view there. Rivera is "a proud Puerto Rican woman" with family on the island, and she has an ally in Rep. Nydia Velázquez, one of the few power brokers in the speaker race who has actually talked openly about who she is supporting. If Rivera is going to convince her colleagues, and the influential players around them, that she actually is the perfect fit to be the next speaker, Somos will be the place to do it.
"Somos is always a place where we discuss very serious issues and where people also get to know each other and they have pretty serious political conversations. And there's no question that someone like Nydia Velázquez is a powerhouse," Rivera said. "Sure, it's going to be nice to feel that tropical breeze in my hair … but I'm excited about the conversations to be had."