New York City
Activist lawmakers share in taxi drivers' victory
Assembly Members Zohran Mamdani and Yuh-Line Niou broke a 15-day fast this week after the city reached a deal with one of the largest taxi medallion lenders.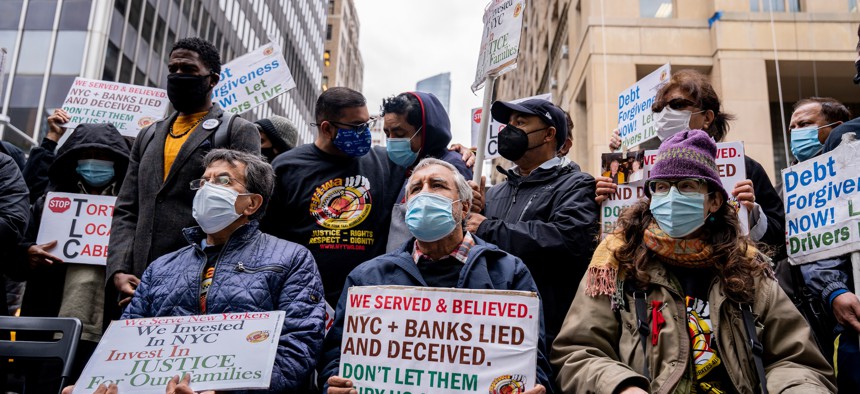 After 15 days on a hunger strike with taxi drivers outside New York City Hall, Assembly Members Zohran Mamdani and Yuh-Line Niou joined fellow protestors to eat for the first time on Wednesday. Mamdani said an auntie who goes by Didi, a member of the New York Taxi Workers Alliance, handed out food. 
"I had four dates and a scoop full of avocado, that was the first thing we ate," said Niou. "We broke fast together."
"They were very tasty," said Mamdani. "I can tell you, I don't think I'll have a better avocado in my life."
The Taxi Workers Alliance scored a major win after New York City announced earlier this week it had reached a deal with Marblegate Asset Management, the largest holder of taxi loans, to restructure its loans to a principal amount of $200,000. That figure will be further reduced with a $30,000 grant from the city for each borrower. That means medallion owners – many of whom owe upwards of $500,000 on their loans now – will see that figure reduced to $170,000, with monthly payments capped at $1,122 per month. Under the deal, New York City agrees to provide a guarantee on the loan principal and interest if the borrower defaults. 
This kind of debt relief plan is one that the Taxi Workers Alliance has been fighting for for months – and what protesters promised they would hunger strike for until the city agreed to it. Though the deal announced on Wednesday is just with Marblegate for now, Mamdani and Niou said they're confident the other taxi loan holders will follow suit. 
Protesting taxi medallion owners were jubilant. Augustine Tang was one of the taxi medallion owners joining the hunger strike and said nearly two weeks into the demonstration, he was experiencing headaches, chills, fatigue and hunger pangs. "We can have a future!!" he said in a text to City & State shortly after the news was announced. 
The 15-day hunger strike was in response to the excessive debt taxi drivers incurred as a result of predatory practices in the loan industry. The welfare of taxi drivers has been an issue for several years now, claiming the lives of several cab drivers who died by suicide. Mamdani said the hunger strike was "absolutely necessary," calling it a serious escalation tactic and a manifestation of the actual consequences of the taxi driver's debt crisis. 
"So many people suggested, 'This is too drastic of an action, this is unbecoming of you to do this in front of City Hall.'" he said. "And what I would tell them is that if this makes you uncomfortable, really what you're uncomfortable with are the policies that we're protesting."
The legislators heralded the deal as a victory, commending the alliance for leading the fight against the loan companies. While the deal is a huge relief for many taxi workers, Niou acknowledged the remaining debt will still be a burden. 
"It's not exactly what we want. It is close enough to what we had asked for, where they can handle the payment," said Niou. 
Now with some of the debt relief being addressed, Niou is calling for more regulations on the current industry, including passing her Consumer and Small Business Protection Act, which would expand prohibitions of "unfair, deceptive or abusive" business practices. The act was introduced at the beginning of the year.
"We need to stop and assess what kind of loans are given and in what circumstances. Some of these predatory loans are super unfair, deceptive and abusive," Niou said. 
Additionally, Mamdani said that at the state level, legislators must pass a law that would classify drivers of rideshare apps such as Lyft and Uber as employees, rather than contractors. That effort has stalled for years. He also said there is a need to be a lower cap on rideshare vehicles, "because so much of the struggle has come from the fact that Lyft and Uber flooded 100,000 rideshare cars into a market that was built around having a limited number of medallions." 
Mamdani said those on strike have seen a doctor to advise them on how to ease back into a healthy diet. He described the moment of breaking the strike as one of pure elation.
"I'm Muslim, and I fast during Ramadan, and I break my fast with the date," he said, "and to break it with an avocado and a date alongside my elders who I was so proud to fight along with, …  people who've been fighting this issue for years, It just gave you a profound appreciation of the moment and a profound appreciation of the joys and the dignity of food. And I don't think I'll ever look at an avocado or a date the same."
With reporting from Annie McDonough.
Powered By
NEXT STORY: Eric Adams' begins his sprint to City Hall