This Week's Headline
Assembly impeachment report and a JCOPE reversal
Rounding up the week's political news.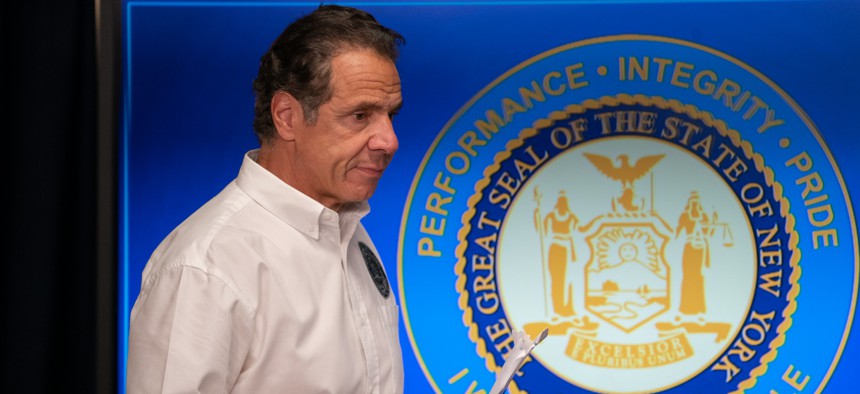 Who else was awake at 4 a.m. on Friday for a once-in-several-centuries lunar eclipse? New Yorkers who are either night owls or early risers were able to witness the longest partial lunar eclipse since the 1400s, and until about the 2600s. The very nearly full eclipse lasted several hours early Friday morning, peeking around the time work begins to get First Read in your inbox every weekday morning. A special little gift for people like New York City Mayor-elect Eric Adams, who may have been out enjoying the city's nightlife at the start of the eclipse and starting his workday by its end. For the rest of this week's noncelestial news, keep reading.
Impeachment report moves ahead
Members of the Assembly Judiciary Committee returned to Albany to review an impeachment report put together by outside investigators after a monthslong probe into former Gov. Andrew Cuomo. And for the first time, details about the investigation's conclusions have come to light, even if the committee has not yet publicly released the report. Far shorter than the state attorney general's report released earlier this year directly preceding Cuomo's resignation, the 45-page document reportedly came to the same conclusions that the ex-governor sexually harassed multiple women during his time in office. The report in particular focused on the accounts of Brittany Commisso, who has accused Cuomo of groping her, and an unnamed state trooper who described sexual misconduct by Cuomo. The Assembly impeachment report also reportedly concluded that Cuomo misused state resources in writing his memoir last year about his handling of the COVID-19 pandemic that earned him an over $5 million advance. It remains unknown when the Judiciary Committee will officially release the report and whether the Assembly will actually move ahead with impeachment as state law is not clear on whether former governors can be impeached. 
Cuomo's book deal in question
In addition to the reported findings of the impeachment report, Cuomo received another blow the past week after the state's ethics watchdog voted to revoke the permission it had previously granted for the ex-governor's lucrative book deal. It took several attempts by members of the state Joint Commission of Public Ethics to actually agree to the revocation. In a nearly unanimous vote, the commissioners rescinded the approval previously granted by commission staff over what they called "material omissions and misrepresentations" about the book deal at the time. The commission ruled that Cuomo utilized state employees and resources while writing his book, an ethical no-no. He has claimed that all work on the book by staff was done in a volunteer fashion off the clock. Next step are potential consequences for Cuomo – he could face fines up to $10,000 and may even have to return the $5.1 million advance he received from the publishing company.
Several elections finally settled
Weeks after Election Day, a handful of races that remained up in the air finally came to conclusions with the count of absentee ballots. After trailing slightly on election night, New York City Council Member Justin Brannan pulled ahead and won reelection after officials counted mail-in ballots, an outcome the Democrat and speaker candidate confidently expected for weeks. And with absentees counted, the legislature in Monroe County flipped from red to blue for the first time in 30 years after a few close races were decided. Other Democrats were not so lucky, including Tony Avella, who officially lost an open City Council seat in Queens to Republican Vickie Paladino once absentees were tallied. And Nassau County Executive Laura Curran also conceded to Republican Bruce Blakeman after holding out hope at the slim possibility that she could pull out a victory with the help of mail-in ballots.
MTA fare hikes on hold … maybe
With the passage of the federal infrastructure bill, Gov. Kathy Hochul announced that money coming to the MTA will mean that New Yorkers won't see a fare hike in the foreseeable future, nor will they experience service cuts. That came as welcome news to straphangers and commuters after doomsday projections about the Metropolitan Transportation Authority's budget caused fear about big fare increases. MTA officials later specified that there wouldn't be fare hikes for at least six months at their annual board meeting. However, they later seemed to walk that back, saying that increased commuting prices are in fact still on the table for next year despite the promise of a delay.
Powered By
NEXT STORY: Suozzi emerges as big winner with SALT changes