Transportation
MTA officials said balancing the budget could require fare hikes next year
A new financial forecast predicts ugly choices ahead for an agency struggling to get through the pandemic.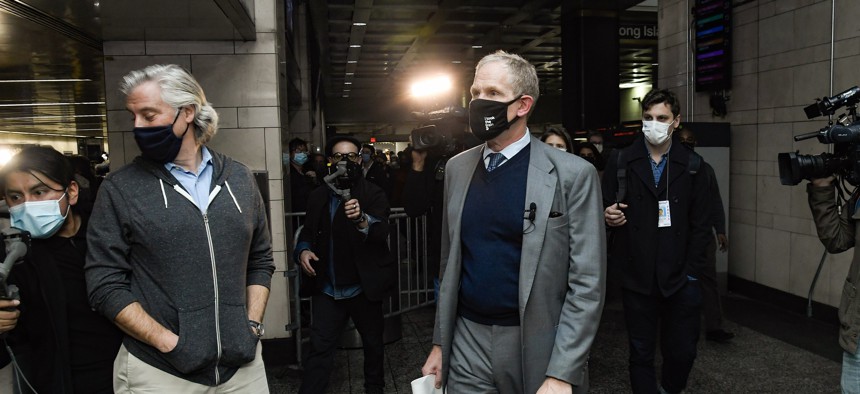 MTA officials warned that in order to balance the cash-strapped agency's budget through 2025, its board will need to raise fares and use about half its available money from an emergency federal loan program.
The agency made the dire prediction at a board meeting Wednesday, where it presented an updated financial forecast to board members as they prepare to sign off on the 2022 budget next month.
The new projections factored in announcements by Gov. Kathy Hochul on Monday that fare hikes would be delayed until at least mid-2022, and service cuts and wage freezes would be taken off the table until at least 2025. Hochul's comments were made hours before President Joe Biden signed the federal infrastructure bill that will designate an estimated $10 billion to the MTA.
Even with a proposed 4% increase in fares next year – expected to total $1.8 billion in additional revenue through 2025 – the agency will need to use $1.4 billion from the Federal Reserve's Municipal Liquidity Facility to balance its budget in 2025, officials said. The agency was authorized to borrow up to $2.9 billion from the program last year after ridership plunged during New York's hardest hit months of the pandemic.
"We really still are structurally out of balance, and we have to look at those hard, ugly choices of things that may have to be done. The federal funds are a godsend, but they're a bridge to the future," MTA Chief Financial Officer Robert Foran said at the Wednesday meeting. "The choices in front of us are not attractive, but we need to have reasonable and appropriate fare and toll increases."
Factoring in an increase in MTA ridership since its July forecast, officials now predict the agency will see an additional $124 million in revenue from fares and tolls through 2025, compared to the mid-year estimate. Revised state and local tax revenue projections, and new efficiencies, also contributed to additional savings, the MTA reported.
The new estimates were offset, however, by a loss of $105 million in possible revenue next year from the now-frozen proposed fare increase. The MTA said the elimination of service cuts and a wage freeze for workers will put a $1.4 billion dent in its bottom line by 2025.
Both the July and November plans included the nearly $11 billion New York will receive in federal COVID-19 relief money for transit systems after reaching a deal last week with New Jersey and Connecticut.