Transportation
Transit advocates call on MTA to nix proposed 2023 service cuts
New York secured $11 billion in federal aid this week, after reaching an agreement with New Jersey and Connecticut to divide approximately $14 billion in COVID relief money.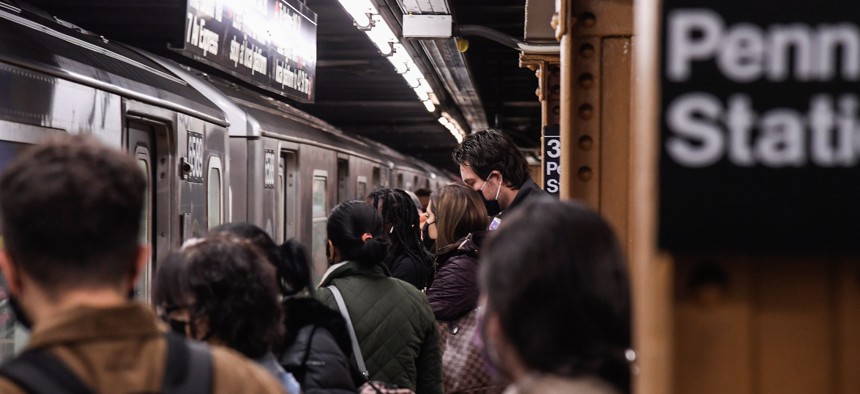 Transit advocates are calling on New York Gov. Kathy Hochul not to move forward with proposed cuts to Metropolitan Transportation Authority service after the state secured more than $10 billion in additional federal aid money in a deal with New Jersey and Connecticut. 
Advocates, along with progressive groups and elected officials lauded the New York Congressional delegation for negotiating the funding in a letter to Hochul on Friday and said the money should be used to expand service.
"We, the undersigned, a broad coalition of transit planners, non-profit organizations, economists, and elected leaders, call on you to make service expansions, not service reductions, that can meet New York's changing needs and bolster its recovery," the group, which includes the Riders Alliance, New York Democratic Socialists of America and Working Families Party, wrote. The letter was also signed by state Senators Alessandra Biaggi and Michael Gianaris, and State Assembly Members Peter Abbate and Linda Rosenthal.
MTA officials have floated the idea of slashing service by 2023, to offset a forecasted $605 million deficit. The prediction was made in July with the expectation that the agency would receive the $10 billion in federal transit aid.
Hochul announced Tuesday that the state reached an agreement with the governors of New Jersey and Connecticut to distribute approximately $14 billion in federal transit aid between the three states. 
About $10.85 billion will go to New York, with approximately $10 billion for the MTA. New Jersey will receive $2.66 billion and $474 million will be for Connecticut, Hochul's office said.
"The New York City and tristate region can't fully recover from the pandemic without our transit agencies effectively and efficiently moving millions of people in and out of New York City each day," Hochul said in a statement Tuesday. "As a result of a series of productive conversations with my fellow governors, I'm glad that we have reached an agreement that is beneficial to all."
The states battled for months on how to divvy up the cash from the Coronavirus Response and Relief Supplemental Appropriations and American Rescue Plan Acts. 
Connecticut and New Jersey officials wanted the money distributed based on a previously established formula according to Federal Transit Authority regions. However, New York argued it deserved a greater share of the money because its transit systems were hit hardest by the pandemic. At one point last year, ridership was down 90%, the MTA said previously. 
Senate Majority Leader Chuck Schumer's office negotiated the deal and reached an agreement with New Jersey Sen. Bob Menendez on Monday night, Newsday reported. 
– With additional reporting from Zach Williams.