Politics
Hochul adds more Latinos to her administration
The governor is diversifying her Cabinet and appealing to key constituencies in her bid for a full term.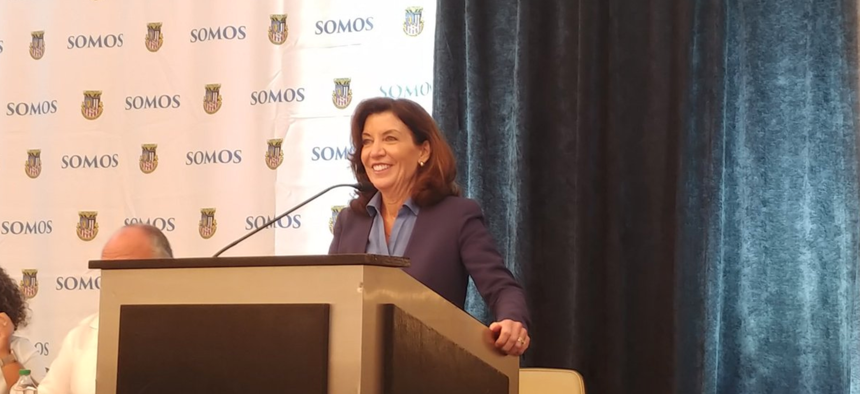 Gov. Kathy Hochul has begun to shift into reelection mode as the year comes to a close and challengers emerge. That means courting voters who haven't traditionally made up her base when running for office in Western New York. Coming off a few busy days in Puerto Rico for the Somos conference, Hochul has been making appeals to the Latino community. So far, she has made progress in diversifying her administration with a number of Latino officials, which has been appreciated by some members of the community. But the road to Election Day is long, and she has more to do when courting Latino voters.
A few months into her tenure, as she continues to build out her team and fill agency positions, Hochul has over a dozen Latinos in her administration, from top policy advisers to agency heads to members of the press team. Some, including state Budget Director Robert Mujica and Chief Diversity Officer Julissa Gutierrez, are holdovers from former Gov. Andrew Cuomo's administration. The others are new appointments, nominations or recommendations, like Neysa Alsina as special adviser on pandemic relief and Nivardo Lopez as deputy secretary for transportation.
Diversifying her Cabinet and staff, and increasing Latino representation, was a common theme for Hochul at Somos, which focused on the needs of Puerto Ricans and other Latino communities in New York. "I want my administration to look like New York state," the governor said at a reception she hosted during the conference. "This administration finally has Black and brown people who are in places of power so they can be not just phenomenal public servants, but they can send a message to all the children from their communities that they can do this as well." Hochul announced three Latino additions to her administration while at Somos. She nominated Assembly Member Robert Rodriguez, a Manhattan Democrat, for secretary of state; Rossana Rosado, the current secretary of state, for commissioner of the state Division of Criminal Justice Services; and recommended Minosca Alcantara to be the executive director of the Bridge and Tunnel Authority.
Overall, Hochul's picks seem to have been generally well received. "It's a good step in the right direction," said Assembly Member Jessica González-Rojas of Queens. She was part of a meeting of Latino elected officials convened by Lt. Gov. Brian Benjamin shortly after his appointment to get recommendations on the lack of Latino representation in state government. "(I) appreciate the early investment in bringing us together and the efforts to include us in the process," González-Rojas said. She added that she would like to see Latino representation among a diverse mix of commissions, agencies and departments, for example an addition to the parole board.
Assembly Member Jonathan Rivera of Buffalo, the only Latino member of the Legislature north of New York City, expressed similar sentiments. "I'm in a positive mood around the Latinos she has considered for positions," Rivera said. Although new to state government, he said that his interactions with Hochul go back to her time as Erie County clerk. "Honestly, I always found her to be engaging to all communities," Rivera said, noting that she would consistently reach out to members of Erie County's Latino community and ensure her office had bilingual staff. He said he expects that to continue as she works for Latino votes across the state and hopes that Hochul will consider some upstate Latinos as she adds more people to her administration.
That's not to say that everyone is totally happy with Hochul's appointments so far. A source familiar with details of a meeting weeks ago between the Assembly Puerto Rican/Hispanic Task Force and the Hochul administration, who requested anonymity to speak candidly, expressed disappointment with the announcements that came during Somos. Namely that the governor nominated a Latino to a position that was already held by one – Rodriguez to replace Rosado as secretary of state. "Governor Hochul has assembled a diverse, talented, and experienced team to lead the state forward, and we will continue to build an administration that reflects the state we serve," Hochul press secretary Hazel Crampton-Hays said in a statement when asked about criticisms of the appointments so far.
Of course, appointments alone will not win Hochul the support she would need from Latino voters to win a Democratic primary next year. And other factors may complicate matters for her as the race to replace state Attorney General Letitia James, her opponent, heats up. Few so far have even declared for the AG race, including Brooklyn District Attorney Eric Gonzalez, but that hasn't not stopped behind-the-scenes politicking from starting. Outgoing Bronx Borough President Ruben Diaz Jr., a strong presence in New York City's Latino community, already declared his support for Gonzalez at Somos, saying he is behind him "1 million percent."
And a number of Latino officials are planning to withhold support for any gubernatorial candidate who doesn't back Gonzalez's attorney general bid, according to reporting by the New York Post. Asked by City & State at a press conference on Wednesday whether she or her staff have been in touch with Gonzalez or his surrogates about an early endorsement, the governor said that no such conversations have taken place yet. It's one of many considerations Hochul will need to take into account as she plugs away at her bid for a full term and as Latinos hold her feet to the fire to ensure she doesn't rest on her laurels.
– With reporting by Zach Williams