News & Politics
March toward good cause eviction continues in Poughkeepsie
As statewide tenant organizers announce their legislative agenda, another upstate city approved new tenant protections.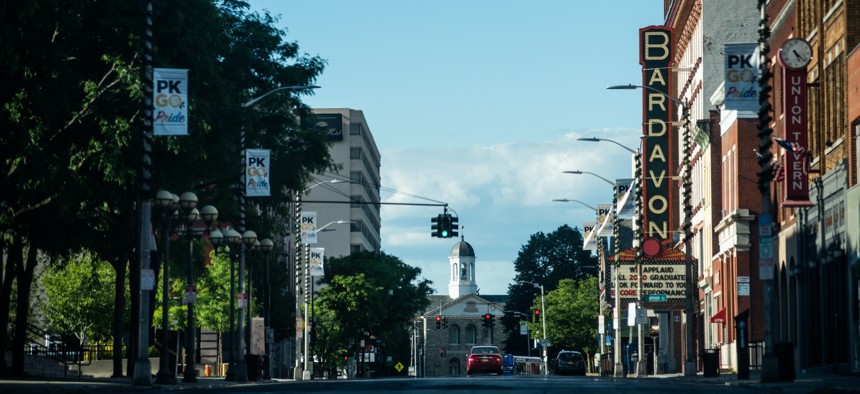 Poughkeepsie is poised to become the latest in a string of upstate cities to adopt a good cause eviction law after the city's Common Council approved legislation Monday evening and sent it along to the mayor for approval. The town's Republican mayor may be an obstacle that other municipalities that passed these protections didn't face, but it's likely that this won't stand in the way of the continual local march toward new landmark tenant protections as the state fight heats up.
Although specifics can vary slightly, the idea behind good cause eviction legislation is to prevent evictions except under specific circumstances, and to set limits on rent increases. The newly passed Poughkeepsie iteration permits evictions in 10 specific circumstances, including failure to pay rent. However, if the lack of payment is the result of an "unconscionable" rent increase, defined in most cases as more than 5% in one year, then eviction is not permitted. So if signed, the law would effectively cap rent increases even on market-rate apartments, with exceptions like if improvements were made or major market changes take place.
Poughkeepsie is now on pace to join the likes of Newburgh, Albany and Hudson in enacting these tenant protections. All are small liberal cities moving forward on an issue that state lawmakers are still debating. "Individual municipalities who are dealing with a housing crisis have the responsibility to step up and deliver for their residents," said Poughkeepsie Common Council Member Evan Menist, a sponsor of the legislation. "And hopefully, over time, more communities will take the steps to protect their tenants." Lawmakers in Ithaca and Kingston are also considering good cause eviction legislation, and they may be next in line to approve it.
In Poughkeepsie, the good cause eviction bill passed with six votes, and only one council member voted against it while two others were absent. That's enough support to override a veto from Republican Mayor Robert Rolison. "I will be reviewing this Council legislation and conferring with our Corporation Council's Office on all of the points that were made both in favor and in opposition to this local law," Rolison, who has not publicly taken a position on the bill, said in a statement to City & State.
This is good news for statewide tenant organizers with the Housing Justice for All coalition, who on Tuesday held rallies across New York to announce their agenda for the upcoming legislative session in Albany. Good cause eviction is among them, along with the repeal of a controversial tax break for developers to build affordable housing, approving a housing voucher program and expanding a state program to convert commercial buildings into housing. "If we are serious about public safety, then we have to be serious about stopping the eviction crisis," said Assembly Member Zohran Mamdani of Queens at a Hudson Yards rally in Manhattan, alluding to discussions about crime and safety that dominated recent elections. The good cause eviction bill pushed by advocates and lawmakers like Mamdani would go even further than the Poughkeepsie version, limiting rent increases to 3%.
Menist said he hopes that cities like his passing good cause eviction will lead to action at the state level to create a baseline for all renters, and perhaps even expand existing protections in places like Poughkeepsie. "At the state level, it seems the momentum is building," Menist said. That is certainly the hope of the advocates and lawmakers who presented their housing agenda for next year. "We are going to take this momentum from Hudson Yards, we're going to take it all the way to Albany because … it's been far too long for us to wait before we can keep our constituents in their homes," Mamdani said to loud applause.