Campaigns & Elections
Who are the Democrats running for New York governor in 2022?
Some political notables have better chances than others at beating incumbent Gov. Kathy Hochul next year.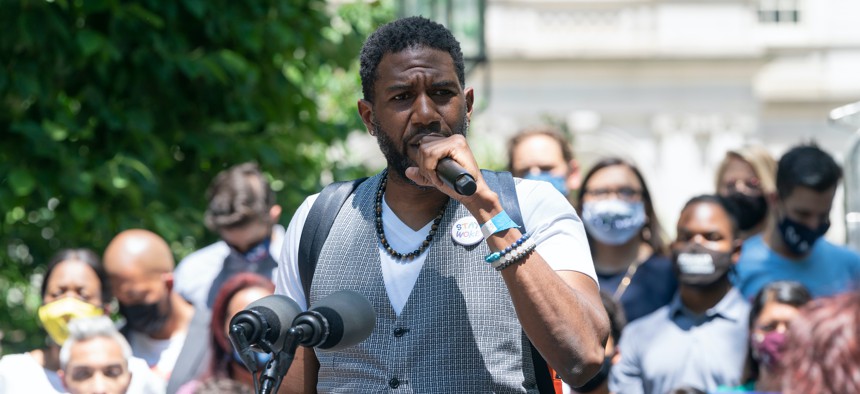 It's official. The 2022 Democratic primary for governor has become crazy competitive.
Some Democrats had hoped that Gov. Kathy Hochul would win her party's nomination for a full term in office without a divisive primary. State Attorney General Letitia James and New York City Public Advocate Jumaane Williams have now dashed such hopes by launching their respective bids to become the first elected Black governor. Things have only gotten more complicated from there with more than six months before the June primary, especially with the entrance of moderate Rep. Thomas Suozzi in the race.
The field of candidates has widened in recent weeks as gubernatorial wannabes continue their efforts to woo the party faithful, labor leaders and donors. Here is a list of who is running, who is not, and who is still keeping political watchers in suspense. 
Running
Gov. Kathy Hochul
The unexpected governor announced her campaign for a full term in office even before she officially replaced disgraced ex-Gov. Andrew Cuomo in August. She has had significant success since then inheriting much of the political network that helped him win four statewide races – especially when it comes to rallying prominent Black leaders and deep-pocketed donors to her cause. Recent polling suggests that she is the person to beat at this point, but a lot can change in the upcoming months despite her ongoing success with fundraising.
New York City Public Advocate Jumaane Williams
Jumaane 2022 became official, official in mid-November when the longtime Brooklyn powerbroker released a video highlighting his experience as an activist-minded elected official in the New York City Council and, later, as public advocate. Now he faces a two-front primary battle against Hochul – who he unsuccessfully challenged in the 2018 Democratic primary for lieutenant governor – and James, who has her own strong ties to Black voters and lefty progressives in the voter-rich county of Kings.
State Attorney General Letitia James
Hochul is not the only statewide incumbent who can lean on a bully pulpit. James has used hers to highlight her role in fighting the opioid epidemic, Andrew Cuomo and ex-President Donald Trump alike. That will give her an edge over other candidates looking to leverage their ties to the all-important borough of Brooklyn, whose voters will have an outsized voice in the race. And the early list of state legislators and labor leaders endorsing James suggests that she might have as many friends in high places as Hochul. 
Rep. Thomas Suozzi
The Long Island member of Congress told reporters at his campaign announcement that "competence" and "ideology" differentiate him from other candidates in the race. A recent victory on the state and local tax deduction, and his willingness to stand up to the purported dangers of Western New York socialism could give him an in with primary voters, but only time will tell whether he can build a broad enough coalition to win in June.
Legislative staffer Paul Nichols
New York is a democracy and the 2022 Democratic Party primary ain't over until the fat lady sings, right? So count the chief counsel for state Sen. Leroy Comrie of Queens as a candidate in the race. His website outlines the "5 Smooth Stones" of his candidacy. This includes a call for big rent reductions and "incentivizing more New Yorkers to move to different parts of the state to ease the concentration of population downstate." A lack of name recognition as a relatively obscure legislative staffer means he will have to work hard to ever be considered a serious contender.
Maybe running
New York City Mayor Bill de Blasio
The outgoing mayor has filed paperwork and basically said that he will run for governor. He still retains a base of support among the Black and Latino voters, despite some pretty rough final years as mayor, who pushed him to victory in past races. Yet, he will lose the ability to leverage his mayoral power in service of his political ambitions in January. That is one of many reasons to think this latest run for office is not going to work out any better than his ill-fated 2020 campaign for president. 
Suffolk County Executive Steve Bellone
"The last of the New York centrists" hopes to become the first county executive elected as governor. His brand of moderate politics could give him a chance in a crowded primary where a plurality is enough to win. Bellone has led the largest county in the state outside New York City, which gives him some unique talking points to bring to voters. At this point, his relative obscurity at the state level leaves him as a dark horse to watch in the coming race. 
State Sen. Alessandra Biaggi
Few people appeared to get under the skin of Team Cuomo quite like the two-term progressive. The Bronx legislator openly floated the idea of challenging Cuomo in a primary, but his resignation takes some of the oomph out of a potential run. A crowded primary might not be worth the effort compared to a quixotic challenge to the longtime bête noire of the left. That appears to be one reason why she is eying other opportunities like potential runs for state attorney general or lieutenant governor. 
Yonkers Mayor Mike Spano
The mayor of New York's third-largest city doesn't have much of a statewide profile, but that's not stopping him from considering a run for governor. He told News12 Westchester in August that he'd give Hochul some time to settle into her new job, but planned to decide whether or not he'd mount a run this year. Sources close to Spano, who comes from a large political family, told the Yonkers Times there could be an opening for a suburban moderate if the progressive vote were split enough. 
Not running 
State Comptroller Thomas DiNapoli
Is he the most exciting elected official? Umm, no. But the Long Island Democrat has won three elections since he replaced his felonious predecessor in 2007. That might've made him a competitive candidate in an open 2022 primary for governor, but it is not to be. DiNapoli made it clear to City & State in early November that he is running for reelection for sure.
Westchester County Executive George Latimer
The Westchester County executive has helped make Westchester increasingly blue in recent years. That has led at least one vocal supporter to make the case that the former state senator should be included in discussions of who might get in the race, though the "Lawn Ranger" told City & State in mid-November that he would not run after all.
Former Gov. Andrew Cuomo
The fallen master of Albany has been in exile on Long Island since fleeing the state Capitol weeks ago, but he has hardly disappeared. His remaining supporters are still attacking the investigation that led to his downfall, and he is apparently intent on avenging himself. That might include using his remaining war chest – which is still accepting donations – to wage a final battle for political redemption. While Cuomo supposedly has no interest in running for office next year, his remaining money and name recognition could still make him a competitive candidate if he changes his mind.
U.S. Sen. Kirsten Gillibrand
New York's junior senator has ambitions beyond Congress – after all, she ran for president. She wants to build on her brief and unremarkable run and campaign for president again, she told Politico New York in July. But she said then she has no interest in running for governor. She reiterated to Gannett papers in October that, in spite of Cuomo's resignation, she has no interest in running for governor.
Assembly Speaker Carl Heastie
The Bronx powerbroker told a Syracuse reporter over the summer that he is "absolutely not" interested in entering the race. 
– With reporting by Jeff Coltin and Kim Corona