New York City
Adrienne Adams, Francisco Moya both declare victory in the council speaker race – which is impossible
Confusion reigned Tuesday, as both candidates said they would win.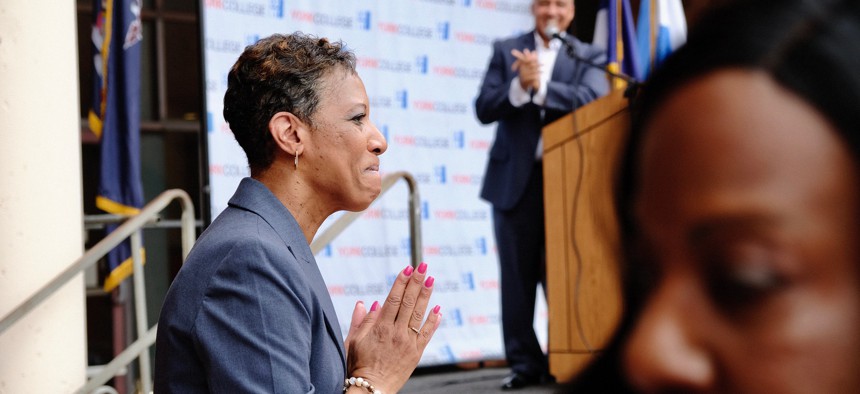 Both of the leading candidates for New York City Council speaker declared that they had the necessary votes to win on Tuesday – a mathematical impossibility which suggests either Adrienne Adams or Francisco Moya were overstating their support. Or both. 
Adams kicked it off Tuesday afternoon with a press release announcing that four of the seven speaker candidates had dropped out of the race to endorse her bid to lead the council – and appeared to claim that this meant she would be next speaker. 
"Today is a historic day for New York City," Adams said in a press release sent to reporters at 1:28 p.m. "After much discussion and collaboration with my colleagues, I am honored to have received the necessary votes to become the next Speaker of the New York City Council."
Then Moya responded with a tweet, at 2:50 p.m. "I am humbled to announce that our diverse coalition of Council Members and leaders from across New York City has collected a majority of votes to elect the next speaker of the Council. I look forward to leading this body into a brighter future for our great city."
Adams doubled down at 4:08 p.m., with a tweet restating that she has "received the necessary votes."
So it was just as unclear who will be the City Council speaker as it was before the candidates claimed victory, since neither had conceded defeat. The speaker needs a majority of support – 26 pledged votes on the 51 member council – to declare victory. But both Adams' campaign and Moya's declined to provide a list of incoming council members who supported them.
Asked Tuesday afternoon, Adams' campaign said all would be revealed in time. "We feel confident that Adrienne, given where all the votes are, will be the next speaker," said Anthony Thomas, a political consultant for Adams. "Over the next day or so we're going to begin to step out with a collection of supporters and then have a public conversation about it." Asked who the supporters would be, Thomas only said "more supporters." And asked when they would be revealed, he said "soon."
Moya's campaign, likewise, declined to provide a list of names, and would not elaborate on when such a list should be expected. 
Observers of the race felt their heads spinning at the developments. "The vote is three weeks from now," said a former Council member. "Don't George Bush this thing," they said, referring to the former president's 2003 "Mission Accomplished" banner during the early months of the war in Iraq.
The formal vote for speaker is expected to take place the first week of January but speaker races have historically been informally decided weeks before the vote. 
The race had narrowed in the last week to the two candidates from Queens, Moya and Adams. Moya, a 47-year-old Latino man from Corona, has earned Mayor-elect Eric Adams' support in his bid, arguing in part that the city and the state was suffering from a lack of high level Latino leadership. Moya announced the public endorsements of four Latino council members on Sunday night. Eric Adams' campaign declined to provide comment on the race. The mayor-elect was in Washington D.C. Tuesday afternoon, meeting with other new mayors at the White House.
Adrienne Adams, a 61-year-old Black woman from Jamaica, Queens, would be the first Black speaker and the first Black woman speaker. She had emerged in recent days as a compromise candidate for council members who were opposed to Moya and the heavy hand that Eric Adams and his inner circle were using to push Moya. She is working with the support of influential unions 32BJ SEIU and District Council 37, as well as Rep. Greg Meeks, who leads the Queens Democratic Party. And on Tuesday, Adams announced the public support of former speaker candidates Diana Ayala, Justin Brannan, Gale Brewer and Keith Powers. A seventh speaker candidate, Carlina Rivera, was not included in the press release. The four endorsers and Adrienne Adams met for lunch on Sunday, as City & State first reported, and Rivera did not attend. 
While Tuesday's dueling declarations felt chaotic, this sort of posturing is broadly typical of council speaker races. Their private nature means that misinformation runs rampant, and legendary philosopher Yogi Berra is often quoted: "It ain't over till it's over."
But a political consultant involved in the race put some of Tuesday's confusion at the foot of the incoming members. "Everyone's lying to everyone," they said, "and everyone's being caught saying they're supporting both."
This is a developing story, and may be updated.
Powered By
NEXT STORY: Former Gov. Cuomo ordered to hand over millions made off of pandemic book