Politics
After Malatras' ouster, who will be the next chancellor of SUNY?
A new leader will need to respond to calls for transformative change at the public university system – including making it free.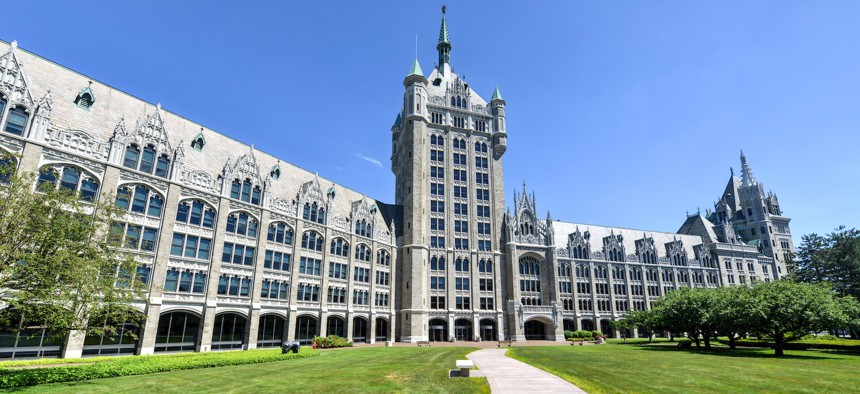 The upcoming semester will feature big changes at the State University of New York. SUNY Oswego President Deborah Stanley is taking over as interim leader on Jan. 15 once Chancellor Jim Malatras officially steps down after he was linked to efforts to publicly discredit Lindsey Boylan, the first woman to accuse former Gov. Andrew Cuomo of sexual harassment. The Board of Trustees will conduct a "global search" in the months ahead for a permanent leader of the university system, which educates about 400,000 undergraduate and graduate students across its 64 campuses. Gov. Kathy Hochul has vowed to detail "bold plans" in her Jan. 5 State of the State address on remaking the 64-campus university.
Cuomo loomed large over the university during his decade as governor. His power over the budget and board appointments gave him enormous influence over its finances. The three-term governor leaned on SUNY for signature initiatives on financial aid and upstate economic development projects – for better or worse. A top Cuomo ally, Larry Schwartz, spent time pushing trustees in a successful effort to get Malatras hired as chancellor in 2020 after forgoing a search for other candidates. This era is ending with the Malatras' resignation.
"This is a critical moment for SUNY, and it needs a dynamite leader to take us forward," said Frederick Kowal, president of United University Professions, which represents faculty and staff across the SUNY system. "(Cuomo) wanted to totally control SUNY like everything else. Hochul changes everything."
Students, faculty, staff and legislators are offering their own visions for the future of the university, and whoever ends up succeeding Stanley (who announced her retirement in May) as chancellor could be the person with the largest influence over the university moving forward. CUNY Chancellor Félix V. Matos Rodríguez has been floated as a possible contender, though his spokesperson said he already has his "dream job." 
University leaders tend to be longtime academics who rise to senior administrative ranks or prominent government positions. Former SUNY Chancellor Kristina Johnson is a trained engineer and former official at the U.S. Department of Energy. But she reportedly struggled in her relationship with Cuomo, which supposedly contributed to her decision to leave New York and become president of Ohio State University in 2020. The new governor has repeatedly emphasized how her management style differs from her predecessor. Her initial reluctance to directly get involved in pushing for Malatras' resignation is one example of her hands-off approach to SUNY compared to Cuomo. That could make the chancellor job more appealing to potential candidates.
The search for a new chancellor will likely continue for a good chunk of 2022. That means that Stanley will be in charge of pushing for the billions in new state funding over the next few years that the university is requesting through the state budget expected to pass in early April. "They could not have picked a better person," Assembly Higher Education Committee Chair Deborah Glick said in an interview of the board's selection of Stanley as interim chancellor. State lawmakers like Glick are aiming to build on the increased funding they secured in the budget that passed months ago to address the so-called "Tap Gap" between the costs of educating a student – as measured by full tuition – and what individual campuses can charge certain students. 
Legislators, students and union leaders alike are pushing for the elimination of the tuition increases implemented at SUNY in recent years. Some elected officials have had their own ideas of how best to fund financial aid programs. Cuomo unveiled his "Excelsior Scholarship" programs several years ago to mixed success. Hochul will detail her own approach in her upcoming State of the State address and a budget proposal expected to be released later in January. "Do I think that if we redirected economic development money, we could get closer to a free tuition situation? Yes, but I'm not sure that we could, within one year, make that a reality," Glick said in an interview. 
Students are not giving up so easily on reinventing SUNY to their liking sooner rather than later. Their efforts are focused right now on the nascent efforts to find a new chancellor. Many of them are struggling to pay for a college education and living expenses while focusing on their studies. "We're so focused on the finances and it distracts us from the overall goal, which is to get an education," said Ocean Karim, a 20-year-old undergraduate at Stony Brook University who represents thousands of students as a member of his student government. Karim, the son of Bangladeshi immigrants, added that many students are hopeful that a new leader for the university system, which also includes teaching hospitals and an array of research programs, might better reflect the ethnic, racial, and socioeconomic diversity that have helped make public universities like SUNY an engine of the state economy. Like legislators, union leaders and others though, Karim says a chancellor who really listens is a good place to start. "We as students definitely want to have a chancellor that is very open," Karim said.