Campaigns & Elections
The Democrats (not) running for New York attorney general
With Letitia James' reentry, this race is getting less and less competitive.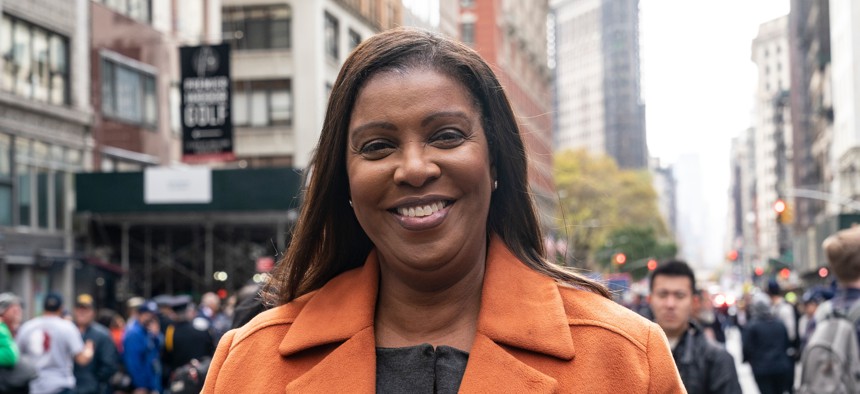 The 2022 Democratic primary for state attorney general was going to be quite the exciting race, with a long list of candidates eager to replace Letitia James after she declared her candidacy for governor. 
Fast forward a few weeks. James is no longer a gubernatorial candidate. Fordham University Associate Law Professor Zephyr Teachout, former federal prosecutor Daniel Goldman, State Sen. Shelley Mayer and Assembly Member Clyde Vanel have all announced they are getting out of the race. Maria Vullo, a former superintendent of the state Department of Financial Services, is also calling it quits after initially saying she would stay in the race against James. 
There are many months left until the June 2022 primary, and James might face some serious competition for another term in office, but as things are looking now, she is a lock for reelection. Not a single declared candidate remains in the race just a few days after she upended the political landscape by ending her campaign for governor. 
Here is a round-up of where things stand with the 2022 Democratic primary for state attorney general. 
This article was last updated Dec. 14.
Running 
State Attorney General Letitia James
The first-term incumbent had her sights on becoming governor, but ultimately decided that her current gig worked for now. A recent Siena College poll showed that a majority of Democrats have a favorable view of her. That suggests she remains pretty popular with primary voters despite recent efforts by ex-Gov. Andrew Cuomo to raise doubts about how political ambition might've tainted investigations that she oversaw into alleged gubernatorial wrongdoing earlier this year. 
Possibly running
Former Gov. Andrew Cuomo 
Whispers that the disgraced governor could mount a comeback run for office had been swirling since he stepped down in August, with insiders speculating he could again seek the position that catapulted him to the Executive Mansion. Cuomo served as state attorney general from 2007 to 2010, the year he was elected governor. Maybe he'll want to use his remaining war chest in a head-to-head race against James, who issued all those damning reports about him. A Cuomo campaign appears highly unlikely, given the lack of any whispers in recent weeks, but you never know!
Not running
Brooklyn District Attorney Eric Gonzalez
Gonzalez had been "fishing around" with his political allies to see whether a campaign for state attorney general might work, according to The City. His reputation as a lefty reformer – and willingness to support changes to progressive reforms – could have helped him assemble a winning coalition statewide, but all signs nowadays point to a campaign over before it ever officially launched. 
Daniel Goldman
Daniel Goldman, a former federal prosecutor who was counsel to House Democrats in the first impeachment probe of President Donald Trump, announced his candidacy in a video released Nov. 16. His past work battling corruption might've made him a competitive candidate, but he ended up dropping out after James dropped her bid for governor. 
Fordham University Associate Law Professor Zephyr Teachout
The fourth time was not the charm for Teachout, who has run for governor, Congress and AG twice in recent years. Her candidacy for attorney general was largely predicated on James not running for reelection and the bonafide political corruption expert ended up calling it quits after praising James' work on the campaign trail. 
Maria Vullo
The former superintendent of the Department of Financial Services has rolled back talk about staying in the race. Her press releases have bragged about an "unrivaled record of achievement" while overseeing the multitrillion-dollar insurance and finance industries as well as her time leading a national abortion rights advocacy group, but her political ambitions appear to be on hold for now. 
Assembly Member Clyde Vanel
The Queens legislator headed to cyberspace ahead of a formal Dec. 6 campaign announcement. While the "People's Lawyer" was a moniker Vanel deployed to show how his campaign will fight for marginalized people and communities, the Queens legislator has been all about making New York a space hub in recent years. Too bad we won't get to call him Attorney General Moonbeam after all. 
Queens District Attorney Melinda Katz
The City once cited four sources saying Katz was "certainly" going to run in an open primary. Now that it's not an open primary, we'll have to assume that she is going to sit this one out. 
Rep. Kathleen Rice
The Long Island member of Congress ran in a Democratic primary for attorney general years ago. Whether she will do so next year remains an upcoming question. A spokesperson did not respond to a request for comment, but the lack of an open primary suggests she is not going to enter the race in the end. 
Rep. Tom Suozzi
The Long Island Congress member is running for governor, which confirms what a source close to Suozzi told City & State weeks prior about him not being interested in running for attorney general.
Rep. Sean Patrick Maloney
The Hudson Valley powerbroker is sitting out the 2022 Democratic primary for state attorney general despite running for the position in the past. His national donor network might've made him a more competitive candidate this time around, but SPM is evidently more interested in helping Democrats maintain their slender majority in the U.S. House. 
State Sen. Shelley Mayer
One dark horse in the race has been the Yonkers state senator, an attorney who has cultivated strong ties to organized labor during her time in both chambers of the Legislature. Her record as a relative moderate might have given her an edge against the competition, but Mayer announced was dropping out of the race soon after James made her future plans clear. 
State Senate Deputy Majority Leader Michael Gianaris
The longtime Queens legislator had eyed the state attorney general's office since Republican George Pataki was governor. Astute reporters noted all the little hints he was dropping about his interest in finally moving on from the state Legislature, but he told NY1's Zack Fink he would be supporting James for reelection.
Laura Gillen
Newsday had reported that the former Hempstead town supervisor might get into the suburban lane of the growing field of candidates. That was once an idea worth retweeting if you follow the potential candidate herself on social media but she ended up giving up on the race once James announced she'd run for reelection.