Politics
Will 15-minute delivery do to bodegas what ride-hailing apps did to the taxi industry?
Manhattan Borough President and Council Member-elect Gale Brewer said oversight of the rapidly growing ultrafast delivery industry is needed to prevent that scenario.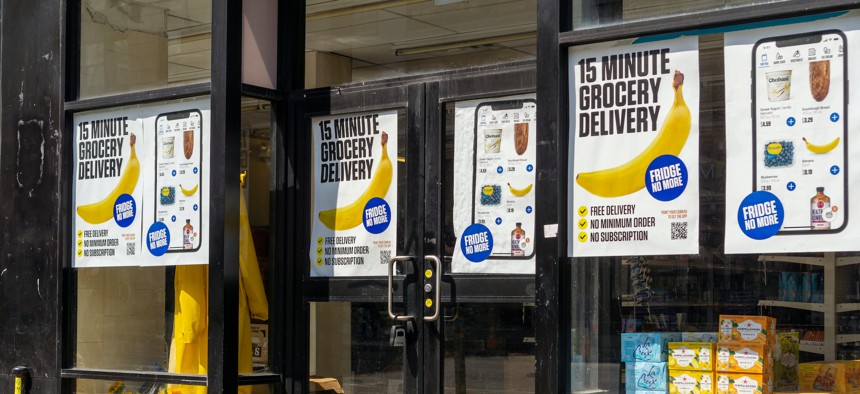 Gale Brewer is having deja vu. The Manhattan borough president and incoming City Council member is trying to raise the alarm about a new class of disruptor barreling into New York City that she worries has the potential to decimate one of the city's signature industries – and one largely populated by immigrants. 
As ultrafast grocery delivery services continue their march into New York City, Brewer has her eye on bodegas, delis and small grocers. Ultrafast delivery services offer unbeatable delivery speeds by shuttling groceries and other supermarket goods from mini warehouses – known as "dark stores" – to customers in 15 minutes or less. Startups including Gorillas, Gopuff and JOKR are already operating in the city. Brewer, however, is among those who see the growing delivery industry as a potential threat to the city's "local immigrant-owned neighborhood groceries, delis and convenience stores."
"I won't let what happened to taxis happen to them," Brewer tweeted recently, referring to the unregulated entrance of ride-hail apps such as Uber and Lyft into the city beginning in 2011. The failure of New York City to regulate ride-hailing apps helped to undercut the value of taxi medallions – which grant the exclusive right to pick up street hails – contributing to the financial devastation medallion owners have faced over the last decade. While New York City Mayor Bill de Blasio pursued a cap on the number of app-based ride-hail vehicles in the city in 2015, political pressure and aggressive lobbying shut down the effort, and a cap wasn't secured until three years later. 
Brewer isn't alone in having concerns about rapid delivery services cutting into bodegas' business. The announcement earlier this month that delivery app DoorDash is expanding into the 15-minute grocery delivery market has renewed questions about the effect these new services will have on immigrant-run delis and corner stores. Leaders of two small business associations – the Bodega and Small Business Group and the United Bodegas of America – are sounding the alarm too, Brownstoner reports. "These startup companies offering 10 to 20 minute grocery delivery will compete directly with our family-run bodegas," Radhamés Rodríguez of the United Bodegas of America, said in a press release. "If we don't take action, thousands of our businesses will close their doors in the next six months, creating additional food deserts and harming New Yorkers' access to food."
It's unclear exactly what options there are for "taking action," to rein in the delivery boom, however. Zoning enforcement – or new regulations – may be one route. In October, Brewer sent a letter to several city and state agencies raising questions about whether these companies' "dark stores" stocked with delivery goods can be allowed to set up shop in areas of Manhattan that are not zoned for warehouses. "I thought to myself, 'How in the world could warehouses be in commercial districts zoning-wise?'" Brewer told City & State of the delivery services' dark stores. "I went to see a lot of them, they're like warehouses. You can't get in." 
So far, Brewer hasn't gotten a clear answer from the city on whether the dark stores – several in Manhattan in particular – violate existing zoning rules. According to the city Department of Buildings, an investigation into whether these sites violate existing zoning regulations is ongoing. "These types of quick-service fulfillment centers are a new type of business in the city, and they are not specifically mentioned in the existing city zoning regulations," a DOB spokesperson told City & State in an email. "We are actively working with our partners at other agencies to explore the appropriate zoning districts for these types of establishments."
In the meantime, small grocery and bodega owners are looking for help. In their letter, the leaders of the bodega associations called for the city to support bodegas, including by helping to develop technology the local stores can use to offer online ordering and delivery to customers. 
DoorDash, which has launched its first ultrafast delivery "DashMart" in Chelsea, is aware of the concerns about bodegas being trampled by the delivery economy. In its press release, the company wrote that it would be bringing hundreds of bodegas and other small businesses into its marketplace, with the goal of helping existing stores offer rapid delivery. For now, however, DoorDash's 15-minute delivery is only coming from its own dark store. 
Spokespeople for several major delivery companies operating in New York City did not respond to requests for comment, including JOKR, Gorillas, Gopuff and Buyk.
DoorDash's announcement raised a secondary issue, too. To make these speedier deliveries, DoorDash will be hiring part- and full-time employees instead of independent contractors – a notion that caught the attention of anyone aware of gig companies' full-throated opposition to classifying its workers as employees. DoorDash is differentiating between its "Dashers" – the workers classified as independent contractors who deliver food and other goods from private establishments on its existing platform – and its new ultrafast "DashCorps" service, which will hire employees to do 15-minute deliveries from its own dark stores.
As with other major gig companies, DoorDash will continue to classify its Dashers as independent contractors. The company, along with Uber and Lyft, fought aggressively against a California law that would have forced them to reclassify their workers as employees. Those major companies remain committed to opposing similar legislation in New York, as the state Legislature pursues labor reforms to grant gig workers more rights, such as collective bargaining and sick leave.
Some who support reclassifying gig workers as employees read DoorDash's announcement that it would hire employees for only some of its business with confusion. "To me, it says, 'We'll give you special status if you do this extra risky thing. The vast majority of our workers we're happy to keep paying by the gig, but we'll honor or reward the more risk-taking workers with a full-time job,'" said New York City Council Member and Comptroller-elect Brad Lander, suggesting that those couriers under an extra time crunch will face a greater risk of danger in making deliveries. "A minimum wage full-time job, so hardly a reward," he added.
Lander said that lawmakers in Albany should pursue gig worker reforms that include reclassifying workers as employees. "There's no meaningful argument that they can't pay people as employees," he said of gig companies. 
DoorDash has argued that its new DashCorps workers will be doing a different job than its Dashers, so hiring employees for one and not the other makes sense. "DashCorps employees will complete a variety of tasks beyond delivery, including shelf-stocking, customer support, and administrative work," the company said in a press release. "They'll work set schedules, working an average of around 20 hours per week, with many working full-time; wear uniforms; report to a manager; and use a new app designed specifically for their unique work."
Lander, for his part, is less worried about the prospect of ultrafast delivery services overrunning bodegas. "I have some confidence in New Yorkers," he said. "They love their bodegas and their neighborhood shopping experience enough that they will walk to the corner for the banana and cup of coffee."