New York State
4 key takeaways from the Independent Redistricting Commission's latest maps
Dueling plans by Republicans and Democrats hint at how the final lines might shape up.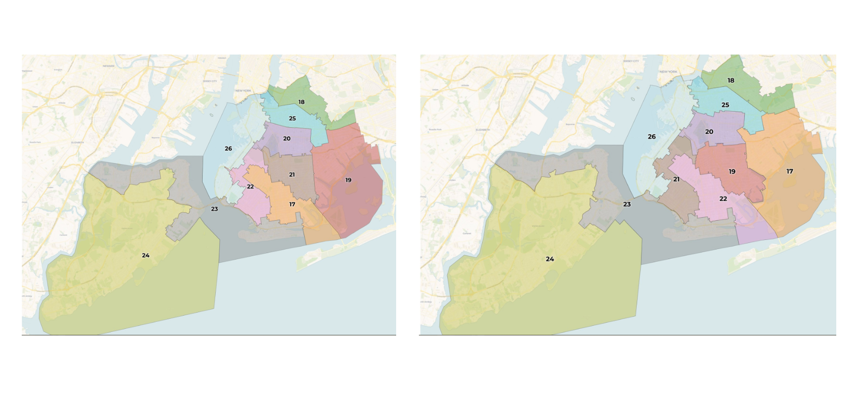 The state Independent Redistricting Commission has not produced a unified plan for drawing new maps for the U.S. House, state Senate and Assembly. Members appointed by Democrats came up with one set of proposed lines while their Republican-appointed counterparts have offered their own. That was not the type of bipartisan work that the commission was supposed to do according to a 2014 state constitutional amendment aimed at ending partisan gerrymandering.
Democrats – who have supermajorities in both chambers of the state Legislature – appear more likely than ever to redraw the state's congressional and legislative districts to maximize their chances in the 2022 elections. The draft maps unveiled by the commission on Monday, however, highlighted some of the tricky political questions legislators might face if they end up approving anything in the upcoming weeks that dramatically differs from what the commissioners published.
The state Legislature would have to reject both maps twice before it could move ahead with drawing its own lines. Legislators would also need to draw maps that adhere to federal requirements on maintaining districts that protect racial and ethnic minorities' representation in Congress – or else the courts might intervene in redistricting like they have in the past. That suggests Democrats can only go so far when it comes to gerrymandering new lines, but a lack of clarity in the state constitution certainly gives them some advantages since they could pass their own lines with a simple majority.
A lot remains up in the air, but the newly proposed maps hint at how the final maps might look once some of these outstanding issues are addressed.
Both sides are in agreement to change Republican-friendly lines in the state Senate
The erstwhile GOP majority the state Senate gave itself some significant advantages in the last round of redistricting while the Assembly Democrats did the same in their own chamber. The redistricting commission's plans include a number of changes that appear to benefit Democrats. Both Republicans and Democrats agreed on simplifying the notoriously gerrymandered lines in southern Brooklyn. Two Democrats might end up representing Rochester, which had three Republican state senators until last year. While there are big differences between the two sides when it comes to Long Island, don't expect the GOP to win all nine seats like they once did.
Republicans might lose two seats in Central New York
New York is losing one of its 27 congressional seats following the 2020 census and all signs point to the pain being felt most acutely upstate. The competing draft congressional maps would both mash together the districts currently represented by Republican Reps. John Katko and Claudia Tenney by placing Syracuse, Ithaca and Utica into one district. Only one of them can win a primary, which likely means one fewer Republican in Congress. That could help Democrats – who have a slim majority in the House – make some serious headway in mitigating the congressional advantages that Republicans are accruing in other states.
Get ready for some more conflict among Democrats 
The draft Assembly maps are good examples of how redistricting might stoke further conflict among Democrats. Just look at Queens! Both sides are proposing big changes even though the GOP has little chance of representing any of these seats next year. The ideological diversity of "The World's Borough" means that altering the current lines even a little can result in big changes in the number of left-leaning voters who vote in certain Democratic primaries, which could encourage some incumbents to retire or new primary challengers to emerge from the political left, depending on how things shape up. And in Manhattan, a new downtown state Senate district could pit Assembly Member Yuh-Line Niou and state Sens. Brian Kavanagh and Brad Hoylman against each other.
Republicans won't lose everything
Although Rep. Elise Stefanik has easily won reelection several times, changes to the district lines could always make a once safe seat far more perilous. For the rising Republican star, that won't be the case this time. Although her neighbor Tenney seems to be in some trouble, both maps give Stefanik plenty of reason to breathe easy, largely leaving alone her expansive North Country district. Of course, it means that the GOP won't be able to shore up any surrounding areas by splitting off some conservative areas to benefit someone like Tenney, but it also means that the Republican Party won't lose one of its few millennial women in the House.