New York State
Advocacy groups say Albany Democrats not acting so democratic
Public access to lawmakers has been restricted lately due to COVID-19 and efficiency efforts.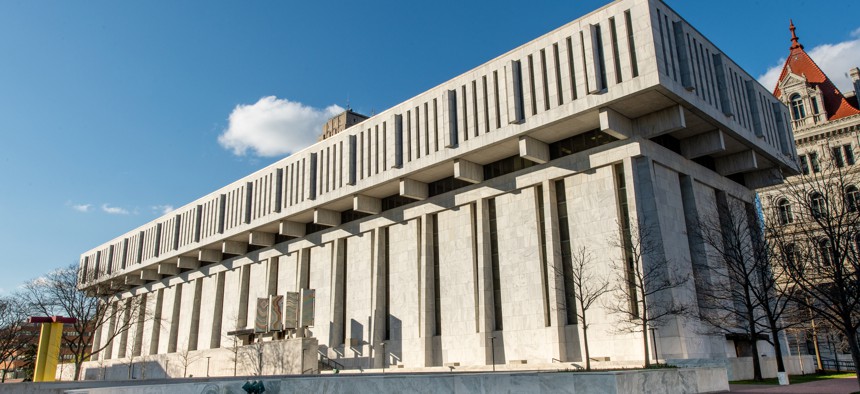 Gov. Kathy Hochul gets a lot of attention when it comes to making state politics more transparent and ethical, but she is not the only person who runs things in Albany. Democratic leaders like Assembly Speaker Carl Heastie and state Senate Majority Leader Andrea Stewart-Cousins also have a big say in how much access the public has to the corridors of power. Some of their recent moves raise questions about their commitment to small-d democratic values.
Advocacy groups say restraints on the amount of testimony they can give at virtual budget hearings stifles their ability to sway lawmakers. The Legislative Office Building – where state Senate and Assembly chambers are located – was closed to the public due to the omicron surge in the coronavirus on Jan. 10. The closure continues to keep the public away from lawmakers in real life as the April 1 budget deadline approaches. Republican Assembly members are also criticizing their colleagues across the aisle for imposing new time limits on debate that come amid broader questions of legislative leaders' commitment to open government. Critics say the legislators' stated desire to boost efficiency and public health make sense to some degree, but seek a better balance with their desire to reach elected officials on and offline. 
Advocacy groups, unions and other organizations have traditionally testified at multiple budget hearings in past years because of the relative breadth of their respective policy interests in health care, state spending and more. That will not be allowed this year, according to a Jan. 25 letter from the Assembly Ways and Means Committee to the Empire Center. "They chose to make the budget a big complicated document that touches on the lives of virtually every New Yorker," said Bill Hammond, a senior policy fellow at the Empire Center. "So I don't think they should be complaining when a lot of people want to respond to it." An open Jan. 28 letter from the center to the committee, legislative leaders and the governor outlines their criticisms in more detail. 
The closure of the Legislative Office Building blocks the general public from reaching state lawmakers at their Albany offices – a traditional place for activists to pressure them on policy issues – even though many public facilities remain open during the winter COVID-19 surge. "We do think that while the state is fundamentally open that New Yorkers should have access to the halls of power," said Katie Schaefer, director of advocacy and organizing at the criminal justice advocacy group Center for Community Alternatives. "There is something lost in a digital rather than in-person meeting." The Office of General Services announced the change Jan. 8 after consultation with the Democratic legislative majorities, according to an agency spokesperson. 
These changes in public access to elected officials come as Assembly Democrats have imposed new limits on the amount of time their GOP colleagues have to debate them, which some Republicans have equated to an attack on the right to free speech. "Can you imagine the outrage on the pages of The New York Times or on Twitter if this was done in the state of Georgia, or the state of Texas, or the state of Florida?" GOP Assembly Member Michael Lawler said while debating the bill. Heastie also continues to put off questions about how his chamber is still unable to archive committee meetings online despite a 2016 commitment. 
The limits on testimony and access to the Legislative Office Building and the Capitol are similar to what was in place a year ago. Such restrictions were eased last year as COVID-19 cases dropped.  "This fall when the legislature held some in-person hearings it made it easier to access electeds," Liz Moran, a policy advocate for the environmental group Earthjustice, said in a text. "It was also a bit easier organizing in-person news events and other actions in the summer and fall." A new surge of the coronavirus, however, led Albany leaders to impose a new round of restrictions in the name of public health. Visitors to the Capitol have to be vaccinated or show a recent negative test, but they cannot enter the Legislative Office Building to see their elected representatives. 
A spokesperson for Heastie noted that the large number of people who want to testify at budget hearings necessitates limits on how long people can speak – no matter the breadth of the policy interests of an organization. "Believe it or not, the Empire Center isn't the only voice we listen to when crafting a budget," the spokesperson said in an email. One recent budget hearing included 26 witnesses and stretched for more than 13 hours, according to the spokesperson."While it's true that time to present prepared testimony is limited, the time taken with any witness – especially agency heads and those who are actually providing services – is not," the spokesperson added. State Senate Finance Chair Liz Krueger said in an email that lawmakers have received twice as many requests this year to testify at budget hearings, compared to the past, which necessitates stricter time limits.
Some advocates say they are taking the ongoing restrictions in stride despite the way it inhibits their advocacy – at least for now. "The risk of infection is so high right now," Stanley Fritz, state political and campaigns director at Citizen Action, said in an interview. "And then you don't want to bring members and leaders out there, who they're gonna sit in a bus that's fully ventilated for two-and-a-half hours and then go into a building to be around a bunch of other people. It's just sort of a weird time."
Powered By
NEXT STORY: Eric Adams is on Signal