News & Politics
Former Assembly Speaker Sheldon Silver dead at 77
He was known for his political savvy, but resigned as speaker amid corruption scandal.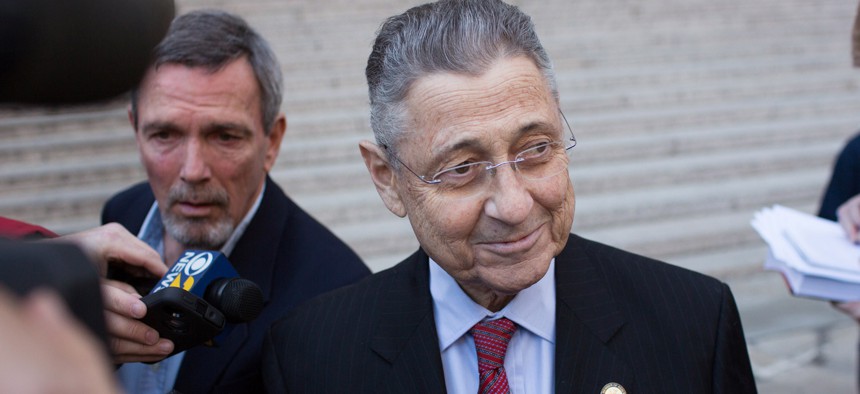 Sheldon Silver, the once-powerful Assembly speaker marred by scandal at the end of his career, died on Monday at the age of 77, multiple sources confirmed to City & State. He leaves behind a complicated legacy that spans nearly four decades in state government, including 20 years leading the Assembly.
Silver was first elected to the Assembly in 1976 and then being elevated to speaker in 1994, until he was forced out of the chamber in 2015 due to his arrest on corruption charges. He was one of the longest-serving speakers in New York history, known for a tight grasp over his conference and quiet dealmaking during the heyday of "three men in a room" in Albany.
Silver had been serving a 6 1/2-year sentence after a 2015 conviction related to a pay-to-play scandal involving $4 million in payments in return for helping a cancer researcher and two real estate developers. Silver had won a short-lived furlough last year during a bid to complete his time behind bars at home, with his lawyers pointing to the former speaker's history of cancer and kidney disease making him vulnerable to COVID-19.
Although he is perhaps most well-known now for the end of his career – his arrest, two trials and years-long saga to delay the start of his prison sentence – Silver spent most of his career as a staunch progressive. He generally represented the left-wing perspective when negotiating with the Republican state Senate and the governor, who switched between parties and temperament during his tenure. 
Silver's rise to power in 1994 came as a surprise for some due to his reserved public image, but he kept firm control of his conference for two decades, even fending off an attempted coup in 2000. He fought to ensure that the Legislature continued to have a co-equal role in state government, even in the face of governors like Eliot Spitzer, who once described himself as a "fucking steamroller" to one of Silver's members.
Silver championed liberal policies like universal pre-k in New York City, which became a reality with his help in 2014 and represented one of his last victories before his fall from grace. Even after he went to prison, those who worked with him still could speak highly of his many accomplishments from education reforms to helping pass same-sex marriage. Silver was also known for delivering pork to his Lower Manhattan district, making good use of his powerful position to benefit public housing developments downtown and to increase bus service.
But even before his arrest and conviction, Silver faced criticism for his alleged role in tamping down scandal within his chamber. A then top aide, Michael Boxley, was arrested for rape in 2003, accused of assaulting a young Assembly staffer. The arrest came after a previous allegation of rape against Boxley in 2001 by former Republican staffer Elizabeth Crothers, who has since co-founded the Sexual Harassment Working Group, which fights for better sexual harassment protections for legislative staffers. Crothers has accused Silver of ignoring her claims when she reported the alleged assault.
Silver also faced a lawsuit from two other former Assembly staffers over his alleged inaction to address sexual harssment by the late former Assembly Member Vito Lopez. Victoria Burhans and Chloë Rivera – the former of whom also co-founded the Sexual Harrassment Working Group – accused Silver of essentially faciliating the behavior of the powerful Brooklyn Assembly member.