New York City
What's next for Bill de Blasio?
It's pretty much time that the former New York City mayor update his LinkedIn page.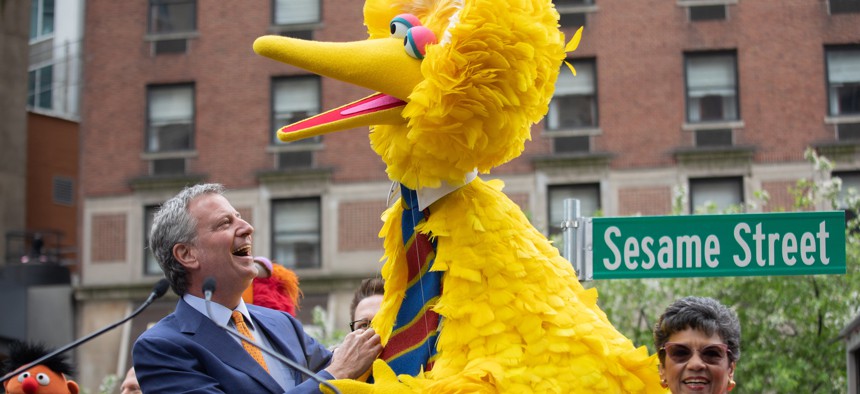 He got us all riled up for this? After a year of will-he-or-won't-he (that really seemed to be leaning towards will-he), former New York City Mayor Bill de Blasio announced Tuesday that he will not be running for governor. 
The very same day, his top aide Emma Wolfe announced that she'd be taking a job as senior advisor to the president of Barnard College. And de Blasio's political counterpart, former City Council Speaker Corey Johnson, said he'd be joining electric vehicle charging company ElectReon as a consultant. 
So what'll the 109th mayor of New York City do next? He says he'll let us know in the days ahead. But in case he's still hunting, we've decided to lend a helping hand, and came up with some suggestions for de Blasio's next gig.
Fitness instructor at the Park Slope YMCA: He admitted in his non-announcement video that he probably shouldn't have gone to the gym as mayor. But all bets were off on January 1st, 2022. After holding the highest office in the city, could it be time to pursue something he's truly passionate about? 
Starting a band with David Paterson: Think of all the great songs they could write bashing Andrew Cuomo. If de Blasio wants to pick up an instrument, Dan Smith could teach him guitar too.
Guest correspondent on MSNBC: What is being a lame-duck politician if not one long audition to be a talking head on cable news? Maybe they'll even let him become a regular on "Morning Joe."
Gubernatorial candidate for 2022: Listen closely to the video. "I am not going to be running for governor in New York state." Folks, Massachusetts has an open seat this year and the Boston-raised Blaz's years of obnoxious Red Sox fanhood may finally count for something.
Staten Island Zoo animal care intern: That groundhog incident weighs heavily on his conscience. But a criminal justice reformer like de Blasio has a real chance for restorative justice here.
Conflicts of Interest Board member: Mayor Eric Adams owes one to de Blasio, so why not pay it forward with a plum appointment where the ex-mayor's public stance that his wife absolutely should have gotten paid could be of some help?  
Campaign manager, Dante for New York: A return to his political origins, running Hillary Clinton's 2000 Senate campaign, but this time for a different dynasty: his own. Dante's been soft-launching something so why not a run for office?
Understudy on Sesame Street: Titles like "Hizzoner" come and go, but even de Blasio admits that nicknames like "Big Bird" are forever. The role of giant yellow avian is currently taken on the show, but it never hurts to have someone waiting in the wings! Plus, years of experience with political rivalries could help him mediate this dispute between Elmo and Rocco.
Call screener for The Brian Lehrer Show: After taking heat every Friday for years, it would be a fun reversal of fortunes if the most recent mayor of New York City got to patch through the angriest callers to his successor.
Powered By
NEXT STORY: The people making money off ex-Gov. Andrew Cuomo