Bill de Blasio
Why de Blasio will run for governor … and why he won't
What's on the mayor's mind as he plans his next move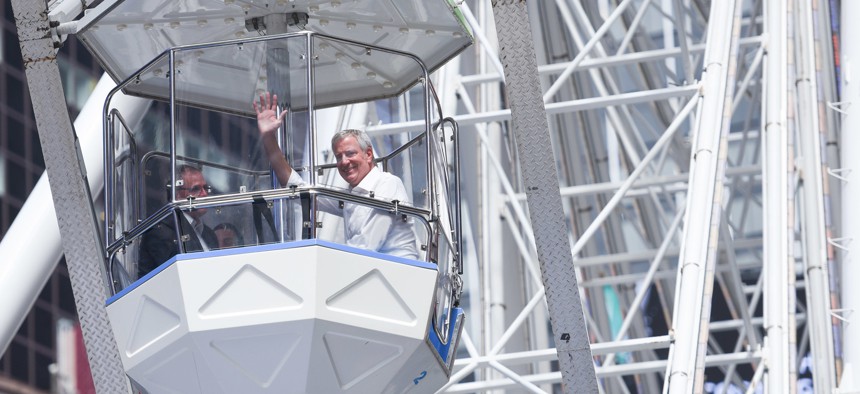 The 2022 Democratic primary for governor is fast approaching, and wouldn't you know it, a certain outgoing mayor is talking about running. The New York Times reported that New York City Mayor Bill de Blasio has told people that he plans to run for governor next year against Gov. Kathy Hochul and likely a few other challengers. With only a few months left in office, it's no surprise that de Blasio is trying to keep talk of his political future alive. But the mayor's hosting of the Hotel Trades Council – a union that backed his similarly implausible presidential campaign – at a City Hall press conference received a lot of attention this week, adding some fuel to rumors of a run for the state's top seat. Last month, City & State laid out the considerations de Blasio should keep in mind as he looks ahead to a possible run. 
Why de Blasio will run:
He doesn't have another job lined up. De Blasio is term-limited out of office on Dec. 31, 2021, ending a run of 20 straight years as an elected official. Running for office is what he knows. 
He ran for president. And if he did that, despite pundits – and voters – giving him absolutely no chance of winning, why wouldn't he run for a slightly more attainable seat?
It will give him a platform to talk about progressive policy. And lecturing statewide and nationwide Democrats has always been one of his favorite parts of the job as mayor. 
He's the mayor of the state's largest city. And – nevermind anemic turnout numbers – he remembers winning nearly 800,000 votes in his two citywide elections. That's a base to work with.
He's got friends in labor. He's kept up good relations with unions like 1199SEIU and the Hotel Trades Council. That doesn't mean they'd support a run – but he's got a seat at the table.
His poll numbers are decent. Sure, it's early, but people know his name, and recent polling had him as high as tied for second at 14% – which is better than he ever did in the presidential primary. 
It doesn't hurt to run. Sure, some reputations have been harmed by running (look at Andrew Cuomo versus Carl McCall in 2002) but even a loss can often lead to a new job. Just ask Brian Benjamin and Kathryn Garcia.
Why de Blasio won't run:
Gov. Kathy Hochul may be a strong incumbent. There might not be much appetite for change among mainstream Democrats, and progressives won't rally around de Blasio as a lefty alternative.
De Blasio wouldn't be a top challenger. Because if Hochul seems beatable then it's likely that state Attorney General Letitia James, New York City Public Advocate Jumaane Williams and others would run too – either of whom would probably crush de Blasio among his Central Brooklyn base.
His wife didn't run. Though rumors were flying, Chirlane McCray decided against a 2021 run for Brooklyn borough president. Maybe there was no path to victory, but it shows the mayor and his top adviser aren't desperate to stay in elected office.
Raising money would be a pain. Dialing donors for dollars once got de Blasio attention from the feds. Fundraising before he left office would be heavily scrutinized, and fundraising after he left would be too late.
His approval rating has been sinking. Even if things are looking better, just 37% of New Yorkers in this heavily Democratic city approved of their mayor according to a May poll – and that's worse than last year.
This could hurt his legacy. De Blasio outlasted Cuomo and seems to be enjoying his job as mayor for the first time in years. History may be kind to de Blasio. Would he want to jeopardize that with a potentially divisive primary run?
He's a punchline. And it'll be nearly impossible to shake his loser reputation in eight months of campaigning after eight years as mayor. New York City Democratic mayoral candidate Eric Adams didn't even want his endorsement. Nobody did.
Powered By
NEXT STORY: Let the City Council speaker race begin