New York State
Alessandra Biaggi congressional run tests the progressive mood on the Long Island Sound
The progressive legislator has announced a campaign to replace centrist Tom Suozzi in a new district that includes parts of her current state Senate district.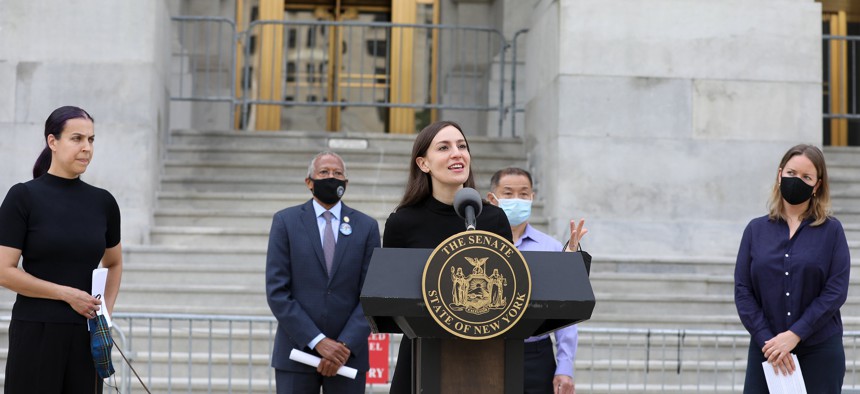 Congressional candidates are popping up in unexpected places through the redistricting process: Western New York Republican Chris Jacobs now needs votes in the North Country, and former New York City Mayor Bill de Blasio, a progressive Democrat, might jump into the race to represent Staten Island, the city's GOP stronghold. 
And progressive state Sen. Alessandra Biaggi is officially running to replace centrist Rep. Tom Suozzi of Long Island, whose current district will be changed to include areas of the Bronx and Westchester County. 
The entrance of the left-leaning legislator into the crowded Democratic primary to succeed Suozzi (who is running for governor) is the latest example of how the redistricting process has upended congressional races across the Empire State. This includes the race for the new 3rd Congressional District, which could hinge on Biaggi's ability to sell her progressive voting record in Albany to moderate voters on Long Island. "She's going to be in a political, ideological, social and economic environment that's just different from the ones that she's accustomed to," said Larry Levy, executive dean of Hofstra University's National Center for Suburban Studies. "It is a wide open race." A growing list of candidates meanwhile is getting ready to run for the state Senate seat Biaggi first won in 2018. 
Biaggi, who could not be reached for comment by publication time, said in a press release that she would be basing her campaign on issues like voting rights, abortion rights, climate change and universal pre-K. "Our country doesn't just need more Democrats in Washington, we need bolder ones," Biaggi said in the press release. "We delivered progressive change on these issues in Albany, and it is time to bring our energy and resolve to Washington." The press release adds that Biaggi, whose grandfather represented the Bronx in Congress for 10 terms, is a "fourth-generation resident of the district." Her current district includes parts bordering the Long Island Sound as well as a significant chunk of the northwest Bronx.
Her opponents include several people with deep experience in the Long Island part of the district, which stretches along the entirety of the North Shore of Long Island in Nassau County as well as Huntington and Smithtown in Suffolk County. Democratic National Committee veteran Robert Zimmerman of Great Neck is hoping to become the first gay person elected to Congress from Long Island. Deputy Suffolk County Executive Jon Kaiman, Nassau County Legislator Joshua Lafazan and businesswoman Reema Rasool of Oyster Bay have also announced campaigns. Melanie D'Arrigo is running after losing the 2020 primary to Suozzi by 40 points. A small slice of northeast Queens is also inside the new district.
Experts say that Biaggi will likely need to do relatively well in the Bronx and Westchester parts of the district, win as many votes as she can on Long Island and Queens – and hope that is enough to win the crowded primary. "She will be viewed as the New York City person, and folks on Long Island are going to want to know: 'Where were you when Long Island needed you?'" said Basil Smikle Jr., a political consultant and former executive director of the New York State Democratic Party. Such considerations might explain why Biaggi, an outspoken proponent of lefty causes like defunding the police, has changed her campaign website to remove specific mentions of her support for bail reform. "We need to dismantle the false choice between a just criminal legal system and public safety," reads the current version of the website. Her campaign pitch also includes support for raising the federal cap on state and local property tax deductions – an effort long championed by Suozzi – and working "towards" establishing a single-payer health care system. She has been a supporter of the New York Health Act – which would establish a state-level, single payer system – during her time in the state Senate. 
The proposed district approved by Albany Democrats last week appears more left-leaning than the current one. President Joe Biden won the new district by about 15 points compared to about 10 points in the current district represented by Suozzi, according to an analysis by the Center for Urban Research at the City University of New York Graduate Center. That fact suggests a progressive like Biaggi might have a chance in the new district, though the victories for Republicans in the 2021 races for Nassau County executive and district attorney suggest the opposite. Now it looks like Long Island voters this June will once again get to weigh in on just how far left they want their elected representatives to be. That choice comes down to messaging more than anything else, according to political consultant Hank Sheinkopf. "Reality has nothing to do with any of this," he said. "It's all about perception."