New York City
The shift in Black power from Harlem to Brooklyn
A new generation of leaders has taken over after the Gang of Four.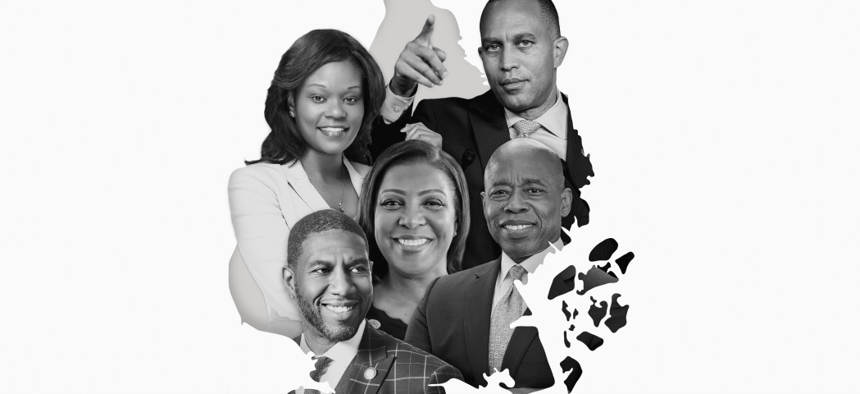 The November elections in New York City made one thing clear: Brooklyn has usurped Harlem as the city's seat of Black political power.
Mayor Eric Adams and Public Advocate Jumaane Williams, who each handily won citywide office, are from the "Borough of Churches." They join a powerful roster of Democratic incumbents from Brooklyn now in city, state and federal offices, including state Attorney General Letitia James, Rep. Hakeem Jeffries, who is considered a leading candidate to replace House Speaker Nancy Pelosi if she steps down, and Assembly Member Rodneyse Bichotte Hermelyn, who is the first woman and first Black woman to lead the Brooklyn Democratic Party, which is one of the largest party organizations in the country.
Adams, Gov. Kathy Hochul and Williams, who is running against Hochul in the Democratic gubernatorial primary, were there on Dec. 9 as Bichotte Hermelyn presided over the party's Democratic Blue holiday fundraiser and toy drive at the Broadway Stages in Williamsburg. James, who announced earlier that day that she was abandoning her run for governor, did not attend.
Adams made note of the party's citywide election successes. "Look what you have done in Brooklyn," he said. "You have a public advocate from Brooklyn. You have an AG from Brooklyn. You have a comptroller from Brooklyn. You have the mayor, from Brooklyn."
"Brooklyn!" the crowd yelled gleefully back.
"Clearly the center of gravity of where the Black electorate is has shifted," said John Flateau, executive director of the DuBois Bunche Center for Public Policy at Medgar Evers College and author of "Black Brooklyn: The Politics of Ethnicity, Class and Gender." "We have such a larger base in Brooklyn, Queens and the Bronx than in Harlem. That's a fact."
Flateau, a veteran political strategist, worked on the presidential campaigns of Jesse Jackson, Michael Dukakis, Hillary Clinton and Barack Obama. He also worked on the mayoral campaign of David Dinkins, New York's first African American mayor, helping to map strategy with the legendary operative Bill Lynch.
Harlem's "Gang of Four," under the tutelage of patriarch J. Raymond Jones, used their political acumen, organizational skills and the communal need, primed by the '60s era civil rights struggle then rocking the nation, to bring services to their community to rally voter support. Each of the Gang of Four – Dinkins, Basil Paterson, Charles Rangel and Percy Sutton – would go on to break new political ground for African Americans in the city and state. Dinkins would be an Assembly member, president of the Board of Elections, city clerk and Manhattan borough president before being elected mayor in 1989. Paterson was elected to the state Senate and was a deputy mayor before serving as then-Gov. Hugh Carey's secretary of state. Rangel was first elected to the Assembly in 1966 and to Congress in 1971, where he served until 2017. Sutton was elected to the Assembly before serving as Manhattan borough president from 1966 to 1977.
The four brought enormous resources and political clout to Harlem and the city, including helping to elect protégé H. Carl McCall as the first Black state comptroller, and selecting Paterson's son, David, as then-Gov. Eliot Spitzer's lieutenant governor, unknowingly placing him in line to become the state's first Black governor when Spitzer was forced to resign in March 2008. But their long political careers – which spanned from 1966 to 2017 – and their reluctance to step aside or anoint successors have been often cited as reasons for Harlem's political waning, epitomized by the 2016 loss of the 13th Congressional District seat to then state Sen. Adriano Espaillat after Rangel's retirement.
People are always talking about empowering the community for the future, but a lot of what happened in Brooklyn is that people had to stop being selfish with their power.
– Ernest Logan, former president of the Council of School Supervisors and Administrators
Yet, Brooklyn's ascent has less to do with Harlem's inability to hold on to power or any organized, long-term political strategy played out through the years, and more to do with an alignment and exploitation of the traditional elements of successful political campaigns everywhere: favorable demographics, organized voter education and turnout, homeownership, activist and progressive "anti-machine" politics, access to money through traditional channels as well as grassroots and independent fundraising, and an informed electorate, Flateau said.
Brooklyn also has a legacy of powerful Black politicians – before there was Rep. Shirley Chisholm there was Bertram Baker, "The Boss of Black Brooklyn," whose 1948 election made him the first Black person to be elected to the Assembly, and Wesley McDonald "Mac" Holder, who in 1953 got Brooklyn's first Black municipal court judge elected and was a behind-the-scenes force in the borough until his death in 1993 at 95 years old. Holder, a native of Guyana, had long contended that Black people could control Brooklyn politics if they could get past their differences.
Yet, unlike in Harlem, some prescient longtime Brooklyn officeholders set up dynasties of their own, particularly Rep. Edolphus Towns, in office from 1983 to 2013, and Rep. Major Owens, in office from 1983 to 2017, so that younger politicians, in these cases Jeffries and Yvette Clarke, respectively, could take their places.
"A coalition of politicos and organized labor nudged a leadership transition," Flateau said of the behind-the-scenes discussions various Black Brooklyn organizations held with Owens and Towns. "There were truth-telling sit-downs with them that concluded that it was time to usher in new blood."
Flateau worked as Clarke's 2016 campaign manager when she succeeded Owens in Congress. Jeffries, with the support of several Black political organizations, won Towns' vacated seat in 2012.
"People are always talking about empowering the community for the future, but a lot of what happened in Brooklyn is that people had to stop being selfish with their power," said Ernest Logan, a longtime Brooklyn resident and former president of the Council of School Supervisors & Administrators, the union that represents the city's public school principals. Logan and his political director Herman Merritt would meet with candidates running for various offices to decide whom the council would support.
Harlem, just north of Manhattan's pricey Upper East Side and Upper West Side neighborhoods, was an early target of gentrification by young, mostly white professionals looking for affordable homes, and of developers eager to exploit that emerging market. Crime dropped citywide in the early '90s, increasing Harlem's salability. Gentrification further eroded Harlem's vaunted Black electoral base, Flateau said, by driving up prices beyond the reach of many young, Black professionals who might otherwise have bought homes vacated by their parents and other retiring Black baby boomers. Many of Harlem's older residents sold their homes, using the profits to move to less costly parts of the state and country.
According to statistics from New York University's Furman Center, Central Harlem was 54.3% Black in 2019, a sharp drop from 77.3% in 2000. The white population in Harlem grew from 2.1% to 15.5% in the same period.
"Watching what gentrification did to Harlem was a real wake-up call for Brooklyn," said Barbara Bullard, president of the Shirley Chisholm Cultural Institute, which works to keep Chisholm's legacy alive. "I give Spike Lee a ton of credit for bringing Brooklyn Culture, which was largely personal, ours, to the masses, but that also brought a desire for young white educated people to want a piece of it, and so we were able to if not beat gentrification, create a tension between Blacks and gentrifiers that allowed Brooklyn leaders to get into positions of power." 
Watching what gentrification did to Harlem was a real wake-up call for Brooklyn.
– Barbara Bullard, president of the Shirley Chisholm Cultural Institute
Chisholm was the first African American woman elected to Congress in 1968 and the first to seek the Democratic presidential nomination in 1972. Many of her Brooklyn political successors see her as a role model.
"Mrs. Chisholm is our idol," Bichotte Hermelyn said. "Her 'unbought and unbossed' leadership style inspired so many politicians from this generation."
Brooklyn's African American politicians have also benefited from a large, politically active Caribbean immigrant population. New York City is home to the largest Caribbean community in the U.S., many of them in Brooklyn and Queens. Immigrants tend to settle near other immigrants and create communities, which led to organizing around political issues affecting them.
Former New York City Council Member Una Clarke, mother of Rep. Yvette Clarke, said long before she ran for office, she and other Caribbean community members would go to Washington, D.C., to lobby members of Congress about issues affecting their native countries. "We had no Caribbean American congressman from New York," she said. "We would go there and see what our ambassadors were doing and saying in Washington and try to help them to drive a fair-trade agreement with the U.S."
The Capitol trips also pressed home the need to become U.S. citizens. "The best way to empower one's community is to run for public office, and that is no different for Blacks, Asians or whites or anyone else," Clarke said. "When you go to the White House and you're a citizen, it is different than when you go as a noncitizen because you can't hurt anybody if you can't vote."
"In Harlem and the South Bronx, you have large, noncitizen immigrant populations," Flateau said. "Brooklyn and Southeast Queens have large Afro Caribbean populations, but citizenship rates have been growing in this group, which converts to Black voters and electorates."
Brooklyn also benefited from the slower, still ongoing gentrification that swept through neighborhoods closer to Manhattan – Fort Greene, Cobble Hill, parts of Bedford-Stuyvesant, and Crown Heights – but has yet to gut homeownership among the working, middle and professional classes of African Americans and African Caribbeans in central Brooklyn neighborhoods like Flatbush and East Flatbush, which are also seeing a racial shift.
According to the Furman Center, Bedford-Stuyvesant was 74% Black in 2000 and 54% Black in 2019; Flatbush and Midwood were 37.4% Black in 2000 and 33.6% Black in 2019; East Flatbush was 88.7% Black in 2000 and 85.8% Black in 2019; and Brownsville was 75.9% Black in 2000 and 68.4% Black in 2019. Black residency increased in Brooklyn neighborhoods further from Manhattan. Flatlands and Canarsie were 51% Black in 2000 and 62.1% Black in 2019, and East New York and Starrett City's Black residents climbed from 45.7% in 2000 to 55.4% in 2019.
"There are fewer Black homeowners in Harlem than in central Brooklyn, where you have these huge swaths of brownstones, some now owned for two or three generations," Flateau said. "We're starting to lose some of that homeownership, but many middle-class, young Black professionals are still in these neighborhoods, and some are even moving back."
When organized and motivated, this translates to political power. Last year, Brooklyn had eight Black representatives in the Assembly, four state senators and two representatives in Congress, making it one of the largest concentrations of African American elected officials in the country.
"I always knew Brooklyn had the potential (to be the center of Black political power in the city), just based on the population, once people have the desire to offer themselves for public service," Una Clarke said. "Public service is always desirable for those who are giving and who want to help other people."
"It's one thing to have the numbers, but you also have to have the brainpower and strategic voter mobilization," Flateau said. "Just because you can count heads and have the numbers doesn't mean that politicians know what to do. The people will choose their leaders in that zeitgeist and their agenda for the promise land."
"It's no surprise that our borough is home to so many dynamic Black politicians and will continue to be so," Bichotte Hermelyn said. "Brooklyn is a gorgeous mosaic of diversity filled with Democrats of all ideologies, from nearly every background, ethnicity, religion and race. Despite their differences, they are all leaders who reflect, understand and are devoted to uplifting and uniting all Brooklynites."
How long Brooklyn's Black politicians can wield the crown is anyone's guess. While political power may have hopped the A train from Harlem to Brooklyn, crowns tend to fit any head with the organization, money and numbers to grab it. And as Bichotte Hermelyn said, some very smart and ambitious people of all races are Brooklyn Democrats.
But those seen as out-of-step with the party can feel its wrath. Bichotte Hermelyn has already clashed with younger Democrats who see her as part of the old party machine.
"I know I won't be Brooklyn county leader forever," Bichotte Hermelyn said. "Young people are our future, and I fully believe in our youth to lead the party forward. Our party's youth arm, the Brooklyn Young Democrats, serves as a great incubator for the next generation to carry on the torch."
Adams may have foretold the future as he exhorted the party crowd to continue to work together. "Everyone knows that working with Democrats is like herding cats," he said. "It is going to take time."
Clem Richardson is a former columnist at the Daily News.
Powered By
NEXT STORY: The Biden of Brooklyn and redistricting races