New York State
Andrew Cuomo's political comeback still has a long way to go
New polling showed New Yorkers had a worse opinion of him than Donald Trump.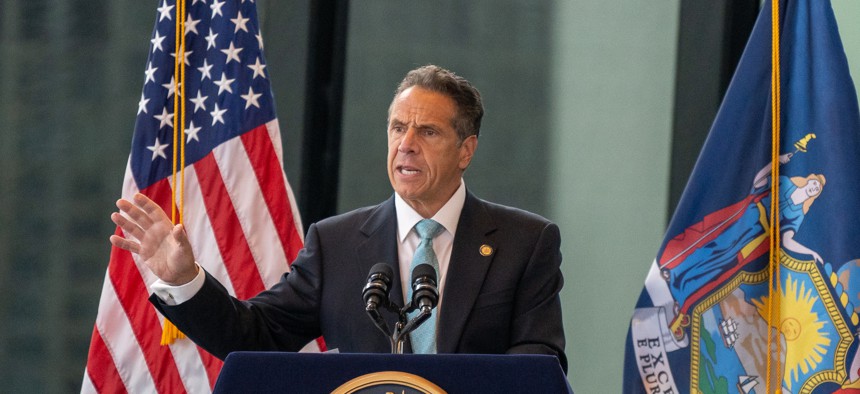 Former Gov. Andrew Cuomo began floating the idea of a political comeback even before he resigned on Aug. 24 under a cloud of scandals that included alleged sexual misconduct, self-enrichment at the public's expense and a withholding the number of COVID-19 deaths among nursing home residents. "I'm not disappearing," he told New York magazine in an interview published just days after he announced his intention to step down. He claimed that he would have prevailed in an impeachment trial, but decided to resign for the good of the state. His job has evidently been clearing his name in the court of public opinion ever since.
Cuomo – who still has $16 million in a campaign account – and his allies have been outspoken in recent weeks about how he had supposedly been publicly vindicated. A new Siena College poll, conducted Feb. 14-17, suggested that any road to political redemption appears to be long indeed, especially considering how many New Yorkers appear to believe his critics more than him. "New Yorkers are not ready to forgive and forget when it comes to Cuomo," Siena College pollster Steven Greenberg said in a statement accompanying the release.
Strong majorities of registered voters said they believed he sexually harassed multiple women and was right to resign because of it. A majority of respondents, including 52% of Democrats, said they believed he sexually harassed multiple women – the subject of blockbuster reports by state Attorney General Letitia James and the Assembly. Poll respondents said by a nearly 2-to-1 margin they believed James when she concluded he was a serial sexual harasser over Cuomo saying the investigation was a political hit job. And a slightly larger majority of respondents had an unfavorable opinion of the former governor compared to former President Donald Trump.
The results of the poll added to other assorted political headaches for Cuomo, whose fall from power followed record popularity earlier in the COVID-19 pandemic. He no longer faces potential criminal charges in relation to alleged sexual misconduct, but a new civil suit from a former state trooper alleging unwanted touching and attention shows how he remains in legal peril. While he has been rumored to be interested in running for his old job of state attorney general – which a spokesperson denied – Democratic power brokers have already lined up behind James. Cuomo is running out of time to prepare a campaign to get on the ballot once the petitioning process starts at the beginning of March.
Cuomo has not ruled out running for office in the future, though it appears likely that he will stay out of the 2022 Democratic primaries. "I'm still focused on communicating what happened here," he told Bloomberg News earlier this month about changing New Yorkers' attitudes about him. The narrative he and his allies have pushed for months was that his critics denied him due process, even though he willingly resigned to avoid almost certain removal from office following an impeachment trial. "The AG's report did exactly what it was intended to do – create an avalanche of false and defamatory headlines without due process," Cuomo spokesperson Rich Azzopardi said in a statement when asked what the latest polling showed about the efficacy of the governor's recent efforts at rebuilding his image. "We're not going to rest until everyone understands the facts and the full extent of the prosecutorial misconduct that played out here."
Time appears to be a key factor in getting second or third chances from voters in the Empire State and beyond. Former Gov. Eliot Spitzer came within a few points of winning a 2010 race for New York City comptroller after resigning from office in 2008 amid a prostitution scandal. Staten Island Borough President Vito Fossella won election last year 13 years after losing a seat in Congress following revelations of a drunken driving arrest and having a secret second family in Virginia. So there is always a chance that Cuomo could win New Yorkers over to his side with enough time and effort, but that might not be easy given the current public perceptions of Cuomo. "The public is not as forgiving as folks think," political consultant Camille Rivera told City & State. "People don't like bullies. They put up with them for a while and then they don't."