New York State
George Pataki reemerges at the state GOP convention
The former governor is not running for his old job, but he offers Republicans hope of winning their first statewide race since he ruled the Second Floor.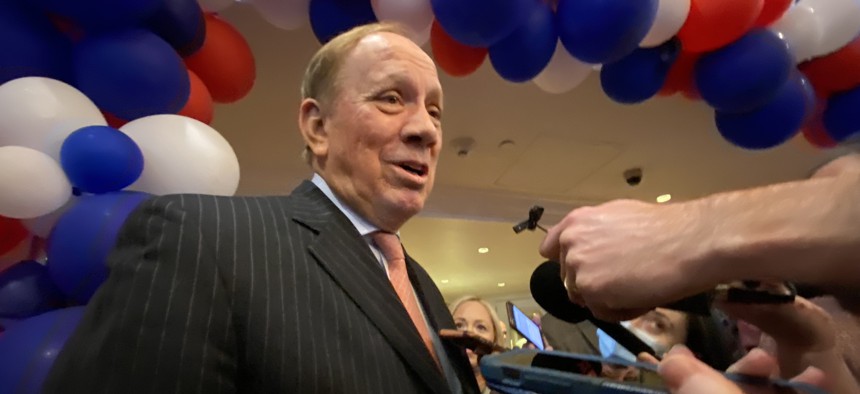 Former Republican Gov. George Pataki has been the subject of rumors in recent weeks about whether he would make a last-minute entrance into the GOP primary for governor. A recent poll even suggested the 76-year-old could be competitive against Democratic Gov. Kathy Hochul this fall. So who better to be the 2022 Republican nominee for governor than Pataki – the last Republican to win a statewide election?
Alas, a dark horse candidacy for Pataki is not happening despite the big cheers he received at the GOP state convention that began Monday on Long Island. Pataki told reporters he would not enter the race for governor, but would instead leverage his distinction as the victorious underdog against former Democratic Gov. Mario Cuomo in 1994, a historic wave election for the GOP, to help Republican candidates up and down the ballot. 
"There is very much the same sense of enthusiasm and optimism and a belief that there's a tremendous chance to win," Pataki told City & State Monday when asked how he would compare the mood among Republicans this year to nearly three decades ago "You're gonna win by getting Democrats and independents and minorities to vote Republican – not because we're running on a party line, but because our ideas are right for them."
The Republican race for governor remains up in the air, but putative front-runner Rep. Lee Zeldin is expected to get the official backing of the party on Tuesday, which means he will not have to petition to get on the ballot for the June primary. That leaves months of campaigning between Zeldin and rival candidates that include businessman Harry Wilson, former Westchester County Executive Rob Astorino and Andrew Giuliani, son of Rudy. 
No matter who prevails in the June primary for governor, he will undoubtedly argue that his campaign offers voters a chance to push New York rightward as voters did in 1994 when they elected Pataki for the first of three terms as governor. "Every Republican who's ever run for governor says, 'In 1994, George Pataki beat the odds.'" Marc Molinaro, the 2018 GOP nominee who was once compared to Pataki, told City & State. The election of Pataki ushered in a new era of conservative dominance in state politics that included tax cuts and restoring the death penalty after numerous vetoes by Mario Cuomo, a longtime liberal icon. 
A big question for Republicans though is to what extent their eventual candidate for governor can appeal to a broad range of voters like Pataki, who supported abortion rights and increased spending on the state Medicaid program, did. Zeldin, Astorino and Giuliani have long track records of repeating rightwing talking points on the supposed dangers of socialism, critical race theory and public health experts. Wilson, on the other hand, has faced criticism for past campaign donations to Democratic Manhattan District Attorney Alvin Bragg, whose support of criminal justice reforms has made him a new bête noire of the political right. 
Pataki, an unsuccessful candidate for the 2016 GOP presidential nomination, was among the Republicans who said Donald Trump was unfit for elected office. The state party has only moved rightwards since then on issues as varied as abortion rights, immigration and the value of democracy itself – given the support Zeldin and others have given to Trump's big lie about the 2020 election – but ongoing backlash to bail reform and other policies championed by Democrats has Republicans optimistic about pulling off an electoral upset this November as big as Pataki's 1994 victory. That involves fudging facts here and there and keeping the party close to Trumpy talking points. The 2021 victories in suburbia offer Republicans a roadmap for winning statewide for the first time since Pataki's last gubernatorial win in 2002. "They're trapped in this woke identity trap," Pataki told GOP convention delegates of Democrats on Monday. "This is not about just winning an election; this is about saving our state."