Politics
Takeaways from the new redistricting proposals for New York state Senate and Assembly
Albany Democrats stand to gain a lot in the decennial process expected to conclude this week.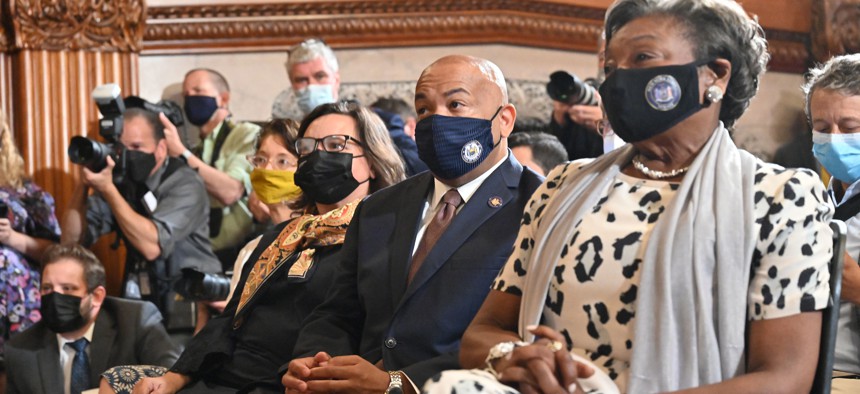 One day after revealing a new congressional map that could help Democrats flip several seats in the U.S. House, state lawmakers have unveiled redistricting plans for the state Senate and Assembly that also give their party a big electoral boost. 
The proposed redistricting plan would help Albany Democrats protect their legislative supermajorities while addressing the concerns of some of the interest groups who advocated for changes to the current legislative maps. Both chambers of the state Legislature are expected to approve new legislative and congressional lines by Thursday. "The role I play is simply reviewing the maps after they've been approved by the Legislature," Gov. Kathy Hochul told reporters Tuesday. 
Democratic lawmakers ended up rejecting proposed maps drawn by the Independent Redistricting Commission, whose members could not agree on a single set of maps for Congress and the state Legislature. The commission, established by a 2014 amendment to the state constitution, was meant to take partisan politics out of the district-drawing process. The failure of that yearslong effort now allows the Democratic supermajorities to draw new maps as they see fit as long as they are approved by a two-thirds majority in both chambers. 
Here are a few takeaways from the proposed legislative maps.
@SR_spatial has the new state Senate and Assembly maps up on the NYS Redistricting & YOU websitehttps://t.co/QnRXbfiKri pic.twitter.com/5j1ZmK0UdU

— Zach Williams (@ZachReports) February 1, 2022
Primary races are about to heat up
Legislative hopefuls finally get to know what districts they will contest in the June 2022 primaries. Assembly Member Yuh-Line Niou is expected to challenge incumbent state Sen. Brian Kavanagh to represent a Senate district that lost areas in Brooklyn while gaining parts of the East Side of Manhattan up to 26th Street. The district where state Sen. Kevin Parker is expected to run will no longer have parts of progressive Park Slope, which could help him beat back challenges from the left. Simcha Felder might benefit in a similar way from changes that push his district as a whole further southwards. Other races will be similarly clarified in terms of district lines while the political effects of redistricting are examined in more detail. 
Freshman Democrats in the state Senate are getting some favorable changes
Rochester remains split into two state Senate districts, which ought to help incumbent Democrats Samra Brouk and Jeremy Cooney hold onto the seats they flipped in 2020. Splitting Syracuse adds more friendly voters to the district represented by fellow freshman John Mannion. Michelle Hinchey meanwhile is losing Republican-leaning areas west of Schenectady while gaining Democratic areas like New Paltz on the southern end of her current district. The addition of Niagara Falls to the district represented by Sean Ryan could likewise help Democrats keep a seat previously held by the GOP. The Hudson Valley district represented by Elijah Reichlin-Melnick, however, appears to be largely remaining the same.
Brooklyn remains a bit of a mess in the state Senate.
Republicans did all sort of artful things a decade ago while redrawing the lines to help them keep their majority in the state Senate. Democrats have simplified the lines in many ways – Monroe County for example is now going to be represented by three rather than six state senators – but Kings County nonetheless remains pretty messy visually. One proposed district will stretch along the western edge of the borough from Sheepshead Bay in the south and Brooklyn Heights in the north. A neighboring district will include parts of Brooklyn Heights as well as the North Shore of Staten Island and Coney Island. 
Downstate Democrats are getting more power
The number of legislators in the 150-seat Assembly and 63-member state Senate remains the same, but upstate population loss means a greater percentage of their constituents live downstate. Mapmakers get additional wiggle room because districts do not have to have the exact same number of people: Within 5% of the target number is enough! Experts say that redistricting a decade ago resulted in New York City districts having larger than average populations, which diluted its political power. The five boroughs are getting two additional seats on top of the 26 districts currently based there. Experts say that is just about right given the latest Census data. Democrats are likely to also pick up a seat on Long Island thanks to new lines that create a majority Hispanic district by uniting a neighborhood currently split between two Republican-held districts.
Advocacy efforts bring mixed results for groups pushing for more minority representation
A litany of groups urged the Independent Redistricting Commission to create more legislative districts conducive to electing people of color. A Latino candidate might fare well in a state Senate district getting created in Queens as well as another seat based in Suffolk County. 
Asian American candidates appear to have an edge in running to represent a seat from southern Brooklyn, but advocates fell short in their push to get mapmakers to draw two new AAPI-friendly Assembly districts in Queens. 
Some interesting changes – but Assembly map largely stays the same
The Democrats are not changing the map they approved a decade ago too much, but there are a few notable alterations. Battery Park City and other areas of lower Manhattan are now connected to a three-borough district based on the North Shore of Staten Island (currently represented by Democratic Assembly Member Charles Fall) which will also include parts of the Brooklyn waterfront. Proposed district lines largely adhere to the existing boundaries in many areas of the city, but Queens is a notable exception. Mapmakers split the district represented by democratic socialist Assembly Member Zohran Mamdani, who could run for a seat based in super blue Astoria. This change also means that longtime incumbent Assembly Member Cathy Nolan will have fewer lefty constituents to worry about as she defends herself from progressive attacks in the upcoming primary. The districts currently represented by Assembly Members Catalina Cruz and Jessica González-Rojas are also undergoing significant changes compared to colleagues representing nearby districts. 
Powered By
NEXT STORY: Republicans rage over tough congressional redistricting