New York City
Assembly votes to let Brad Lander stay in office
The New York City comptroller incorrectly filed a surety bond after being sworn into office, making him technically ineligible to serve without state legislative action.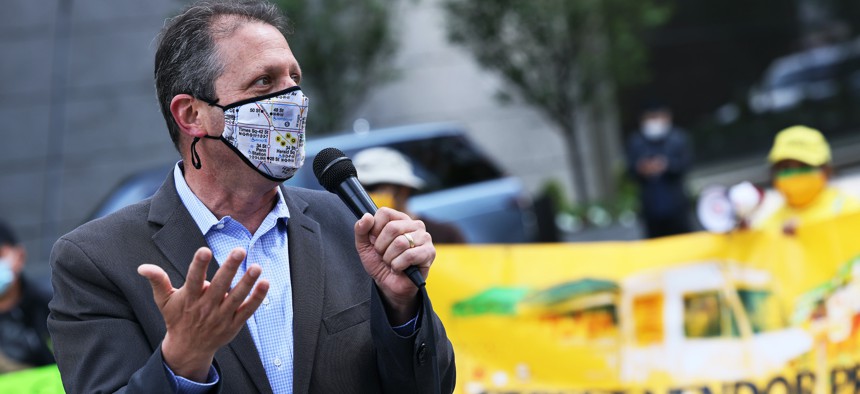 On Tuesday, a bill was passed in the Assembly to extend the deadline for Comptroller Brad Lander to file paperwork necessary to keep him in office. Lander sworn into office in January, and he filed his surety bond with the city clerk's office after the legal deadline, making him technically ineligible to serve as the city's comptroller. The $200,000 surety bond is required to ensure the comptroller's "faithful performance of the duties" of their office.
The bill, which is sponsored by Assembly Speaker Carl Heastie  and state Senate Majority Leader Andrea Stewart-Cousins, passed in the Assembly with just one "no" vote on Tuesday afternoon. 
According to Stewart-Cousins' office, the bill is expected to be put to a vote in the state Senate by this week after the conference reviews its specifics. 
Lander needed to file a surety bond within 30 days of taking up the post. He filed the bond, but did not do so in time, and before Tuesday was technically ineligible to sit as the city's chief financial watchdog until he filed his paperwork with the appropriate office. Heastie proposed the bill to the Assembly on Monday to rectify Lander's error.. 
Lander claimed that he is not the first comptroller to muck up his paperwork after being sworn in, saying both his predecessors John Liu, currently a state senator,  and Scott Stringer did not file their surety bonds correctly either. 
"The requirement to have the bond on file with the clerk within 30 days was not known to our office, or to the clerk, who did not have a process for it. The previous comptrollers did not file it with the clerk, their bonds were on file here in the municipal building," said Naomi Dann, a spokesperson for Lander, about the clerical mishap.  
Dann clarified that, while his predecessors did not file their surety bonds, there was no process set up to do so with the clerk's office, which is why the passage of today's bill was helpful in allowing for that process to happen more smoothly in the future.
When reached for comment on his apparent error, Liu's spokesperson Scott Sieber said, "Beyond the fact that it's bad form for Comptroller Lander to blame his oversights on predecessors, John Liu signed piles of paperwork, forms, and disclosures upon taking office as comptroller and it's impossible to remember now 12 years later exactly how each individual piece of paperwork ultimately ended up being filed."
City & State was unable to reach Stringer or his spokesperson for comment.