New York City
The New York City Council session is off to a slow start. Why is that?
Fewer bills have been introduced than in years past, something City Council Speaker Adrienne Adams and others attribute to a huge class of new members.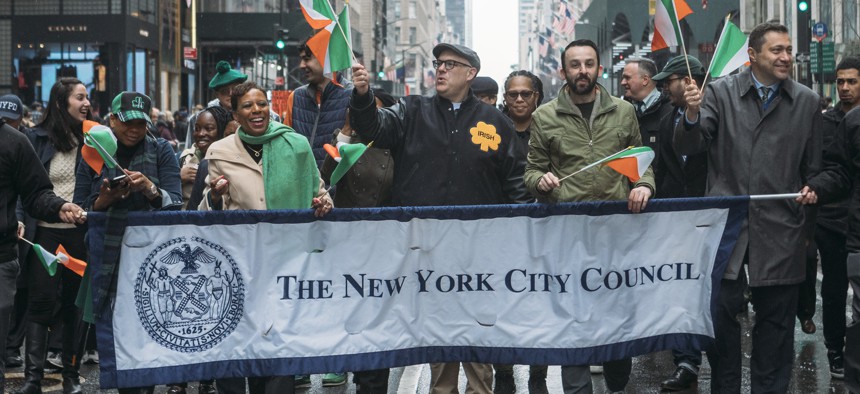 There's a lot that falls under the job description of a New York City Council member – from answering constituents' noise and pothole complaints to holding agency oversight hearings to negotiating the city's behemoth budget. But one job – introducing, debating and passing legislation – is arguably the role that the body's success is judged on most.
A look at City Council Speaker Adrienne Adams' first few months in office suggests that legislation is off to a slower start this year than in previous sessions, with just 89 bills being introduced in the first 10 weeks of her term according to the council's bill-tracking system Legistar. In that same span of time in 2017, 721 bills were introduced under Speaker Corey Johnson; and 183 bills were introduced in Speaker Melissa Mark-Viverito's first ten weeks in 2014. The speaker before that, Christine Quinn, spent two terms as the council's leader; in the first ten weeks of her first term in 2006, 189 bills were introduced, and in her first ten weeks of her second term in 2010, 95 bills were introduced. (These figures don't include the introductions of land use call-ups or resolutions, which often amount to statements calling on the state or federal government to take legislative action.)
In Adams' first ten weeks, two of the 89 bills introduced have actually passed, which is about on par with the number of bills passed in the start of previous speakers' sessions. Four bills passed in Johnson's first 10 weeks, and 2 bills passed in Mark-Viverito's first 10 weeks. The first bills passed by Adams' council were relatively routine – one just extended the deadline for the city to produce a housing vacancy survey, and the other extended most property tax exemptions automatically for seniors and disabled homeowners for another year.
New members and a bill backlog
A spokesperson for the speaker – and several council sources City & State spoke to – attributed the relatively low number of bills introduced so far to the large class of new members in the council this year as well as the volume of leftover legislation from the previous session that the council's legislative division has to work through to potentially assign to members for reintroduction. "We are focused on passing quality legislation through inclusive and thoughtful processes that lead to enduring laws with the greatest impact on improving New York City," a spokesperson for Speaker Adams said in an email. "The speaker and members have been going through a process regarding assignment of the more than 1,000 sponsor-less bills leftover from last session to ensure there is equitable distribution for members, especially given approximately 40 of our 51 members are either entirely new or served less than a full year before 2022." The spokesperson added that the other work of the council – budget hearings, oversight hearings and constituent services – is ongoing. "We aren't concerned with chasing arbitrary numbers, like the number of bill introductions at a certain speed, but rather improving the lives of New Yorkers through the passage of quality legislation, an equitable city budget, and oversight of city agencies."
"I think this is an unprecedented council with nearly 40 new members. I think everything is happening at the pace that it should be," said Council Member Justin Brannan, a returning member who ran for speaker before dropping out to support Adams' bid.
Several new members City & State spoke with agreed, with some noting that the volume or speed of bill introductions isn't the best or only way to measure the council's work. "Judging a legislator by how quickly they introduce a bill makes little sense, as opposed to the substance and quality of what they champion and pass," said Council Member Lynn Schulman, a new member who previously worked in the speaker's office under Corey Johnson. "I think a lot of people are focusing on what's going on in their districts as well. The first couple of months was really (about the COVID-19 variant) omicron. I can't speak for my colleagues, but I can speak for myself – I was running around trying to get (COVID-19) testing in my district, which we lacked. I was trying to get vaccinations."
Adams, who beat out a crowded field to secure her election as speaker, has centered COVID-19 recovery as a key priority, and one council staffer said that her focus on that front is evident in committee oversight hearings that are being held on COVID-19. So far this session, the council has held oversight hearings on COVID-19's impact on English Language Learners and COVID-19 testing in wastewater, for example. 
The City Council is also currently in the middle of holding hearings on Mayor Eric Adams' preliminary budget and crafting its own budget response. Some members and staffers guessed that there might be a greater focus on developing and introducing legislation after the budget process ends in June. Adams just this week named Jeremy John as her chief of staff – the position that has traditionally been council members' main point of contact on legislation. Jason Goldman, who had been appointed by Johnson, stayed on for the first couple months of Adams' council but has now left City Hall. 
Several people also said that the council's central staff – including bill drafters – has a challenging task before them of sorting through the over 1,000 leftover bills from the previous session that members can now submit to take over for reintroduction this year. Some members said that the reintroduction of bills under previous speakers, like Johnson, happened more quickly because of a larger number of returning members who were able to pick up the bills they themselves had carried in the previous session. Now, the council has 35 new members who are submitting requests for the first time to take over bills left behind by the members who were term-limited out of office last year.
Internal calls for transparency
Still, some members and council staffers said that the pace of the council is moving too slowly, and are asking for more transparency for how bills are moving forward. "The legislative process has never been as transparent as it should be, but there is even less transparency this term," said one council member's staffer, who asked not to be named in order to speak openly. The online system that is used to track the status of legislation – a Microsoft program called SharePoint – has not been accessible to members and their staffs because of an ongoing security issue, according to the speaker's office. "We are unable to access our legislation to view status, and there is no rhyme or reason given to the legislation that is moving," the staffer added. Rather than accessing that information online, however, member's offices are given weekly updates on the status of legislation via spreadsheets.
One council member, who asked not to be named in order to speak openly, said that the speaker's office could be doing more to move legislation along. "She can say that any bill that gets submitted has to be assigned to be written within 24 hours and it has to be written within three days," the member said. The speaker's office, however, has pointed to the volume of leftover bills that legislative staffers have to sort through as part of the reason for the pace of introductions.
Adams has been keeping a pretty low profile, even after ascending to one of city government's most powerful positions. She's made few public appearances outside of individual council member's inaugurations, and hasn't been releasing public statements as much as the citywide elected officials, Public Advocate Jumaane Williams and Comptroller Brad Lander. Some observers praised her for this, with one political insider comparing her to a "school principal," doing serious work behind the scenes. And it's a clear contrast from her immediate two predecessors. Mark-Viverito and Johnson had their eyes on higher office, while Adams' ambitions after the speakership are less clear. Of course, the lower profile may not be entirely up to Adams – she took office just as Mayor Adams came into City Hall, and he's been soaking up most of the political attention.
The City Council is being closely watched for how it reacts to the policies and actions of the mayor. Though both Mayor Adams and Speaker Adams are cut from the same moderate Democratic cloth, the council has a sizable faction of left-leaning progressives who are hoping that Speaker Adams will serve as a check on the mayoral administration. The content of the bills being passed – and the council's overall agenda in this short two-year session – is more important to some members than the speed the council is working with. "Legislation will be passed," Council Member Charles Barron, a socialist, told City & State. "What I was concerned on – I was expecting and hoping on a more radical change in how the City Council would do its business with all these new socialists and radicals."
With reporting by Jeff Coltin
Powered By
NEXT STORY: Bureaucratic delays, mistakes block homeless families from finding shelter: report