New York City
NYPD reveals training details and demographics of neighborhood safety teams
The NYPD argues that its new neighborhood safety teams are "not the anti-crime units of old," but some council members remain unconvinced.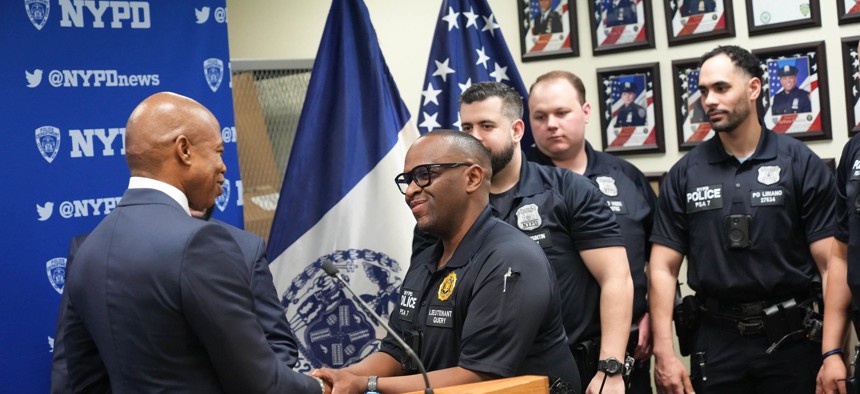 NYPD officials and New York City Mayor Eric Adams' administration attempted to draw a thick line between the city's new neighborhood safety teams and the department's disbanded controversial plainclothes anti-crime units at a New York City Council oversight hearing on Adams' Blueprint to End Gun Violence on Wednesday.
"To be clear, these are not the anti-crime units of old," NYPD Commissioner Keechant Sewell said of the neighborhood safety teams, which launched earlier this month – and which in two weeks of operating have seized 20 firearms, according to the department. "Officers, detectives and supervisors serving on the neighborhood safety teams are individually selected and thoroughly vetted, receive enhanced training prior to deployment, wear a hybrid uniform that clearly identifies them as police, wear body cameras and have their camera footage and activity routinely audited by designated supervisors and the Risk Management Bureau," Sewell said Wednesday.
Originally described by Adams as a modified version of the plainclothes anti-crime units – the latest incarnation of which was disbanded by then-Mayor Bill de Blasio in 2020 – the neighborhood safety teams are being closely watched as a key part of Adams' Blueprint to End Gun Violence. The NYPD's previous anti-crime units were found to be involved in a disproportionate number of killings by police. Skeptics and critics of the new neighborhood safety teams have argued that they represent a change from the old units in name only, and progressive City Council members and police reform advocates continue to raise concerns that they will result in the overpolicing of Black and brown communities.
At the council hearing, police officials sought to counter those concerns. "Three big things that differentiate the neighborhood safety teams from the anti-crime teams of old can be summed up as selection, training and oversight," said NYPD Chief of Department Ken Corey. The members of the neighborhood safety teams – which so far have been rolled out in 27 precincts and four housing police service areas – had to volunteer and then be recommended by their commanding officer, Corey said. The borough commander had to make a subsequent approval before the recommendation was sent to the department's Risk Management Bureau, which vets the officer's past performance, including reviewing any complaints, disciplinary action and the officer's body camera footage.
The officers who were selected to join the teams then had to complete a seven-day training course, which Corey said included deescalation tactics, constitutional policing, risk identification and mitigation. "That curriculum includes two days of courtroom testimony (training), three days of tactics training, including the use of minimal force techniques, and then two days of risk management training," he said. Corey also noted that some officers who made it through the selection and vetting process were removed after their performance in training.
Finally, department officials said the new teams were comprised of five officers and one sergeant – whose sole responsibility would be the supervision of those five members. Oversight also involves the department's Risk Management Bureau reviewing the teams' body camera footage, their paperwork and the outcomes of arrests. Corey added that all of that information will be available to the department's court-appointed federal monitor as well.
But some progressive Democratic council members and police reform advocates who joined Wednesday's hearing probed the department's case, asking for more transparency on how the officers on the safety teams were trained and how the department will ensure that body camera footage, for example, will be adequately reviewed.
City Council Member Tiffany Cabán, a progressive Democrat and former public defender, said she spoke to a neighborhood safety team being deployed in her district earlier this week and was told that the training they received was similar to training officers already received as part of their recertification process. "When I asked (the officers) about what were the special enhanced components that made them above and beyond, or better equipped, to carry out this particular function that they have been given, the answer that I was given was that instead of sitting and watching PowerPoints, the trainings were more quote-unquote interactive," Cabán said on Wednesday.
Corey responded that the training for neighborhood safety teams is in fact new. "Something that has never been done before is that we bring the entire team in, and we train them as a team," Corey said. 
Michael Sisitzky, senior policy counsel at the New York Civil Liberties Union, said increased training won't address skeptics' key concern: that investing in more policing won't make communities safer. "I think we've been down this road before," Sisitzky told City & State. "We've heard promises that training is the way to address problems within the NYPD. For years, the de Blasio administration kept touting over and over again that deescalation training was going to be rolled out departmentwide, that we were going to see that as a primary vehicle to address police misconduct and excessive force. But what happened with all that training in the summer of 2020, when we saw a massive amount of police violence directed at racial justice protesters?"
The police department also provided new demographic data about the neighborhood safety teams, noting that the racial makeup was broadly reflective of the department as a whole. The department testified that the new neighborhood safety teams were 41.7% white, 38.2% Hispanic, 16.6% Black and 3.5% Asian, and 0% Native American. Departmentwide, the NYPD is 44.5% white, 30.2% Hispanic, 15.3% Black, 9.9% Asian and 0.10% Native American.
Democratic Council Member Althea Stevens said that even though these demographics were broadly in line with the department as a whole, the teams will be sent into majority Black and brown neighborhoods. "I'm concerned that it's not more reflective of the communities," she said.
Still, some moderate Democratic and Republican council members at the hearing on Wednesday expressed faith in the neighborhood safety teams. So far, the department said, the teams have completed 84 arrests and taken 20 firearms off the streets. "It seems to be working," said Council Member Bob Holden, a moderate Democrat who was also elected on the Republican Party line last year.
Powered By
NEXT STORY: Assembly votes to let Brad Lander stay in office