Politics
Stringer has turned on onetime allies who rescinded their endorsements
The former mayoral candidate is rooting against his old friends' campaigns.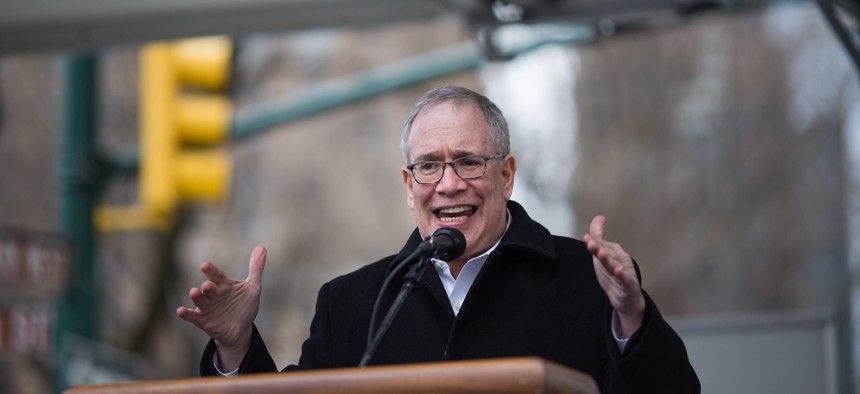 Some of former New York City Comptroller Scott Stringer's closest political allies pulled their endorsements of his mayoral campaign last year after a former campaign volunteer accused Stringer of unwanted sexual contact 20 years ago. Stringer denied he did anything wrong. Now, Stringer's hoping for a bit of political revenge by backing candidates who are running against his old friends.
Stringer retweeted support for state Sen. Brian Kavanagh's reelection campaign – as he's being challenged by Assembly Member Yuh-Line Niou, who once called Stringer a mentor and friend but rescinded her support. Kavanagh is a longtime Stringer ally who endorsed his mayoral campaign too, and unlike Niou stuck with him until Election Day, when Stringer finished a distant fifth.
Stringer also retweeted info about a fundraiser for Robert Zimmerman, an old friend of Stringer's who is running for Congress against state Sen. Alessandra Biaggi – who endorsed Stringer on the first day of his campaign, but later rescinded her support.
For Niou's open Assembly seat, Stringer and his political mentor Rep. Jerry Nadler are supporting Grace Lee – a political nemesis of Niou who ran against her in 2020.
And Angel Vasquez, who's challenging another former Stringer endorser in state Sen. Robert Jackson, told City & State that Stringer and his team "wanted to be helpful" to his campaign and "gave me a list of folks that I could contact on the Upper West Side." Vasquez has been a political operative for the United Federation of Teachers, which also stood by Stringer and spent millions of dollars supporting him. But Stringer clearly isn't going scorched earth against Jackson – the Upper West Side Democratic clubs that often follow Stringer's word have all backed the incumbent.
Stringer declined to comment, as did Biaggi, Niou and Zimmerman, while Jackson and Kavanagh couldn't be reached. Political insiders said it was absolutely a case of political revenge. After all, Stringer and his family have made no secret of his disappointment with those who left his campaign telling Forward he was "personally hurt" by politicians who rescinded their endorsements.
Stringer isn't working as an elected official for the first time since 1992, after being term-limited out of office at the end of 2021. He was rumored to be interested in becoming a commissioner in Mayor Eric Adams' government – maybe parks – but he is jobless for now, while sources said he has been doing some informal consulting. His political career may not be over either. A November 2021 Data for Progress poll of likely primary voters had him at 31% to state Comptroller Tom DiNapoli's 32% in a hypothetical matchup – and he told Politico New York he was "gratified" by the result. He has been welcomed by everyone from Rep. Alexandria Ocasio-Cortez to U.S. Sen. Chuck Schumer, and many expect him to find a way to position himself to succeed Nadler upon his inevitable retirement.