New York State
Benjamin's resignation makes LG race the one to watch
Diana Reyna and Ana Maria Archila are both seeing their chances improve dramatically.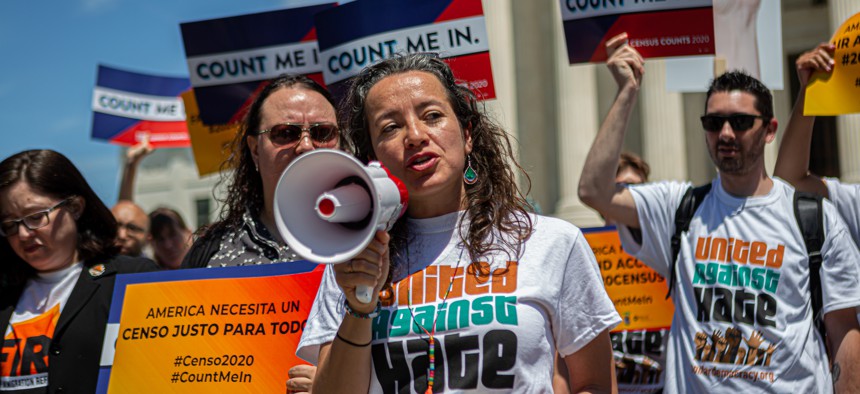 The resignation of now former Lt. Gov. Brian Benjamin has shaken up what was already expected to be a high-energy Democratic primary in June. Although he has said he will suspend his campaign, his name presumably remains on the ballot. Benjamin's arrest added yet another twist in the primary season that could have been ripped straight from the script of a political thriller. And while it has opened the door even wider for his two primary opponents, it also creates some new headaches for Gov. Kathy Hochul. 
In the Democratic primary, the governor and the lieutenant governor run separately. The two winners join the same ticket in the general election.
Benjamin has pleaded not guilty to federal corruption charges. Even before news broke officially of criminal liability, speculation abounded that Benjamin faced a tough primary. Benjamin's arrest and resignation will directly benefit one of two people – Ana Maria Archila, who has been campaigning with New York City Public Advocate Jumaane Williams, or Diana Reyna, who has been campaigning with Rep. Tom Suozzi. "This is the opportunity for the LG race to be THE race," Democratic political consultant Camille Rivera said in a text. "Ana Maria (Archila) and Diana Reyna can build from here and win this seat." Rivera noted that this offers an unprecedented opportunity for a truly independent lieutenant governor who could serve as a check on the executive. If either Reyna or Archila wins, she would also be the first Latina to hold statewide elected office.
The question becomes who of the pair might emerge as the front-runner with Benjamin's downfall. Archila, while campaigning with him, has maintained a degree of separation from Williams, making her own press appearances and putting out her own individual statements. That's in contrast to Reyna, who has stayed closely associated with Suozzi. Neither candidate has yet filed their own financial disclosures, though Reyna benefits from Suozzi's campaign largesse, which dwarfs Williams'. Archila recently told City & State she expects to report just under $1 million in fundraising when she files.
With Benjamin's exit, Archila has already begun to pick up some endorsements from leftwing lawmakers. On Wednesday, Assembly Members Jessica González-Rojas of Queens and Harvey Epstein of Manhattan threw their support behind Archila, who already has the backing of several prominent progressive organizations. "She already has state electeds' endorsements, and her ground game and grassroots campaign is real," Rivera said. "Folks will be on the ground for her and the campaign." Daniel Altschuler, co-executive director of Make the Road Action – one such progressive group that Archila has also led – told City & State that he expects more lawmakers to announce their support soon.
Recent history might also suggest that a progressive lieutenant governor candidate could outperform the gubernatorial candidate they campaign with. In 2018, Williams came closer to defeating Hochul in the lieutenant governor race than most observers expected, even as Cuomo himself trounced Willliams' ally Cynthia Nixon. However, one Democratic consultant who requested anonymity to speak freely said that times have changed greatly in the past four years, with the tides favoring a candidate like Reyna now. "She's actually held elective office before, is from Brooklyn, she's well known," the consultant said. "I think she is the stronger candidate in the race." The consultant pointed out that rises in crime and the continued debate around criminal justice reforms as well as a lack of anti-Cuomo sentiment that may have helped Williams in 2018 paves a clearer path forward for Reyna.
Ideologically, the more moderate Reyna would likely serve as a more palatable partner for Hochul compared to the progressive Archila if Hochul were forced to run with one of them. Although Benjamin's removal from the primary ballot is highly unlikely, she could rescind her endorsement of her former lieutenant governor and back Reyna instead. Hochul could even tap her to serve out the rest of Benjamin's term. Both she and Reyna threw cold water on that idea, however. "I have not even heard that rumor," Hochul said on WNYC Wednesday when asked about speculation that she would try to "poach" Reyna from Suozzi, asserting that the replacement process is still in early stages. And in a joint press conference with Suozzi on the same day, Reyna heaped criticism on Hochul over Benjamin's arrest while confirming her commitment to her partner. "Tom and I are a ticket, and we're working towards making sure that people trust Tom and I for the job that needs to happen right now," Reyna said, later adding that she has received no call from Hochul about serving as lieutenant governor.
Still, for the governor, having Reyna as her No. 2 would likely seem like the better option compared to Archila. The consultant suggested that while Hochul herself may not offer a direct endorsement, they expect that those close to her will begin getting behind Reyna without backing Suozzi. "It sends a signal without her necessarily having to make the overt statement," the consultant said. If the governor did choose to endorse her, Reyna said she would "love" to have that support and committed to working with whoever wins the Democratic primary. Archila made a similar commitment on Tuesday after Benjamin's arrest.
What will likely be a boon for Reyna and Archila, however, could still hurt Hochul in June. Benjamin's resignation gets ahead of the problem slightly, but the fact remains that she appointed someone who had documented ethical concerns and later got arrested for corruption. "This is like a 24-hour headache day, but don't count her out," Democratic consultant Hank Sheinkopf told City & State on Tuesday before Benjamin's resignation. "She'll come up with a way to deal with this." Hochul distanced herself from Benjamin on Wednesday, saying that she and presumably Democratic Party officials are looking into how to get him off the ballot. "But it's an opportunity for us to reset and to let people know that you know, it was very unfortunate – very disappointing for me personally… but you know, we lived to see another day," Hochul said. 
Hochul has managed to separate herself from Cuomo in the months since replacing her scandal-ridden former boss, but voters may not be so quick to forget this time. While she holds a commanding lead over her primary opponents according to the most recent polling, Benjamin's cloud could hang over her head to the benefit of Suozzi or Williams. Just how much of an impact it has, or whether it lasts until June, remains the major unknown for now.
With reporting by Jeff Coltin and Zach Williams
Correction: This story has been corrected to reflect that Benjamin is suspending his campaign for lieutenant governor and to clarify Daniel Altschuler's title.
Powered By
NEXT STORY: Suspect in Brooklyn subway shooting taken into custody