New York State
Democrat, WFP, whatever: Hochul's on board with fusion voting musical chairs
The governor expressed support for the plan to create an separate third party to give Democrats another line on the ballot in November.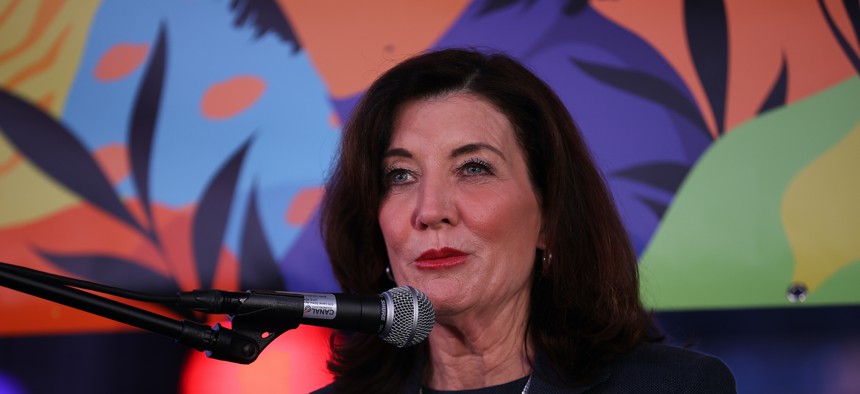 Gov. Kathy Hochul is ready to run as a Democrat – and on whatever other party line that may become available to her in November. 
Speaking to reporters after a campaign event on Monday, Hochul expressed support for state Democratic Party Chair Jay Jacobs' plan to create a new, separate third party for Democrats to run on. The rationale, according to Jacobs, was to ensure the governor had her name on at least two ballot lines if she wins the primary, the same number the Republican candidate will likely have. "You want to make sure you have all the options out there and to make sure you have a level playing field," Hochul said. She said the plan was still in "early stages in consideration," but that she and the party are weighing all options to give Democrats the best shot in November. Jacobs previously told City & State that local party leaders have expressed interest in legislative candidates running on the extra party line as well. Under New York's fusion voting laws, candidates can run in a single election on multiple lines, with all their votes adding up to a single total.
Hochul's comments on Monday represent the first time she offered her thoughts on the proposal, which has received a mixed reaction at best from other Democrats as well as progressives. "This is neither good policy nor smart politics," state Sen. Deputy Majority Leader Michael Gianaris, who also oversees his chamber's campaign efforts, said in a tweet in response to Hochul. "To be clear, I will not seek to run on any new ballot lines this November." India Walton, who lost to incumbent Buffalo Mayor Byron Brown last year after he ran a write-in campaign in the general election, denounced the idea as well for its potential of offering incumbents who lose the primary a chance to beat the Democratic nominee. "Why not simply have open primaries? Voters choose the party nominee and then the party is like 'SIKE,'" Walton said in a tweet. Neither state Senate Majority Leader Andrea Stewart-Cousins nor Assembly Speaker Carl Heastie have offered their thoughts publicly about Jacobs' plan. Jacobs said Democratic incumbents who lose their primaries wouldn't be expected to run on the new third party line as a last resort: "We would expect they would decline if they lost the primary," he said in a text. 
But a theoretical new party isn't the only line that Hochul could gain after the primary. She also confirmed that should she win the primary, she would accept the Working Families Party nomination in the general election. The Working Families Party is backing New York City Public Advocate Jumaane Williams in the Democratic primary. In past elections, the WFP has backed the Democratic nominee after its original pick lost the primary. "In many ways, our values are shared in terms of fighting for health care, fighting for education, fighting for immigrant rights," Hochul said. The governor's assurance well before the primary that she would run on the WFP line breaks with recent history under her predecessor. Former Gov. Andrew Cuomo famously feuded with the party, and while he always took their line in the end, it didn't come easily.
For its part, the WFP won't directly say what its post-primary plans are, but a spokesperson indicated that this year will be no different than years past if Williams loses the Democratic primary. "Our party has never played the role of spoiler, and we're committed to defeating Trump Republicans in the general election who want to take away the rights and protections of working New Yorkers," spokesperson Ravi Mangla said in a statement to City & State, while noting that any post-primary decisions would be made by the state committee. The WFP had already come out in opposition to Jacobs' plan to create a new third party for Democrats.
Powered By
NEXT STORY: Eric Adams' first 100 days