Politics
Adams returning $800,000 to donors after canceling inauguration event
Big time donors like Steve Cohen, Dan Loeb, are getting their money back from the mayor.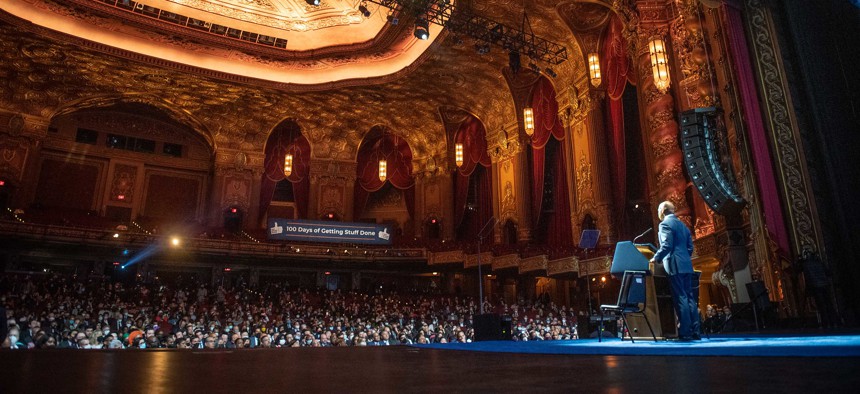 New York City Mayor Eric Adams' transition committee returned more than $800,000 to donors after he canceled plans for a formal inauguration ceremony earlier this year due to the continued spread of COVID-19.  
Adams raised more than $1.9 million in two months for his transition and spent roughly $1.2 million of that in the months following his November election. Financial disclosure data posted on the New York City Campaign Finance Board's website Monday shows the mayor's team returned the remaining money to donors – $800,236 of it, to 246 people.
Some prominent New Yorkers will be getting their money back, including former American Express Chair and CEO Kenneth Chenault and his wife Kathryn, who each gave to-the-limit $5,100 donations. Ditto Daniel and Margaret Loeb – though it's not much compared to the $1 million the prominent hedge fund manager gave during the primary to a super PAC that supported Adams. Loeb is now courting the mayor to show more support for charter schools, CNBC reported. Others getting their $5,100 back include 2017 mayoral candidate and Rao's dining buddy Bo Dietl, political consultant Stu Loeser, and Edward Mermelstein, a real estate attorney Adams appointed to serve as commissioner of the Mayor's Office of International Affairs.
But it wasn't clear how the transition committee determined whose money got spent and whose money got returned. For example, Mets owner Steve Cohen and his wife Alex Cohen each donated $5,100 to the transition committee on the same day, Nov. 23. But the transition committee only reported processing a refund for Steve. Hedge funder Paul Tudor Jones also wasn't so lucky – his $5,100 donation got spent, rather than returned (Though he, too, had already given $600,000 to a pro-Adams super PAC). A spokesperson with the mayor's office could not explain. And a request for clarification to Pitta LLP, the law firm that does campaign fundraising compliance work for Adams, was not immediately returned. 
While much money is being returned, even more has already been spent. The biggest recipient of transition committee funds was iDEKO Productions, an event production agency that got nearly $389,000. A City Hall spokesperson told City & State that was to put on the executive budget address at the Kings Theatre in Brooklyn on April 26. The event also served as a pseudo-inauguration, with much of the city's political community gathered to see the mayor on stage. Adams, along with New York City Comptroller Brad Lander and Public Advocate Jumaane Williams, initially planned to have an inauguration event at the Kings Theatre, but postponed it indefinitely amid rising COVID-19 case counts at the end of 2021. The NYCCFB gave Adams until April 30 to hold an inauguration, or find another way to spend down his transition and inauguration committee's money. 
Much of the committee's spending went to staff salaries for those who were helping Adams screen and hire people for his administration before taking office Jan. 1. The executive director of the transition, Katie Moore, was paid $28,000. Red Horse Strategies, the political consulting firm where Moore now works as a partner, was paid a little over $20,000. Abrams Fensterman, the influential law firm where Adams' now Chief of Staff Frank Carone previously worked, was paid a total of $6,678. Of that, two payments of $561.09 and $317.16 respectively were labeled as "office space." Politico previously reported that Adams' campaign rented space at Abrams Fensterman's office at MetroTech in Downtown Brooklyn. However the politically connected firm apparently did not bill the campaign for the use of the space until Politico began reporting, and when it did, charged an extremely low rate – as little as $1.80 per hour. A receptionist at Abrams Fensterman told City & State that the office manager was not available Monday for comment on the arrangement with the transition committee..  
Other expenses raised some questions. The committee reported a $50,000 expenditure to Kitamba Management for a "program" on Jan. 31, 2022. Kitamba is a public education consulting firm, and it isn't clear what service they would provide to the Adams transition. Kitamba did not respond to a request for comment. 
Officially known as a Transition and Inauguration Entity, the transition committee's final financial disclosure filing was due Friday, and was posted online Monday morning. It is expected to be spent down and closed out soon. Adams has already opened a fundraising committee for his 2025 reelection campaign and is thought to have been raising money on recent trips to Chicago and Los Angeles. One-time campaign spokesperson Evan Thies has declined to comment on the mayor's fundraising activities, but more information should be available in July, when the first disclosure statement is due.