News & Politics
Eric Adams for president?
New York City mayors have a long history of running for – and failing to win – the White House.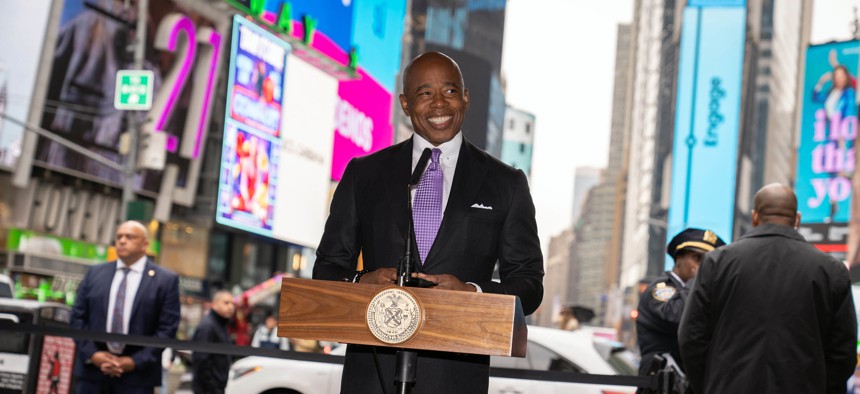 Did Eric Adams' 2024 presidential campaign just begin at an education policy announcement in Harlem? Announcing plans to expand New York City's screening of children for dyslexia, Mayor Eric Adams said on Thursday that had he been screened for the learning disorder earlier, he might not be stuck living in Gracie Mansion. 
"I think that if I would have had the support earlier, right now you would (not just be saying) 'Mr. Mayor,' you might be saying 'Mr. President,'" Adams said to laughs and applause at the press conference. The comment rang like a self-aggrandizing joke – one of the mayor's favorite kinds – but it nonetheless prompted a mini storm of speculation (and groaning) about a potential Adams presidential run.
"If Joe Biden doesn't run, I don't think it's at all crazy that @nycmayor would consider running," tweeted Chris Coffey, the co-chief executive of Tusk Strategies, the firm that ran Andrew Yang's mayoral campaign last year. 
On its face, it sounds a bit ridiculous – and at the least, very premature. Adams is not yet six months into the job, and though his position as mayor of the country's largest city automatically gives him a national platform, his actual track record so far hasn't grabbed national headlines as outstanding in any way.
But Adams would hardly be the first New York City mayor to run for president. "If President Biden doesn't run, I'm sure that like most mayors before him, (Adams) would consider running for president," Coffey told City & State later on Thursday. In fact, Adams would be breaking a three-mayor streak of presidential hopefuls – Rudy Giuliani, Michael Bloomberg and Bill de Blasio – if he didn't run. Plus, Adams already has a penchant for travel, burnishing his national profile, and what we can only guess is a hefty number of airline miles. 
Coffey said that while he's not making the case for Adams to run, the mayor of just over four months could appeal to voters on a couple different fronts – as a Black moderate Democrat running at least partially on public safety. For that to happen, Coffey said, Biden would have to drop out and Adams would have to show that he's actually been successful in tackling crime in the city he runs – neither of which has happened yet. "If those things happen, then I would be really surprised if he didn't consider it," Coffey said.
Previous attempts by New York City mayors to graduate from Gracie Mansion to the White House have failed, and Adams would surely face pushback if he spent the end of his first term shaking hands with voters in Iowa and cozying up to donors in California. 
To be perfectly clear, Adams isn't running, has shown no concrete signs of interest in running, and the most likely outcome in 2024 is that 80-something President Joe Biden runs for reelection and Adams stumps for him at New York's first-in-the-nation primary. Still, Adams' team appears ready to make the argument that being mayor of New York City is good training ground for being president – whether that be in 2024, 2028 or 2032 – even if recent mayors' presidential dreams crashed and burned. "As the mayor has said, you don't have to be president to lead the country," Evan Thies, who ran communications on Adams' mayoral campaign, wrote in an email. "You can lead America from New York – and leading New York out of COVID, inequality and its crime crisis is what the mayor is doing."