Campaigns & Elections
So when are this summer's primary elections in New York?
Candidates got much needed clarity Wednesday on how and when they'll appear on the ballot.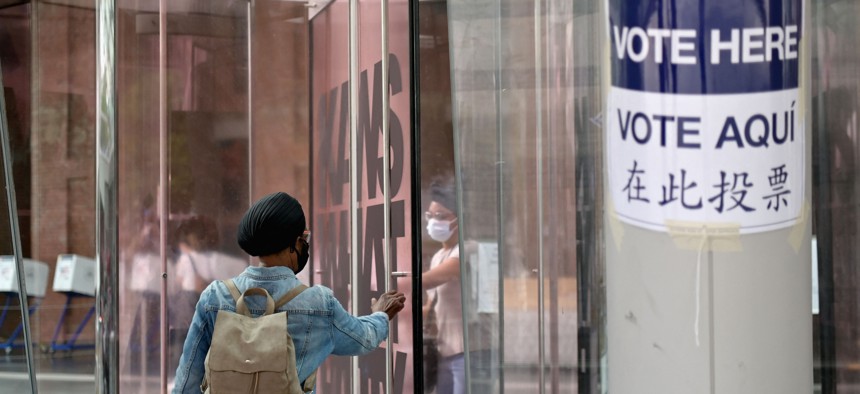 After getting thrown into chaos over redistricting, New York's election process has finally begun to come into focus. Voters will head to the polls twice this summer. On June 28, they will vote in primaries for governor, lieutenant governor, Assembly members and U.S. Senate. On August 23, they will vote in primaries for Congress and state Senate. 
When the courts threw out district lines last month on the grounds that they were unconstitutional and gerrymandered, candidates were left uncertain about what their districts would look like – and when the elections would take place. The dates are effectively settled after weeks of back and forth in the courts, with a state Supreme Court judge signing off on a new election calendar.
With a federal judge approving the date change to Aug. 23 for the congressional primaries, those and the primaries for the state Senate shouldn't be subject to any more changes. With that day finally settled, the state Board of Elections submitted to the court a plan for a schedule to facilitate the new primary day, explaining the new petitioning process for the to-be-determined districts. 
In what is surely a relief for candidates who already petitioned for now-defunct districts, they will not have to go through the process of gathering signatures again. Any person who already qualified for either a state Senate or congressional primary simply needs to certify their use of the prior petition signatures along with a specification of which district they will run in by May 31. It also allows those candidates to remove themselves from the ballot if they no longer wish to run in light of new district lines, and have until June 3 to do so.
The schedule also opens up a new petitioning period for candidates who may want to run in a redrawn district. They can begin gathering signatures on May 21, one day after a new set of maps must be finalized. Candidates for state Senate will have to gather 850 signatures while those running for Congress will have to gather either 1,062 signatures or 4.25% the number of enrolled party members in the district, whichever is smaller. Candidates then must file between June 6 and June 8 to qualify. 
A court ruling earlier on Wednesday also kept the Assembly district lines in place, along with a June 28 primary date. Pending any new lawsuit – which would appear unlikely given how little time is left to mail out overseas military ballots – those and statewide races remain on track to take place on the original primary day. Given that fact, the Board of Elections has made no changes to the political calendar regarding those races. So while final lines for Congress and the state Senate remain in flux, voters and candidates alike finally have some much-needed clarity on where elections stand at the moment.