Politics
Rep. Nydia Velázquez endorses Archila for LG, over her House colleague Delgado
Ana María Archila gets support from a key Hispanic leader, in an all-Latino primary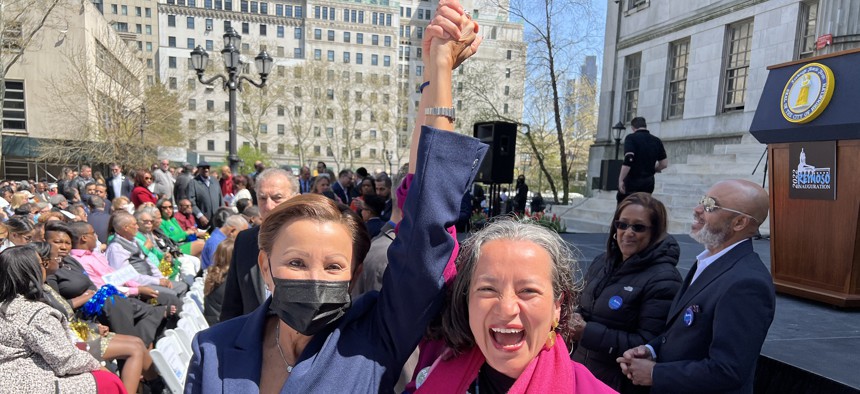 Just days after Rep. Antonio Delgado was chosen to run for lieutenant governor, Rep. Nydia Velázquez is turning against her Congressional colleague and endorsing Ana María Archila in the Democratic primary for LG. It's one of Archila's most prominent endorsements yet, and a sign that, although Delgado identifies as Latino, he may not be able to count on support from other prominent Latino political players and organizations. 
"Few understand the plight of New York's working families as well as Ana María," Velázquez said in a press release shared first with City & State. "I've been proud to know her for many years and strongly believe she is the best choice to bring progressive leadership to Albany as Lieutenant Governor." 
Delgado was first elected to Congress in a district covering much of the Hudson Valley in 2018. He's served with Velázquez in the House's New York delegation for more than three years now – but he will soon be giving up his seat to become lieutenant governor. Gov. Kathy Hochul announced his appointment this week to fill the seat left empty following former Lt. Gov. Brian Benjain's arrest and resignation. Delgado will also run in the June 28 Democratic primary, after the state Legislature changed the law to allow Benjamin to be replaced on the ballot so near to the election.
In backing Archila, Velázquez is also going against lieutenant governor candidate Diana Reyna, a one-time political ally who formerly represented a City Council district that overlapped with the Congress member's district. 
But Archila and Velázquez have worked together for a long time as well. The LG candidate was a co-founder and co-executive director of Make the Road New York, an immigrant rights nonprofit that has been allied with Velázquez throughout its history. Archila also served as co-executive director of the Center for Popular Democracy, another organization that aligned with Velázquez' progressive politics. 
The Congress member, who represents a district including parts of northern Brooklyn, Lower Manhattan and western Queens, is no stranger to endorsing progressive challengers. But her support was far from guaranteed. She declined to endorse Jumaane Williams in his 2018 primary challenge to then-Lt. Gov. Kathy Hochul. Williams is now running for governor, and is Archila's informal running mate. 
New York City Council Member Lincoln Restler, a longtime political ally of Velázquez, is also announcing his endorsement of Archila. Restler represents a northern Brooklyn district that has been fertile ground for progressive primary challengers. 
Archila praised Velázquez, the first Latina elected to Congress in New York, as a trailblazer. "She has broken down barriers for Latinos in government and fought to get our communities what they need and deserve," Archila said in the release. "We need leaders in our state government who will honor her courage by fighting just as hard for our people."
Archila, Reyna and Delgado are all hoping to make history as the first Latino elected statewide in New York. Archila is Colombian-American, while Reyna is of Dominican descent. Delgado has roots in Cape Verde, and identifies as Afro-Latino, owing to that African country's colonization by Portugal. 
Delgado is the incumbent governor's pick, and will be expected to get the lion's share of endorsements in the LG race. But some politicos see the Puerto Rican born Velázquez' endorsement as one that could echo beyond Archila's progressive base. "Having Nydia throw her weight behind her is going to give pause to people. She's respected in her community, she carries weight, she's been around for a long time," said political consultant Claudia Granados, who is Salvadoran-American. She is one of a group of Latino politicos who have been critical of Delgado's Latino identity. And while Granados acknowledged the complexity of racial identity, she noted Velázquez' endorsement as being supportive of a fellow Latina. "Even if she doesn't win, it's a statement that has to do about respecting our community," she said. "There's real frustration about the lack of Latino representation."
Gerson Borrero, a political commentator who was born in Puerto Rico, also praised Velázquez for the endorsement.``She worked with Congressman Delgado. She's worked with Hochul. She also knows Diana Reyna. It's a smart judgment. A three decade veteran doesn't do that lightly. Having her endorse a Colombian for lieutenant govenror, an openly gay person – it goes to the nature of the changing times," he said. "I think it says something about her freshness, her ability to stay young-thinking … I think it's a bold move."