New York State
What does New York's lieutenant governor actually do?
Antonio Delgado gave up a seat in Congress to take on a role that has very little institutional power.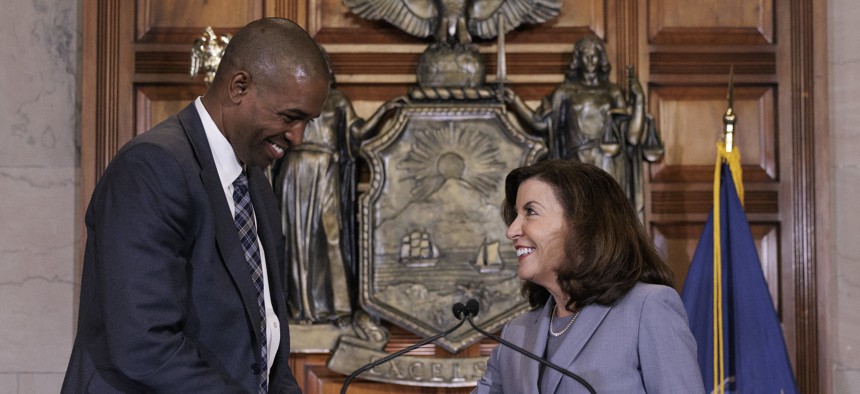 The lieutenant governor in New York doesn't generally receive much attention. The average New Yorker likely couldn't name the lieutenant governors who served under governors they remember. 
But now, the position has gained some attention with the resignation of the short-tenured former Lt. Gov. Brian Benjamin, putting the spotlight on the summer primary race for that seat and necessitating Gov. Kathy Hochul to find someone to serve out his term. After convincing the state Legislature to change election laws, she landed on Rep. Antonio Delgado, a two-term member of Congress who will give up his seat to govern with Hochul. 
So what exactly does the lieutenant governor do that would lead a member of Congress to give up his seat and the ability to pass federal legislation? The short answer is not much, as the lieutenant governor has little institutional power and mainly exists to step in should something happen to the chief executive. But depending on the relationship with the governor, a lieutenant can still make the best of the very flexible position.
"Antics and humor and that kind of thing"
According to the state Constitution, the lieutenant governor has just two concrete responsibilities: to preside over the state Senate, and to serve as second in line to succeed the governor. The latter role became relevant just last year when Hochul stepped up to replace former Gov. Andrew Cuomo when he resigned. But more often than not, the need does not arise. Former Gov. David Paterson, who served as lieutenant governor to former Gov. Elliot Spitzer, is one of the few who fulfilled the role the LGs wait for. 
Paterson told City & State about a meeting of the National Lieutenant Governors Association he hosted in 2008 as an example of the overall lack of power they have. "I told them that we were going to have classes on how to shoot down a plane, how to put sugar in a car engine and how to perform fake CPR," Paterson joked of various forms of sabotage that would take out a governor. "So the lieutenant governor's position has always been a source of antics and humor and that kind of thing." On a more serious note, he commented that while the association would discuss policy, conversations generally just revolve around what to do when the governor is gone. 
While being prepared to serve as the state's leader is no small task, it doesn't actually provide a person with much to do in the largely unlikely event that they must step up. Their role in the state Senate is largely ceremonial, and they have no ability to introduce or act on legislation. The only exception is if the state Senate needs a tie-breaking vote. Most of the time, the lieutenant governor does not actually attend legislative sessions. 
Underscoring the overall institutional powerlessness of the position is the office's budget. The lieutenant governor received only about half a million dollars to run the office in the most recent budget. And it has less than 10 people on staff. Compare that to the over $220 billion state budget this year and over 100 people employed as executive chamber staff.
"Direct outgrowth of the relationship with the governor"
It certainly would appear that taking on the position of lieutenant governor would be a step down for Delgado, who has had nearly 20 bills signed into law during his short time in Congress and has the ability to directly deliver resources to members of his district and the state as a whole. But Hochul warned against minimizing the role of lieutenant governor during a recent press conference announcing Delgado's appointment. "It's a direct outgrowth of the relationship with the governor," she said on Tuesday. "There is unlimited opportunity to have a true partnership that actually works, and the beneficiaries are the people of New York and that's exactly what we want to have."
In other words, the lieutenant governor can only do as much as the governor allows them to do. Sometimes, that is very little, relegating the deputies to simply traveling around the state and delivering the governor's message in his or her absence. But other times, the lieutenant governor can have substantive policy agendas the governor entrusts to them. "Spitzer had to negotiate with me that I wouldn't get lost in the shuffle the way other lieutenant governors had," Paterson said of Spitzer's recruitment of him as a running mate. "And he kept his word, he kept me involved." In that instance, it meant putting Paterson in charge of Spitzer's minority- and women-owned business enterprises program, energy policy, arts and culture and domestic violence initiatives. 
Hochul had given Benjamin a portfolio when she appointed him last year, tasking him with reducing vaccine hesitancy, addressing problems in New York City's public housing and speeding up rental assistance fund distribution. Hochul described wanting a similar kind of partnership with Delgado, though she did not offer specifics on what she may charge him with. Paterson guessed that Hochul likely negotiated or will negotiate with Delgado about keeping him substantively involved as he gives up his seat in Congress. 
But at the end of the day, the lieutenant governor only has as much power as their governor allows, and that can change in an instant.